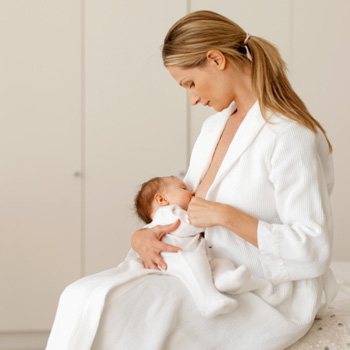 Breast milk is unique in its biological composition and provides the baby with all the nutrients, including essential amino acids, milk proteins and iron. In addition, breast milk contains immunological and biologically active substances that are not in industrial nutritional formulas, and which provide protection against microbial and viral infections.
It is scientifically and practically proven that breast milk is better absorbed, and immuno-and biologically active substances contained in milk can contribute to the adaptation and development of the intestines of the newborn. And intestinal colic – this is a by-product of the gradual adaptation of the gastrointestinal tract of the newborn to food.
In addition, it is proved that breast milk is much easier to digest.
When feeding mixtures more than breastfeeding, the likelihood of intestinal colic in children. Especially during the period of the child's digestive tract formation, the mother should contribute to the smoothness of this process, and not to its burden – for the child and for herself.
It has already been proven that during breastfeeding, the intensity and frequency of infantile colic is significantly less than in children-artificials.
At the same time, the mother should ensure that the child is properly attached to the breast, does not capture the air when sucking. When feeding, you need to ensure that the baby properly regurgitated during and after meals. All this helps to get rid of unwanted gases in the digestive tract, and, therefore, to avoid anxiety, crying and poor baby sleep.
After eating a child, it is necessary to hold the child upright ("column"), and then put it in a bed or a chaise lounge. It should not be pumped unnecessarily, so that once again the milk is not "shaken" in his tummy.
Of course, all these measures do not give an absolute guarantee of the absence of colic in the baby, especially in the first three months, which are considered adaptation. In this case, pediatricians recommend performing certain exercises to remove air: tightening the knees to the stomach, massage the abdomen in a clockwise direction. However, in order to quickly deal with an attack of colic, it is better to use therapy: herbal teas or simethicone-based drugs such as Sab Simplex and Espumizan.
Both drugs are a liquid form, administered to the child in the form of a certain number of drops. The action of simethicone can be described on the example of Sub Simplex.
Getting into the stomach, drops of this drug contribute to the destruction of gas bubbles – the main culprits of colic. The drug does not affect the work of the stomach and intestines, is not absorbed and excreted from the body unchanged. It is reliably proven that it does not cause adverse reactions.
It can be used without harm, including for a long time.
It is important to remember that Sab Simplex and other simethicone drugs are best given during colic, and not for their prevention. The best prevention of infantile colic was and remains proper breastfeeding.