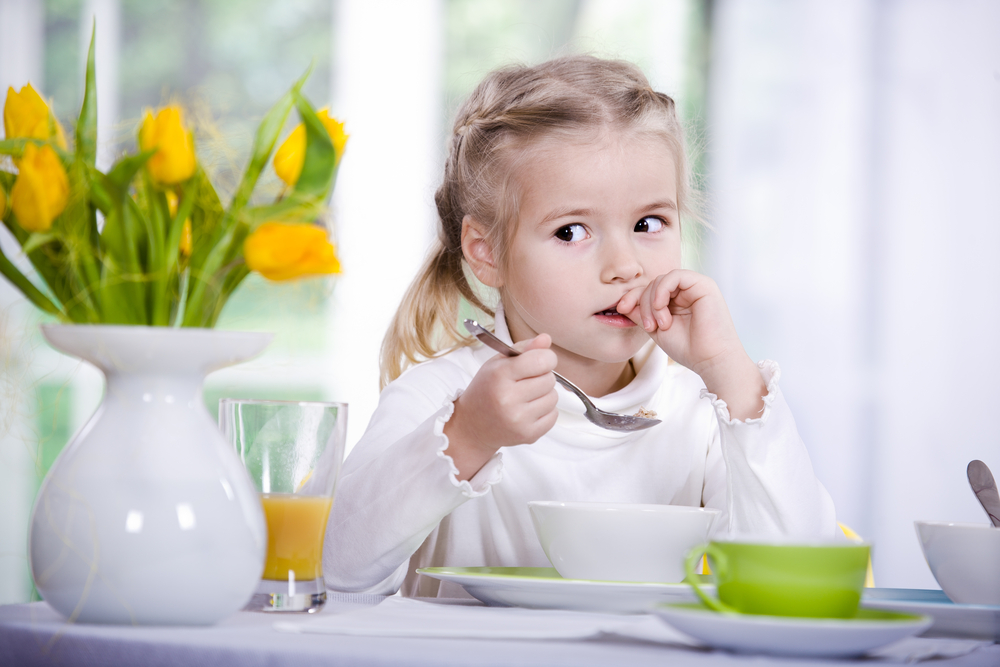 Breakfast for preschool children is necessary, because the presence of breakfast is the prevention of overweight in children and adolescents. And the acquired habit of breakfast will save from obesity and in adulthood.
Lack of appetite in the child in the morning is an indicator of lack of sleep.
Your baby will have breakfast at home or in kindergarten – it does not matter. The main thing that he ate!
If you get to the kindergarten for a long time, or your mother cooks better, you can eat at home. When the garden is close, and the crumb is unpretentious in food – let him have breakfast in the garden.
But if the baby is inclined to be overweight, the best would be to avoid double feeding (house + garden).
The daily caloric intake of preschool children is about 1800-2000 kcal per day (of which about 25% should be accounted for breakfast). At the same time you need to ensure that the protein in the diet becomes less compared with the early age, but the proportion of carbohydrates increased.
It is carbohydrates and fats that become the main sources of energy for a child of 3-6 years, which means that a preschooler should receive more vegetables, fruits and flour products. If the kid visits the kindergarten, be calm: the food there is balanced and calculated taking into account the age norms for food components, microelements and vitamins.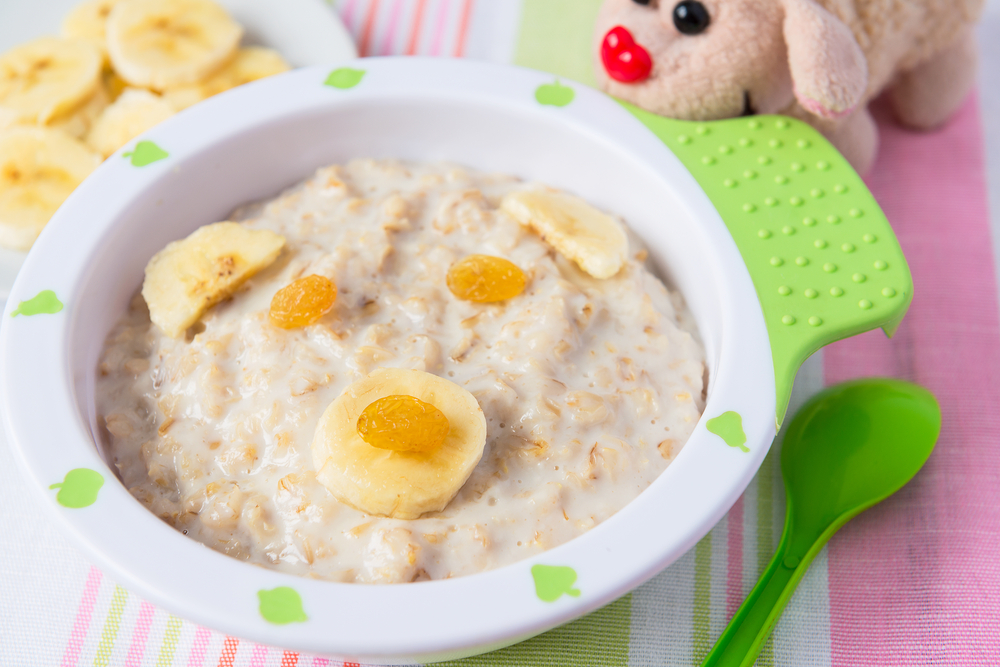 Cooking methods for cooking breakfast kids better choose sparing (boiling, baking, stewing). You should not experiment with dishes of exotic cuisine and spices.
Dry breakfasts (muesli, flakes, balls and asterisks – with milk or yogurt) can also be offered to the kid, but not more often than twice a week: as a rule, they contain a lot of sugar and can also contain dyes. The best morning drink is cocoa or tea (with milk).
So, here is a detailed breakfast plan for your preschooler for the week:
Oatmeal is optimal, only many babies do not like it very much. Do not worry, rice, buckwheat or millet porridges are perfect for breakfast.
To bring to the table a little picky, diversify the porridge with fresh or frozen berries (strawberries, raspberries, blueberries, currants) or slices of pre-steamed dried fruits. For a flavor, add a pinch of vanilla or cinnamon and decorate the dish with drops of sweet syrup (for example, strawberry or chocolate).
Do not get carried away with rather allergenic nuts and honey.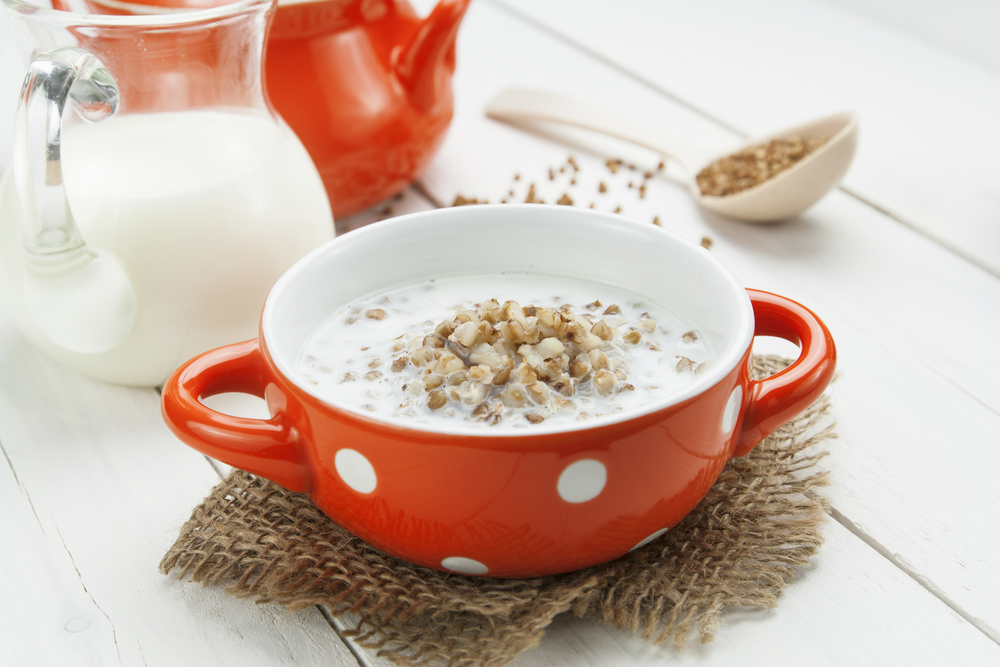 Buckwheat – 1/2 cup
Water – 1 cup
Milk – 1 cup
Salt – 1 pinch
Sugar – 1 tbsp. l
Apple – 1 pc.
Butter – 20 g
Wash the croup, add water, bring to a boil. Boil for 10-15 minutes.
Add milk and stir. Boil. Pour salt, sugar.
Boil another 10 minutes. Apple wash, peel and remove seeds. Grate on a fine grater.
Add an apple to porridge. When serving, buckwheat porridge with apples fill with butter.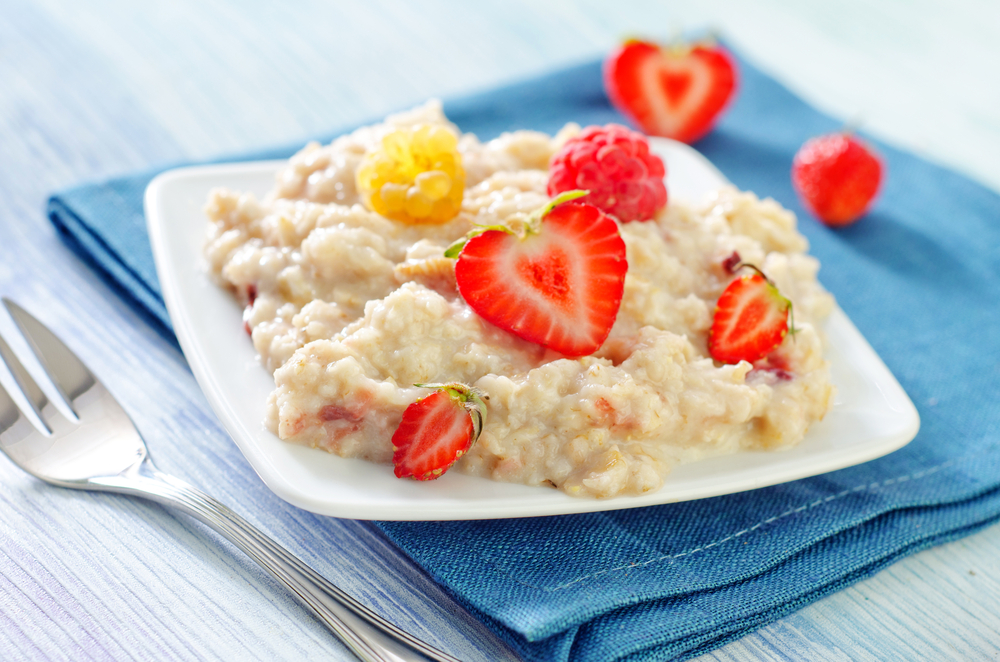 Rice – ½ cup
Buckwheat – ½ cup
Barley – ½ cup
Raisins – 2 tbsp.
Carrots – 4pcs.
Milk – 1 cup
Butter – 2st. l
Water – 2 cups
Salt – to taste
Sugar – to taste
Sort the croup, rinse and soak in cold water for 1-2 hours (or put soaked overnight)
Raisin bust and rinse. Peel carrots and chop straws.
In boiling salted water, put the soaked cereal (along with water), carrots and bring to a boil, then cook for 5-6 minutes. Add sugar, raisins, milk and bring to a boil again and cook porridge on very low heat for 20-25 minutes.
Serve milk porridge with butter.
With carrots and peas, with ham and sweet pepper, with zucchini and cheese and even sweet apple – not a single child will refuse from an omelet for breakfast, all the more so unusual! Cook an omelet from quail eggs – they have more beneficial trace elements than chicken eggs, and they are also less allergenic.
Keep in mind, the most airy and lush omelet is made in the oven.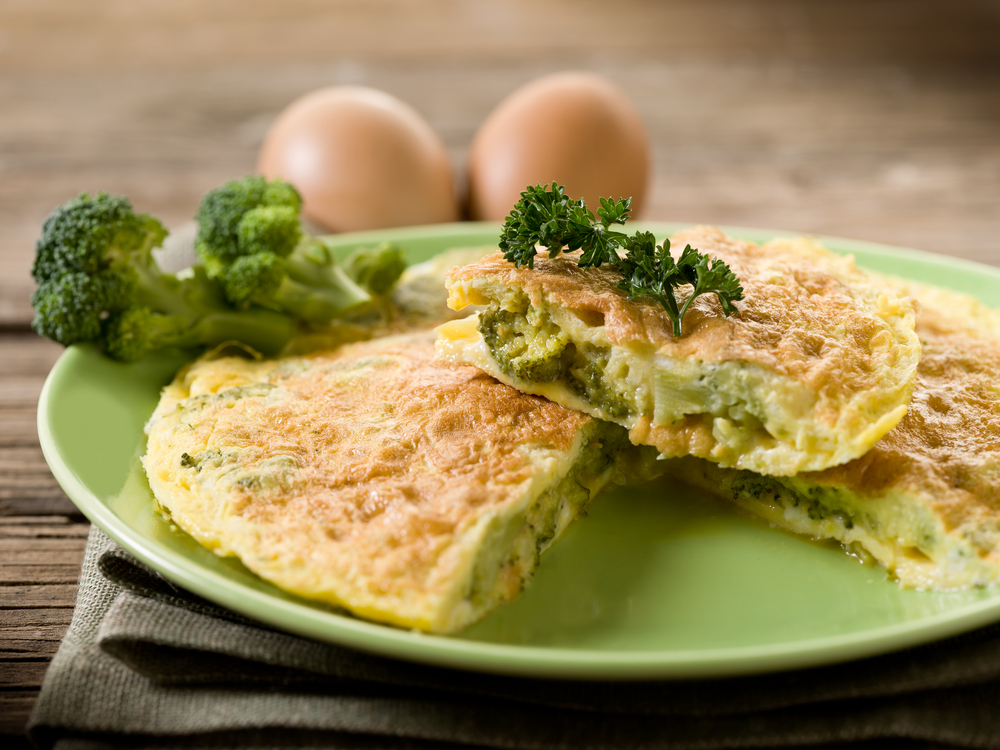 Broccoli – 100 g
Carrots – 1 pc.
Chicken Egg – 3 pcs.
Milk – 3 tbsp. l
Salt – to taste
Wash the carrots, then clean and cut into cubes. Wash broccoli, divided into florets.
Broccoli and carrots cooked in a double boiler – 15 minutes (to speed up the process, you can use a double boiler for a microwave). Beat eggs.
Add milk and salt, mix. Add vegetables to the egg-milk mixture and mix.
Grease the baking pan (or steamer) with oil or put the foil in a steamer container. Pour the omelet with broccoli into the pan and put in a steamer or oven.
Cook for 30 minutes.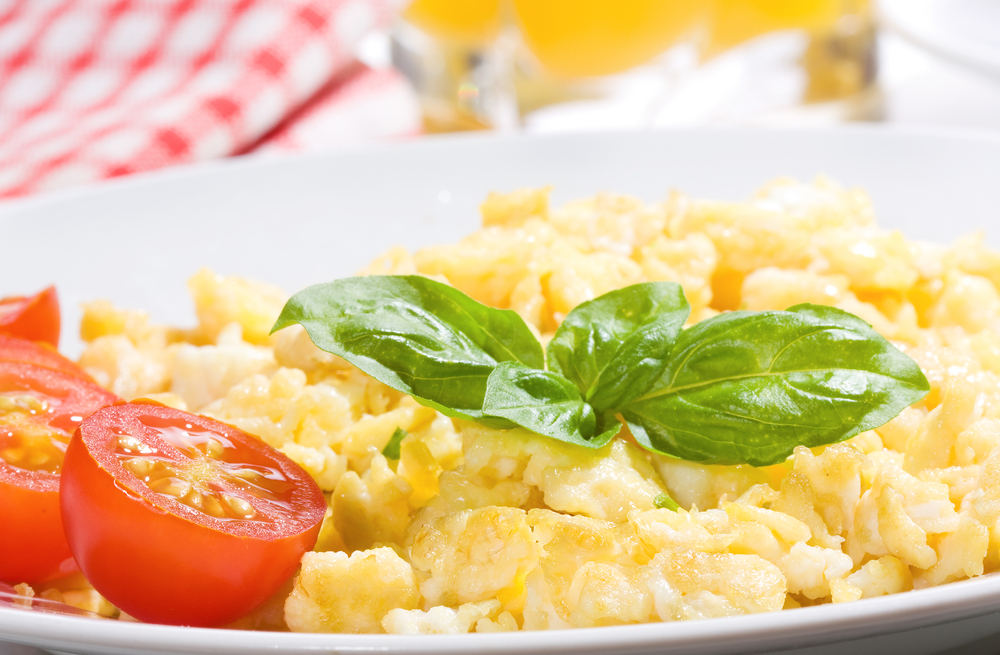 Chicken Egg – 3 pcs.
Milk – 2/3 cup
Salt – to taste
Beat the eggs with a mixer with salt until frothy. Add milk and whisk again.
We take 2 packages for roasting, pour in them egg mass. Packages are tied, but leaving some free space.
Dip in boiling water and, without covering with a lid, cook over 30 minutes over medium heat. After 30 minutes, get an omelet, turn out of the bag on a plate.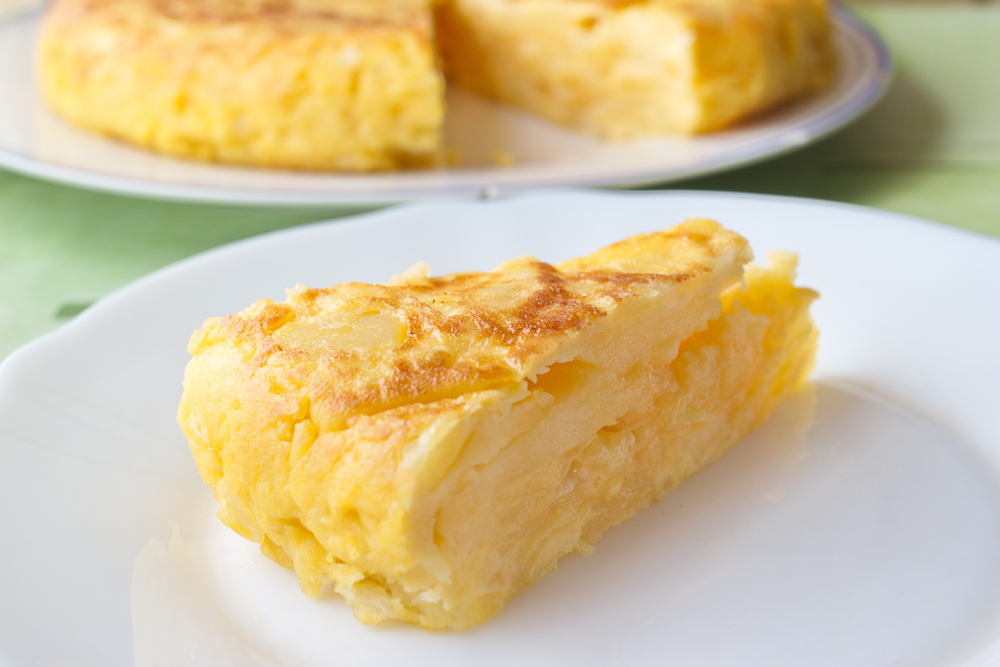 Eggs – 2pcs.
Cottage cheese – 100 gr.
Baby milk – ½ cup
Salt – to taste
Beat the eggs and add salt there. Take the curd and add it to the egg mixture, then mash it with a fork.
After that, beat everything again. Pour in half a glass of baby milk and mix until smooth.
Put a teaspoon of butter on a heated pan and pour the omelette. When it starts to boil, stir with a wooden spatula. After 3 minutes, reduce heat and cover.
Leave for another 5 minutes.
Yes, and pasta, too. After all, we remember that carbohydrates for breakfast is the main source of energy for a preschooler.
Pasta love almost all children. In order to benefit from them, and not harm, choose pasta from durum wheat and do not boil them – the correct pasta must remain hard.
Buckwheat or rice noodles can be an excellent replacement option for classic pasta.
Pasta for breakfast is good because every week you can cook it in completely different ways. It goes well with cheese, egg, and vegetables.
In the absence of time, you can simply boil the pasta and sprinkle them with grated cheese on top. Periodically, in the "macaroni" day you can make baby milk soup with noodles.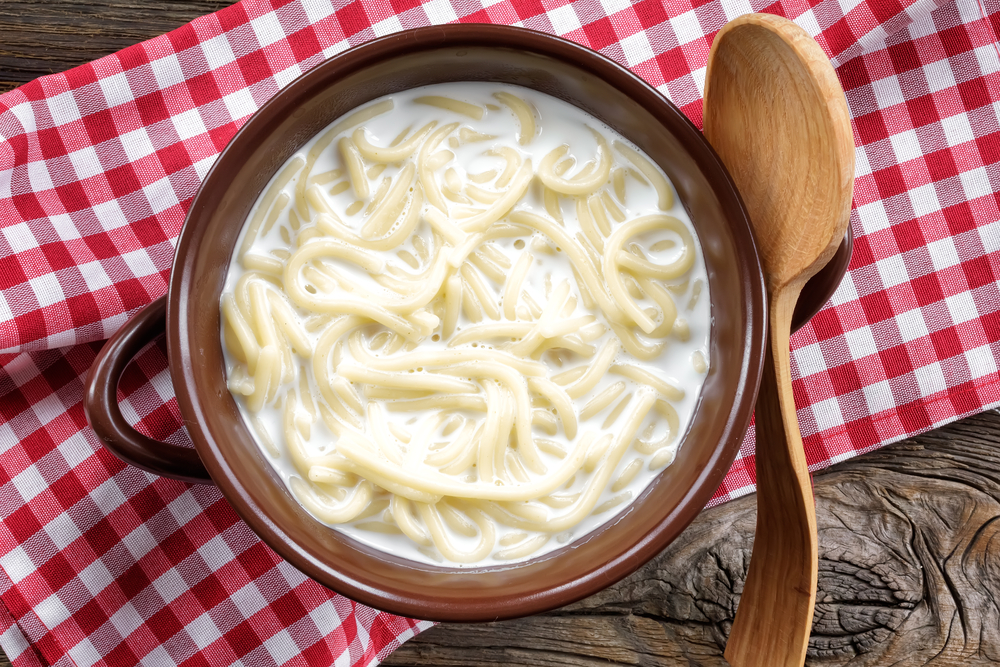 Small vermicelli (gossamer) – 1 tbsp.
Milk – 200 ml.
Butter – 5 gr.
Sugar – to taste
Pour the noodles in boiling water, and cook until half cooked, about 3 minutes.
Throw away the pasta in a colander (do all the actions clearly and quickly, so that they do not have time to stick together). Let the milk boil and add boiled vermicelli to it.
At the end of cooking, add sugar to taste and a piece of butter.
Pasta – 300 g
Cheddar cheese – 150 g.
Milk – 600 ml.
Butter – 1 tbsp.
Flour – 2 tbsp.
Nutmeg – ½ tsp.
Bread wheat crackers
Dried spices
Salt
Cooking sauce: In a saucepan, heat the milk and melt the butter in it. Then vigorously stirring with a whisk, slowly add flour, stir until the sauce boils. Next, make the fire smaller and continue to stir for another 4-5 minutes, until the sauce becomes homogeneous.
Then add finely grated cheese, season with pepper, salt, nutmeg and continue to mix until the cheese melts and the sauce becomes completely uniform, about 5 minutes.
In the meantime, boil the pasta to All Dente, drain. Put the pasta in deep plates, generously pour the sauce, season with dried spices and sprinkle with croutons. Bake in a preheated oven to 180 degrees for 10 minutes.
Serve hot pasta on the table.
It can be not only cottage cheese, but also meat, vegetable or cheese. The secret of its preparation is simple: just chop the desired ingredients, pour sauce (suitable beaten eggs or plain sour cream), sprinkle with grated cheese and bake in the oven.
If your child is a fan of the traditional cottage cheese variant, add raisins, dates, pieces of dried fruit or marmalade to the casserole.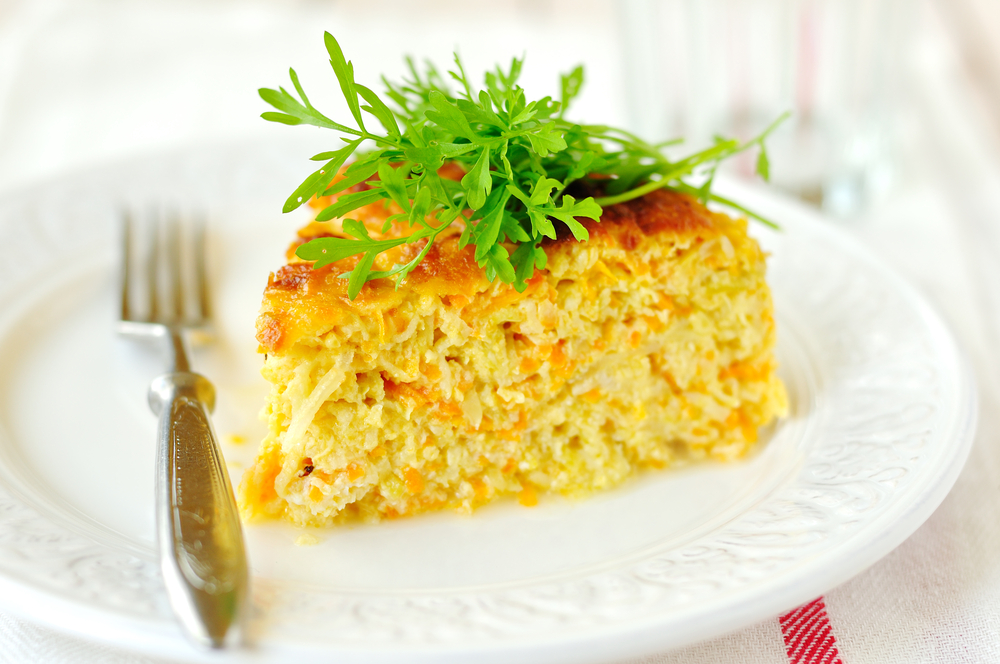 Cottage cheese – 500 g
Pumpkin – 400
Eggs – 3 pcs.
Semolina – 1/2 cup
Sugar – 1/2 cup
Sour cream – 200 g
Baking Powder – 1 tsp.
Vanilla sugar – 1 tsp.
Butter
Grate the pumpkin. Can be cut into slices. Add sugar to the eggs and beat into the foam.
Just beat a little, until the thickness is not necessary. Add cottage cheese to beaten eggs and mix. Add semolina and mix.
Add pumpkin, baking powder and vanilla and mix.
A bowl of multivarki should be plentifully greased with butter and sprinkled with semolina. Pour the curd mass into the smeared bowl.
Set the baking mode to 1 hour. But immediately after the end of the program, do not reach. It is necessary to leave the casserole in the "heating" mode for another 50 minutes.
And only after that the children's cottage cheese casserole with pumpkin in the slow cooker will be ready.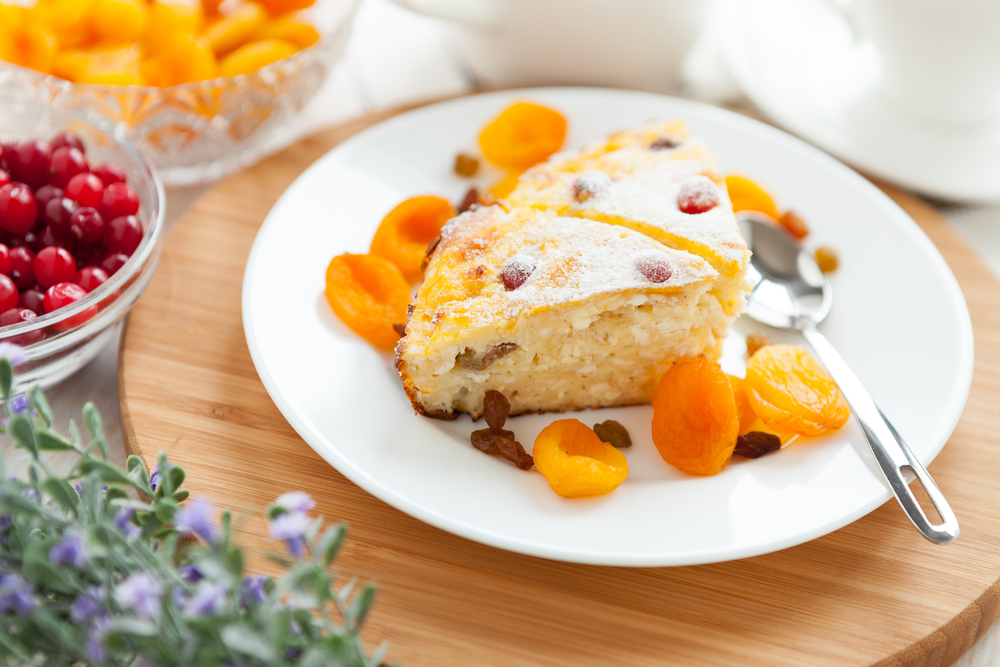 Rice – ½ cup
Sugar – 1/4 cup
Chicken Egg – 1 pc.
Raisins and dried apricots – 1 cup
Sour cream – 1 tbsp. for the "test" and 2 tbsp. sweet sauce spoons
Honey – 1 tbsp. l for sauce
Butter – to lubricate the form
In cold water, wash the rice several times and boil it until half cooked. To do this, pour a lot of water into the pan, boil rice for 10-15 minutes, then drain the excess water through a colander. Dried apricots and raisins, thoroughly rinse and pour boiling water for a few minutes.
Chop dried apricots. Dried apricots should be made about the same size as raisins. Mix the egg and sugar in the container in which you will beat them.
With a mixer or a whisk, beat the sugar with the egg until a homogeneous frothy mass. Now you need to thoroughly mix all the ingredients: semi-cooked rice, prepared dried fruits, beaten eggs and sour cream. Butter you need to miss the mark in which to bake.
Then put in her future casserole. We chose silicone molds with children's characters.
Bake a sweet rice casserole with dried fruit in an oven preheated to 180 degrees for 30-40 minutes. Make sure that the casserole is not overheated, otherwise burnt rice will crackle on the teeth. The casserole can be poured with jam, and you can make a sweet and hearty sauce.
To do this, whisk sour cream and a spoon of honey. The sauce is ready, pour them casseroles and serve to the table.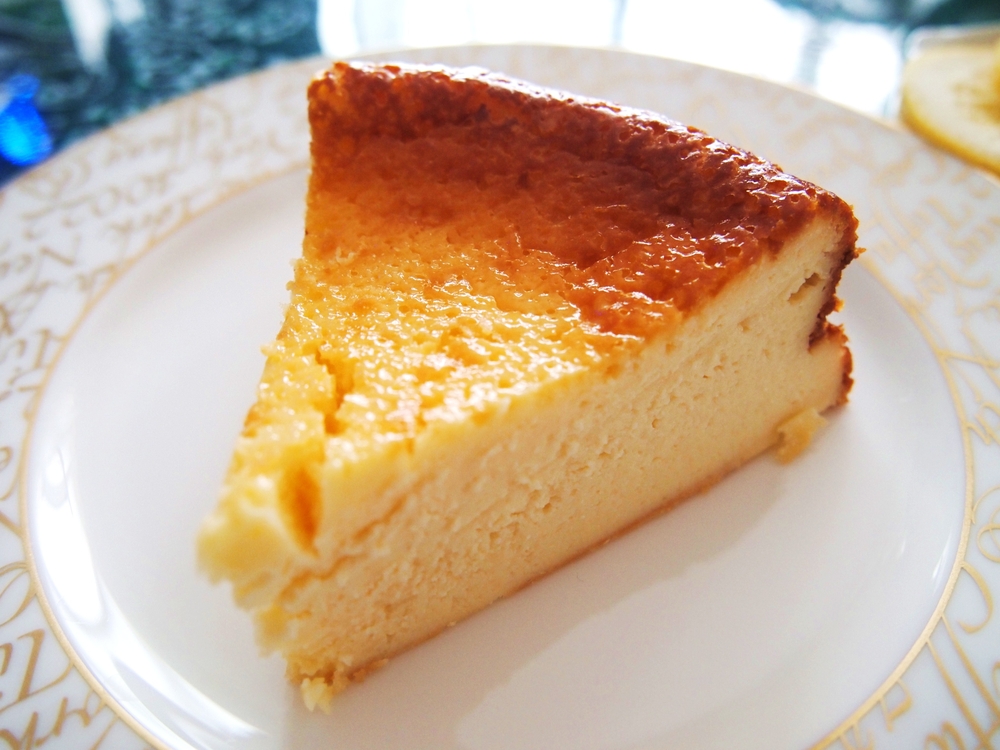 Buckwheat —4 tbsp.
Cottage cheese – 100 g
Chicken eggs – 2 pcs.
Sour cream – 2 tbsp.
Sugar – 2 tsp.
Breadcrumbs – for sprinkling
Butter — For Lubrication
Boil crumbly, buckwheat porridge on the water. Without adding salt or sugar.
Curd the curd through a sieve so that it becomes uniform.
In a separate bowl, mix chicken eggs with sour cream and sugar. Divide it into two parts.
In one part leave 2/3, in the second 1/3 part.
Add to the buckwheat porridge grated cottage cheese and sweet cream-egg sauce (2/3 of the last step) and mix. Grease the baking dish with butter and sprinkle with breadcrumbs on top.
If there are no ready-made, then they can be quickly made from a piece of dried bread, rubbed on a fine grater. Or you can sprinkle with semolina.
Put the buckwheat-curd mixture in the form. Pour the remaining creamy egg gravy on top (1/3 part).
Bake in the oven for 20 minutes, at 180 degrees. Allow the buckwheat casserole to cool slightly, then cut into portions.
Buckwheat casserole with cottage cheese can be served with jam, sour cream or just like that, depending on the preferences of the child. And you can drink it with a sweet compote of dried fruit or jelly from jam.
Yes, yes, it is a sandwich! Prepare it correctly – then you will not have to doubt the benefits.
Take a slice of healthy carbohydrate-grained bread or a whole-wheat bun, put plastic cheese, a slice of lean ham or boiled sausage (ideally boiled meat) and add this set of lettuce, a slice of tomato or cucumber to choose from.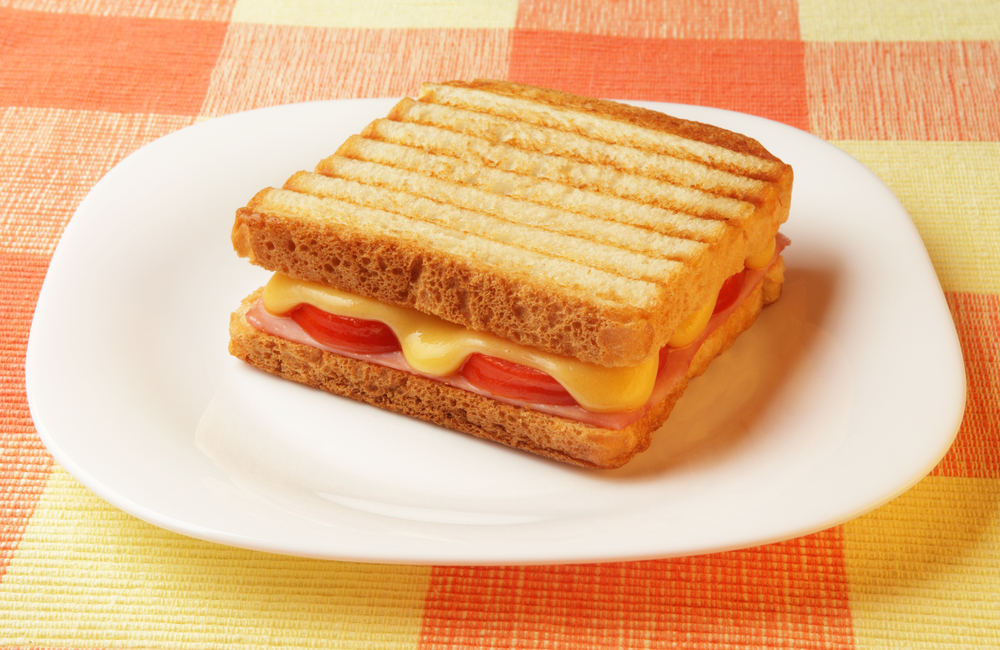 Baton – 1 pc.
Sausages – 5 pcs.
Tomato – 2 pcs.
Hard cheese – 100 g
Garlic – 1 clove
Greenery
Mayonnaise
Cut sausages or sausage into small cubes. Tomatoes, too, cut into cubes.
Grind the greens. Grate the cheese on a coarse grater, garlic (through the crush) and add mayonnaise. To mix everything.
Salt is not necessary. Cut the loaf into slices and spread them with this mixture. Put on a baking sheet.
Do not grease the pan. Bake in the oven at a temperature of 180 – 200 degrees for 15 minutes.
Baton
Cottage cheese (any) – 100 g.
Hard cheese – 100 g
Chicken Egg – 1 pc.
Garlic – 2 cloves
Sausage – 100 g
Greens (chopped)
We rub the cottage cheese through a sieve (or take the already prepared fine grain), add the egg and mix well. Three grated cheese.
And send to the curd mass. Add salt to taste, herbs, crushed garlic and mix thoroughly.
Three on a fine grater sausage. We smear the resulting mass on the slices of the loaf.
Putting sandwiches on a baking sheet. And send to the oven preheated to 200 degrees, for 7 minutes.
Most children will not refuse to eat this dish in the morning. Homemade dumplings with fruit or cottage cheese stuffing can be made in advance and stored in the freezer, using as needed.
And lazy dumplings are easy to make right in the morning.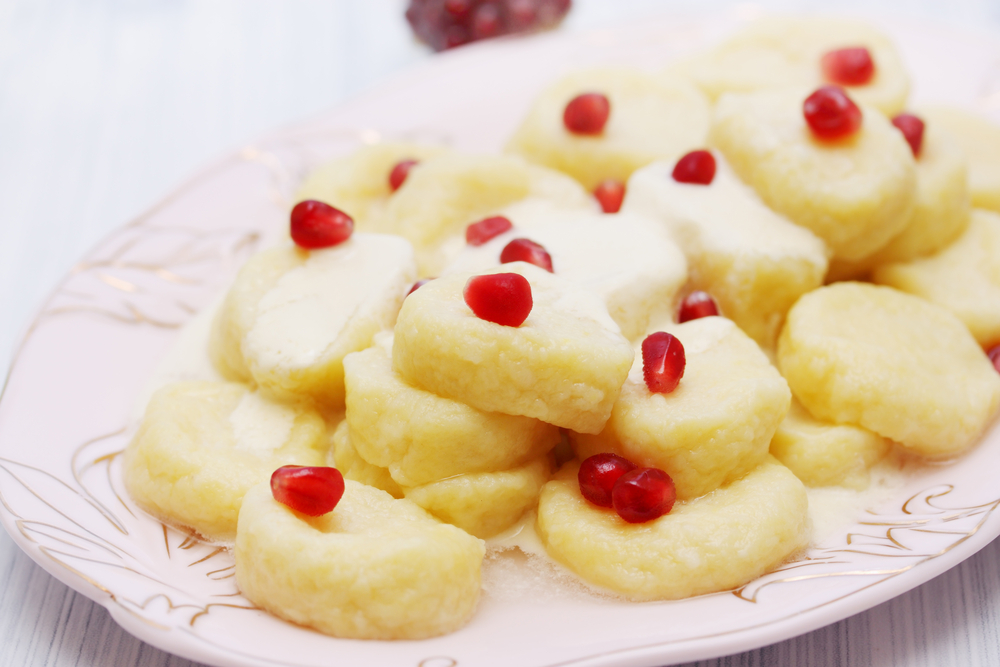 Cottage cheese – 200 g
Egg – 1 pc.
Wheat flour – 4 tbsp.
Brown sugar – 1 tbsp.
Salt – to taste
Put the cottage cheese in a spacious cup and add sugar to it. Add one chicken egg and mix the mixture.
Grind the curd mixture in a blender. This is necessary in order for the protein that is contained in the curd to be better digested and digested. When heated in the process of cooking protein in the cheese is compacted.
And at the same time the consistency of the mass is significantly improved, the curd becomes airy and homogeneous. Add the wheat flour to the mass and knead the dough for the lazy dumplings. If you are limited in time, you can roll the dough into a sausage and cut it into equal pieces.
Press the center of each piece with your finger. This action can be trusted to a little helper.
Put the pot of water on a large fire. When water boils, be sure to salt it.
Overdoing is not necessary so that the dumplings are not boiled soft. After the water boils, gently dip the dumplings into it.
When the dumplings appear on the surface of the water – this means that they are almost ready. After that, let them boil for about 5 minutes, no more.
Otherwise, they can fall apart. Carefully, so that the dumplings do not fall apart, using a skimmer, remove them from the water in a bowl.
Let them cool for a while. Add a little butter or sour cream to the dumplings.
To decorate the dish, you can put a berry in the center of each dumpling.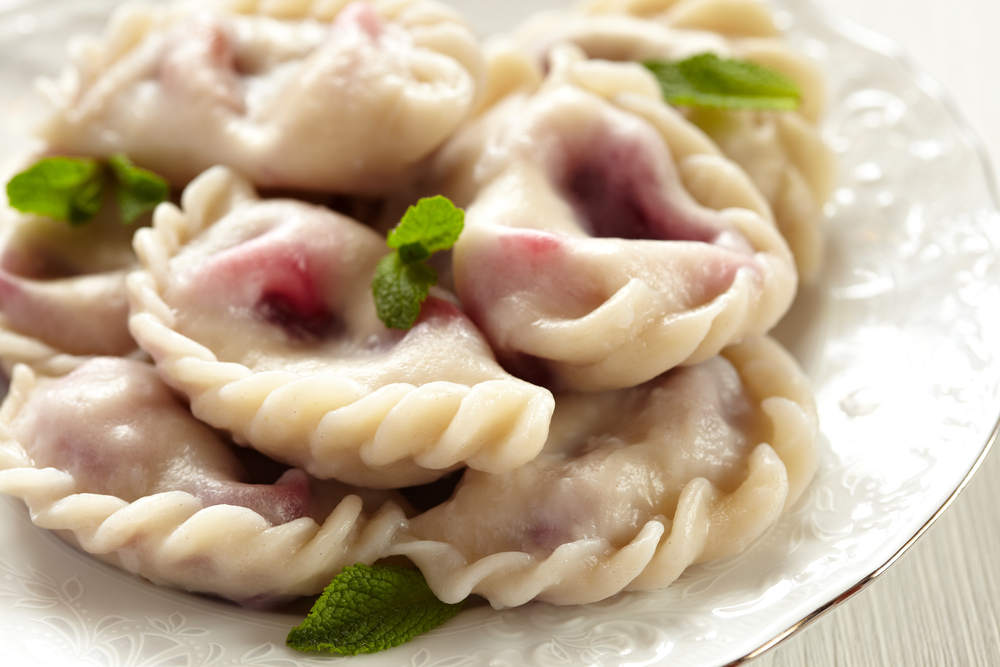 Wheat flour – 400-500 g.
Chicken Egg – 1 pc.
Kefir – 1 cup
Soda – pinch
Cherries – 350-400 g.
Sugar
For cooking cherry dumplings, you need to break an egg in a bowl, beat it. Add kefir, soda and mix to the egg. Pour the flour into the bowl and pour the liquid into the well.
Stir gently with a fork, then knead with your hands. The dough should be soft and not stick to your hands.
Sprinkle the table with flour, roll out the dough using a rolling pin. Cup cut circles from the dough.
Cherries wash. In each circle put 2-3 cherries and half a teaspoon of sugar. (If frozen cherries do not thaw them). Blind edges in dumplings.
Dumplings with cherry boil in boiling water for 5 minutes after the ascent or cook in a double boiler for 15 minutes. If you get too many dumplings, they can be frozen in portions for the next time.
You can also cook dumplings with strawberries, cottage cheese dumplings or liver dumplings.
Fruits are perfect for breakfast. Use any fresh berries and fruits that you find in the fridge: oranges, kiwi, apples, pears, strawberries.
Season the salad with low-fat sour cream or plain yogurt, and use healthy dried fruits to add a special flavor.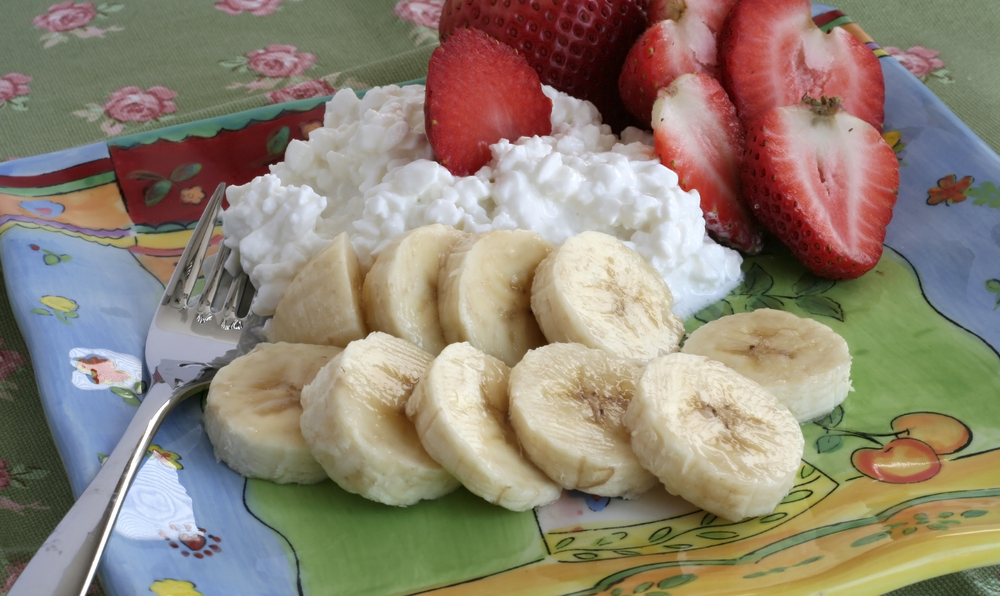 Mandarin – 1 pc.
banana – ½ pcs.
Apple – ½ pcs.
lemon juice – 1 tsp
crumbly curd – 50 g
berries of red currant and raspberry
First, take a banana, peel it and cut off half of the fruit. Then cut it lengthwise into two parts and further cut into semicircles, no more than five millimeters thick.
Then take the mandarin, peel it and divide it into slices.
Next, prepare the third ingredient of our salad – this is an apple. Cut it in half, peel it, cut a seed box with seeds, and cut everything else into small cubes and sprinkle with fresh lemon juice so that the apple does not darken.
We spread the prepared fruit in a portion vase. This can be done in layers or mixed. After that, carefully lay out the cottage cheese on the surface of the fruit salad.
At the end we decorate the dessert with red currant berries and raspberries, after which it can be served. Lovers of sweet desserts, instead of the usual cottage cheese can submit a sweet cottage cheese.
Before eating fruit salad for children, you can mix and combine fruit with cottage cheese or eat individual fragments, enjoying the change of tastes.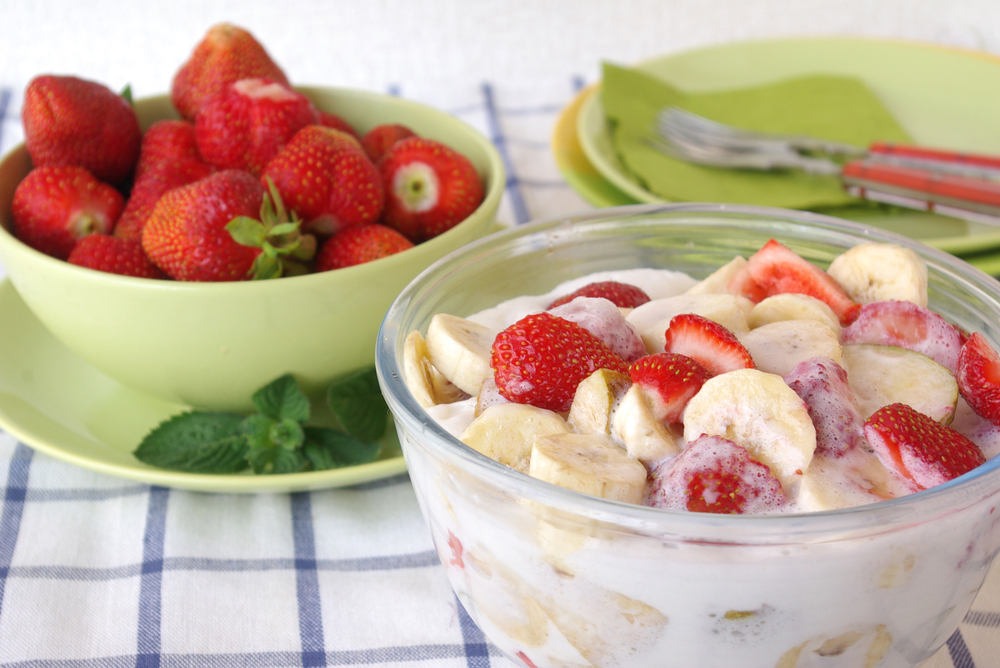 Apple – 1 pc.
Mandarins – 2 pcs.
Banana – 1 pc.
Yogurt – 1 cup
Each fruit is cut or divided into small pieces. You can add a little steamed raisins.
The size of the pieces of fruit is determined based on the child's age: young crumbs must cut all the fruits as small as possible, older children are useful to give medium-sized pieces to develop the chewing muscle.
Then pour the fruit yogurt. You can replace yogurt with an equal amount of sour cream – it will turn out to be very useful and tasty too! Mix fruit salad thoroughly.
Sugar can not add – not so it is useful for the child's body. The sweetness of the salad will give banana and raisins.
Video: Children's menu. Delicious and healthy breakfast for a child