With age, my own birthday has ceased to be for me an outstanding and very special holiday. But not so long ago I had a new occasion for celebration, which I wait every year with extraordinary impatience. With the birth of a baby, my life has changed a lot, and for the better!
In particular, I changed my mind about my birthday. Now, if you ask me if there is such a day that I especially love and which I can single out among the others, I will answer without hesitation: "Yes, this is my son's birthday!" Probably, that's why I decided to celebrate his first birthday party with such enthusiasm!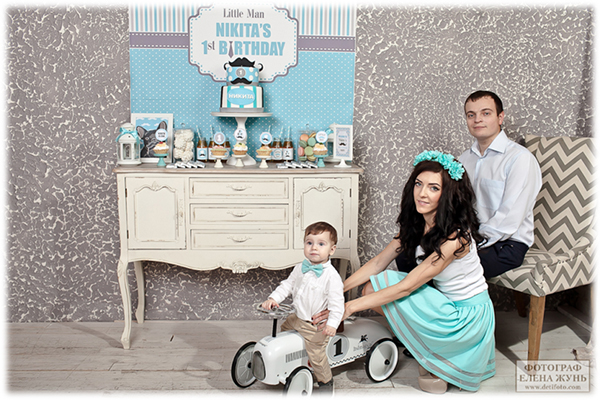 Such enthusiasm is connected with the fact that at some point I suddenly realized: "But you can organize a holiday in your own, unique style and thereby express warm feelings for the baby in a very special way!". In addition, the festive atmosphere is the best way to unite the whole family: from the moment of preparation for the celebration to the very end.
I learned this from my own experience when Nikita was one year old.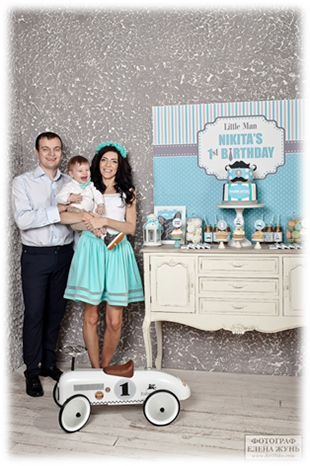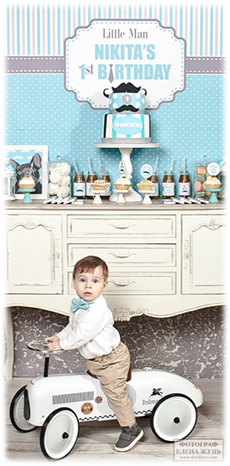 We organized our first birthday in the style of Little Gentleman. I considered this topic most suitable for two reasons. First, Nikita is growing and is turning into a real, albeit small, gentleman.
For example, he, like all men, already loves cars! And the butterfly looks so solid! I did not doubt for a second that the whole gentleman's entourage of the son would bewitch and fascinate.
So in the end what happened. Secondly, I proceeded from the fact that every mother wants her son to grow up to be a raised boy, and from a very young age was her pride. Thanks to the chosen topic, we, the parents, had an additional opportunity to unobtrusively, in the form of a game, inculcate good manners to the kid, teach him to show respect and love for loved ones.
On this day, he learned a lot, and we are happy about it!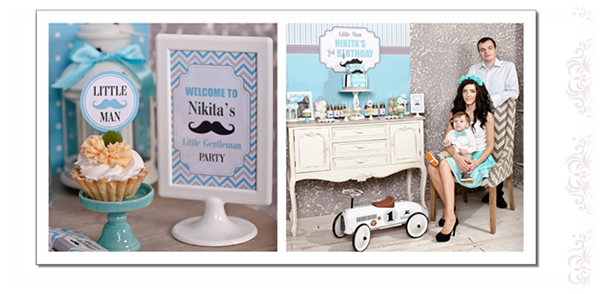 As expected, a carefully selected topic made the celebration more interesting and more beautiful. To those parents who find it difficult to decide on a single style of celebration, I want to advise: relax! Of course, the task is not easy.
But inspiration loves freedom. Do not think about how difficult it is, better remember that this is, first of all, a wonderful opportunity to arrange a real holiday for the crumbs, to give him a feeling of sincere joy and a feeling of unity with the whole family.
After all, very often in ordinary gray days we lack joy and kindness. Think about the fact that it is you who are the very people in the life of a baby who are able to decorate this world and make it a little better.
And you will definitely succeed in finding that ingenious idea that will transform the whole holiday!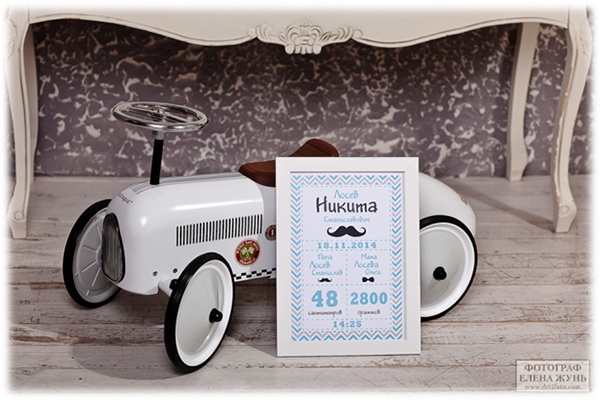 At first we decided to arrange a photo session in the studio, where we invited our friends. In a spacious, beautifully decorated room is more likely to realize the most courageous ideas!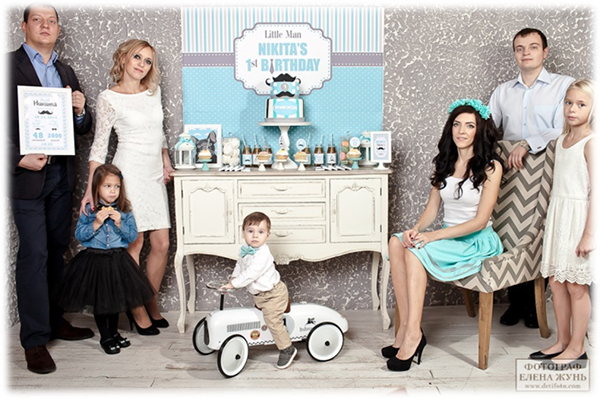 So that everyone could congratulate the little birthday person and in order to have everything planned, we decided to celebrate Nikita's birthday not only in the studio, but also at home, already with family and friends. Therefore, the next day, grandmothers, grandfathers, godparents and small guests of the birthday boy were invited!
By the way, this is a great way out if there are a lot of guests planned, and the studio you like is designed for a limited number of people.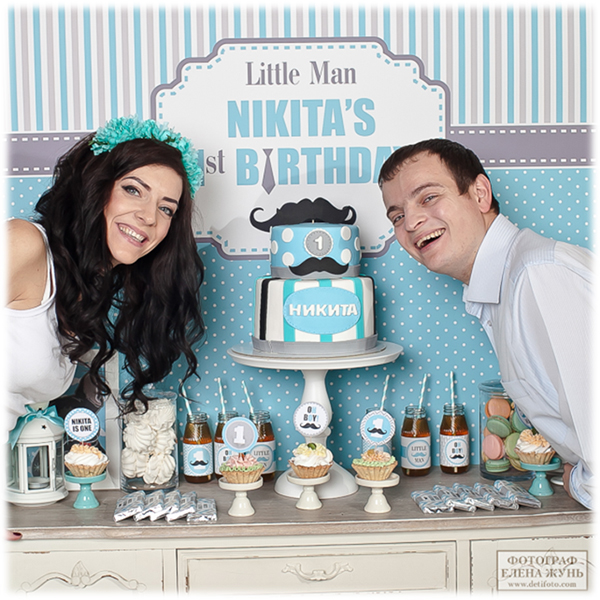 Celebrated very fun, with games, wishes and the delivery of gifts to the birthday. My husband and I prepared poems for godparents and grandparents.
There was a very touching moment when we read them out, many even shed tears.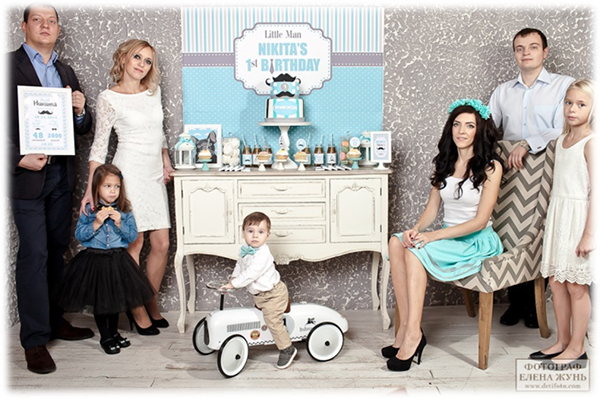 But now the main thing, what did all this beauty cost us? After the theme of the holiday was chosen, I began a thorough preparation, thinking through every little thing: outfits, desserts, paper design, the text of the invitation cards and, of course, the design of our mustache cake!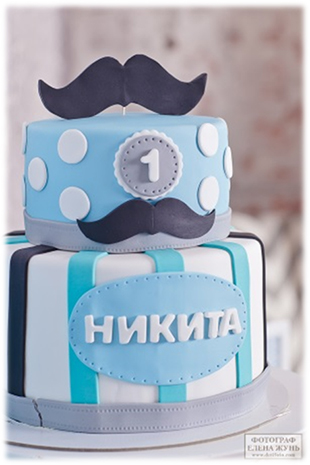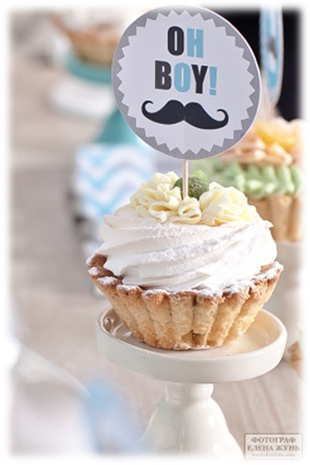 It took a lot of patience, and my husband and I were very useful organizational skills: the ability to plan and bring the work started to the end. In order to realize all that you have in mind, it is better to start preparing in advance.
Do not wait until the last moment. We took the preparation seriously and began to prepare for the celebration for six months. But all had time and more calmly treated force majeure, which are inevitable in any creative process.
But I repeat, since we began to prepare well in advance, we did not have any particular difficulties in organizing the holiday. Perhaps you will succeed faster!
Much more depends on the number of nimble assistants.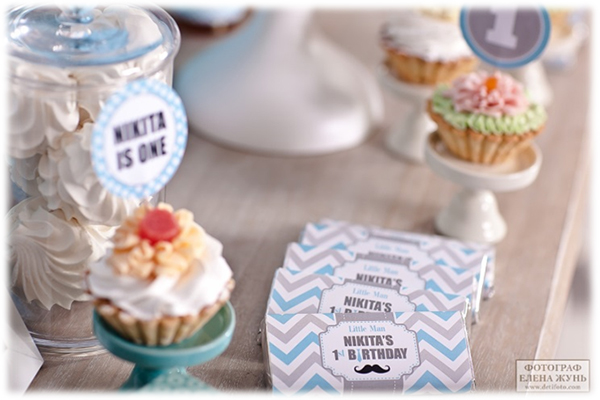 I had wonderful assistants. My husband, Stanislav, helped me in decorating the holiday.
By profession, he is a designer and himself drew and printed paper design: wrappers for chocolates, invitations, stretching, baleen dog for photo frames, etc. There were balls, garlands and much more …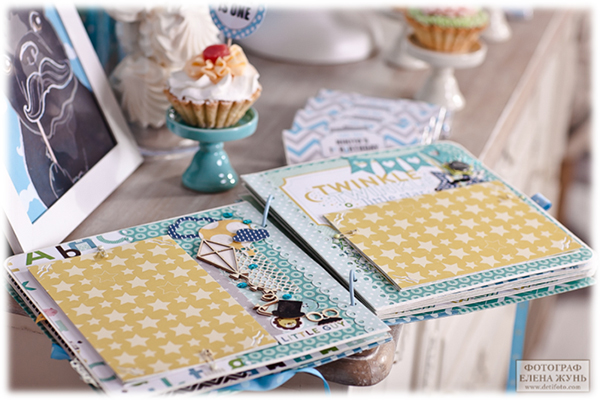 They cooked the food themselves: me, the grandmother and the wife of the brother. Adults were 17 people, plus 3 children, so I had to work hard.
Children made a sweet table: marshmallows, meringues, marshmallows, chocolate jelly beans and popcorn (he especially liked them).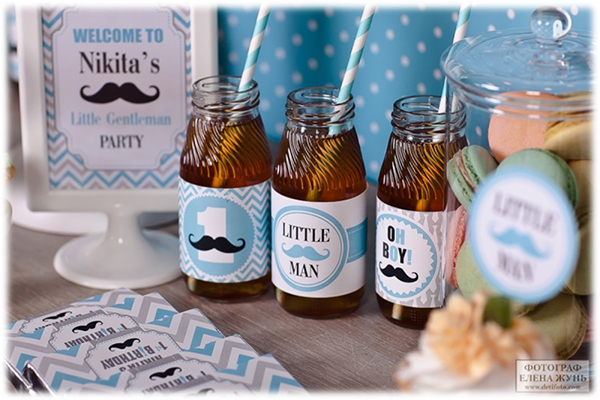 Photo studio The blooming days booked for the month. They did not rush into choosing a photographer, and Elena Jun, a friend of our friends, became one! She admired her work, so without hesitation the choice fell on her.
My friend Alice helped me a lot, she inspired me with all kinds of ideas and advised me how to solve organizational issues!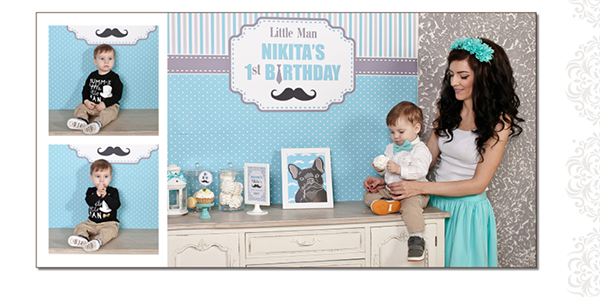 Since the birthday for my son turned out to be bright and unforgettable, I would like to share with the rest of my parents several rules for organizing a successful children's holiday. So,
Advance preparation;
Positive attitude and faith that everything will work out;
Good mood and friends who will help and give advice.