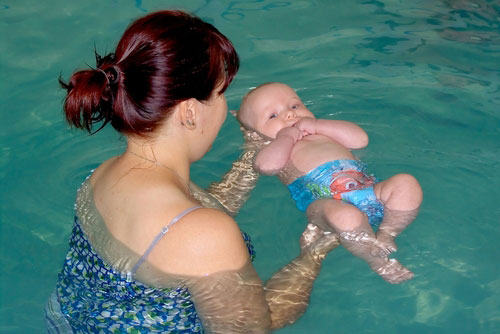 Swimming is not the same as swimming. The purpose of daily washing is to clean the baby's skin so that microbes do not accumulate on it and she can breathe well and protect the baby from infections.
A swimming is needed in order to improve and harden the baby, strengthen its immune system, help it to catch cold less often.
If regular bathing lasts only a few minutes, then swimming lessons need to be continued longer: starting from 5 minutes, by 6 months you can splash with your baby up to a quarter of an hour.
Another difference: if children are bathed in the evening, then it is better to "quench" in the morning or 1–1.5 hours before daytime sleep, and always before feeding.
Very little ones are taught to swim in special children's pools under the guidance of instructors. And it is possible to conduct such classes at home, if the size of the bath allows it – it should be at least twice the size of the baby.
If the child has fully healed the umbilical wound and the pediatrician has confirmed that he is healthy, there are no obstacles for swimming lessons. The main thing to remember is that these activities should first of all bring pleasure to the child.
In order for swimming to be of benefit to your child, keep in mind that:
Before starting a class, the child's skin should be warm: if his hands and feet are cold, first warm them;
At first, the water temperature should be, as usual, 37 ° C, and by the year it can be gradually increased to 33–34 ° C;
in order not to frighten the small with a sharp change of "habitat", it is necessary to immerse it in water gradually, keeping it with its legs down and facing itself, not dipping its head;
5–7 minutes is enough for the first "swim," and when the baby is one year old, he will be able to swim up to half an hour;
each month, reduce the water temperature by a degree, but, starting from the set 37 ° С, do not fall below 34 ° С.
Bathing your crumb, do some simple exercises with him.
Turn the little one over on his tummy, supporting him from below: in this position he will bend his back, trying to raise his head, and begin to move his arms and legs vigorously, as if he is swimming. And if you move your child to the side of the bath, he will push his heels away from him.
Put the baby upright, holding his armpits, and "walk around" with him along the bottom of the bath – you will see how the crumb begins to touch the legs.
In order for your "swimmer" to take a breath, from time to time turn it backwards, supporting it under your head – let it lie in the pose of an "asterisk" on your arm.