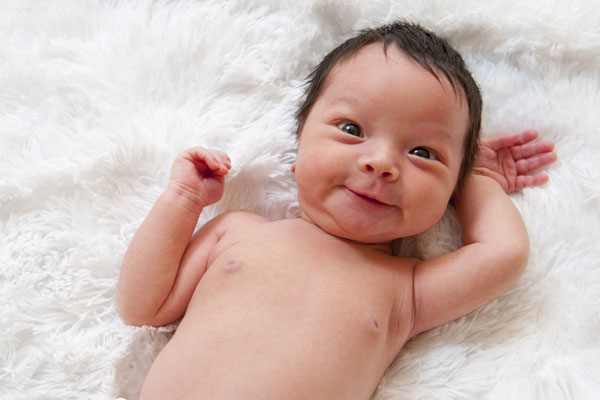 An umbilical hernia is a skin area within which there is a small fragment of an organ of the abdominal cavity (as a rule, sections of the small or large intestine). Externally and to the touch, it resembles a compacted tubercle, which becomes especially noticeable under certain circumstances.
Most often, it appears immediately after a meal, at the time of a bowel movement or during periods when the intestine or bladder is full. A hernia protrudes during light physical exertion, for example, when coughing, sneezing, crying.
This is because in these situations intra-abdominal pressure rises, therefore the organs located in the abdomen become cramped, and their edges are pushed out through the hole in the region of the umbilical ring. In most babies in a state of complete rest, the tubercle is almost invisible.
If the intra-abdominal pressure in a child is constantly increased due to the peculiarities of the anatomical structure, his umbilical hernia will always be noticeable.
To hold the organs within the abdominal cavity the connective tissue is designed, which is located under the top layer of the skin and consists of collagen and elastin fibers. If in the area of ​​the navel they are not strong enough, then under a strong pressure they will move apart and let the constrained organ out. The pathology of the connective tissue develops in utero, and its cause is not fully understood.
Most often, doctors call stress, infections, poor ecology or hereditary factors. However, connective tissue may weaken in a child born healthy, although it happens very rarely.
Failures cause serious illness (rickets, dysentery) or very strong physical exertion. By the age of 3, the umbilical hernia most often passes by itself, because the connective tissue becomes stronger with age.
While she has not disappeared, it is useful to strengthen the abdominal muscles: go with the baby to the pool, do physical therapy and massage him.
Pinching an umbilical hernia is a rare, but very disturbing, complication that requires immediate action from parents.
Pinching causes muscle spasm, as a result of which a fragment of one or several organs of the abdominal cavity is tightly clamped inside the hernia. At the same time, the blood supply in the affected organ is disturbed, causing the death of tissues. The alarm should be beaten if the hernia has become hard.
Other symptoms – redness of the skin, pain in the problem area, vomiting. With such signals, immediately call an ambulance. Doctors will first try to relieve the spasm, and if the attempt fails, they will have a hernia surgery.
Some surgeons believe that it is wise to wear a hernial bandage or a plaster, which will support weak connective tissue, to prevent incarceration.
Video: Umbilical hernia in babies. Acute appendicitis.