To decide to expand your family when the first child is older than 11–12 years old, on the one hand, is not easy: diapers, diapers, abdominal pain and teething teeth are far behind. On the other hand, to return to the first smile of a tiny creature, the joys of the first steps, you will agree, is a tempting offer.
Probably, it is no longer necessary to look in the pantry for a stroller and playpen: the dowry of the firstborn, alas, has not survived. Yes, you will need more financial costs. When planning kids with a small difference in age with this problem.
But on the other hand, children will not be able to learn and marry in just one year. Mass withdrawal of money from the family budget for weddings and higher education can be divided into parts.
The material side is only part of a multifaceted life.
Raising a second child together with an older, almost adult firstborn, is undoubtedly simpler. The elder and the stroller rolls, if necessary, and runs over the diapers.
Having reached adolescence, the first child not only does not burden the parents, but sometimes it becomes a great helper: to play with the crumbs, there will always be someone to look after him.
An important part of family relationships is the psychological calm of all its members. For the younger – the happiness of having an older friend.
He will be proud, in all imitate him.
Younger children, as a rule, only win. They are often helped to do their homework, they stand up for them, seniors can organize a very interesting lesson that is remembered for a lifetime.
Many fear the problems of a teenager. Indeed, such a difference in age is good for parents and the youngest child, but the firstborn may have problems.
To prevent this, we now communicate with you, is not it?
"My older sister has always been an authority for me," says Irina enthusiastically. – She was 12 when I was born. My childhood is like a fairy tale: Marina invented such games and activities! I was ready to spend the whole day with her.
Somehow, I remember, they made an experiment on hamsters. They made them a labyrinth, where the food is green, where the dead end is red … She studied well and I tried; She is beautiful, and I always asked to help me to do my hair, to advise what to wear. Only I could trust her most personal problems: quarrels with friends, first love, we talked to her on any topics.
My friends were jealous, everyone wanted to have an older friend. But when I was 13 years old, she married and moved to live with her spouse.
We began to see less and less to communicate. Nevertheless, Marina is closer to me than my mother. "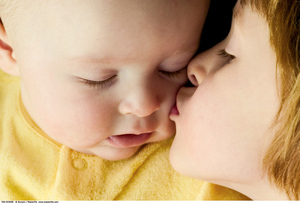 What is so unusual about this age difference? It is about meeting two crises. The first: adaptation of the newborn, his adaptation to life.
Everyone knows that: crying, colic, feeding, those very sleepless nights. Second: adolescent crisis.
Cunning age. The seventh grader Maria defined it this way: "I'm 13, there is no doubt about it, but only now or already". The time when a person hangs between childhood and adult life without determining where he is.
So, the newborn and teenager need a lot of love and attention. But where the first takes its cry, the second risks being misunderstood.
Difficult age gives a lot of problems to both the child and his parents.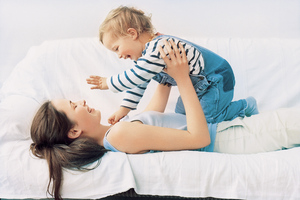 The news about the upcoming replenishment of the family, the firstborn must find out the second, after the husband. Your trust is important to him, and he will surely appreciate it.
But, if you are already pregnant, do not ask the child about his desire. Teenagers are built on confrontation, contradiction is their main feature. Preparation for the emergence of a new family member, of course, is needed.
Tell me by your example how good it is to have a brother or sister, remember interesting moments from your common games. If you grew up alone, tell me how sorry you are that you are the only child in the family.
Let the firstborn take the second baby as a gift and advantage over peers. It happens that children laugh at the same age as the wheelchair, teasing, that this is his newborn. Help your child positively set up friends in advance, and they will certainly ask their parents to get a baby.
Show the teenager that something important will appear to him: the younger brother who will require HIS care, who will listen to HIS opinion and trust HIM even more than the parents. Even before birth, emphasize the special relationship of the crumbs to the older child. "When you come up and start talking, the baby in the tummy reacts and moves, obviously, it will love you a lot." Of course, it will be so.
But tell the child about the difficulties to be expected, give the opportunity to adapt to the changes. And oh so easy!
A child in transitional age especially needs the manifestation of an "adult self". In children of 11–12 years old there is a great sensitivity to all shades of relationships, to any falsehood, the need for parents to recognize him as equal. For this, he is ready for anything, to become a hero or a bully.
Trust him, let him feel his usefulness and necessity to you. If you do without the help of an older child, his zeal will pass and he will withdraw. From the first days allow the child to help care for the baby, show your interest in this.
With the birth of a baby, you will see how for you the firstborn will become an adult. It is good that you will treat him differently.
It is always difficult for parents to reorganize, they want to protect and teach their baby. And in this sense, the appearance of a newborn is very opportune.
Oksana shares her feelings: "When my child was 11 years old, my husband and I wanted to give birth to a second baby. I became pregnant and thought it necessary to ask the opinion of the eldest son. But, alas, he said: "They have thought up something else, I don't want to."
Apparently, time was missed, and the second child was needed only by us, and after all, before all Kirill had asked to give him a brother. Then it was not up to it.
Just now got on their feet, bought an apartment. A son a month later asked when "to wait for the offspring".
Now I am in the fifth month. "
Make every effort to devote enough time to the older child. Listen to him, take in any of his impulse, with any of his mistake, doubt and misfortune, arrogance and irritability. Enjoy the achievements of a teenager, answer questions, and be interested in his life.
Set aside certain hours when the baby is sleeping or being occupied by the father. Do not combine infant feeding and communication with the older child, avoid situations that cause jealousy.
It is important, of course, and dad's attention. For girls, father's love is an increase in self-confidence, inner comfort and a sense of protection, for boys it is important advice, an opportunity to trust and be understood. Try not to change the rhythm of family life, if possible, leave to the elder all his rights: watch TV, listen to music, have your own place in the apartment, ensure immunity to his things and do not encroach on his personal time.
Do not forget that parents are still you, do not overload your child with care and responsibility for the newborn. The main burden for you, the parents, and the reproach of the husband: "There are two women in your house, but there is no one to look after the baby" – is inappropriate. One of the "women" still has time to be nursed, but for now it's time to study and relax with friends.
Let the eldest child help as much as he wants. If there is no desire, which happens very rarely, limit your request to look after the crumbs while you are having dinner and taking a shower.
Wait, and the firstborn will show interest.
Egor recalls his experience as an older brother: "When Vanya was born, I was 12. This screaming bundle did not give me rest. At first I really wanted to be trusted, I wanted a baby to bathe, feed, but my parents preferred to send me for a walk.
For them, the best help was "not to interfere." So sort of coped themselves. The parents seemed to have forgotten about me, I started coming home late, and the reaction was zero.
It was even interesting. What I was doing then: I once asked a friend to call me at home and say that I broke my leg in the neighboring yard.
Mom cried, and I was glad that they paid attention to me. Having matured, of course, I understood everything.
And I love Ivashka, but those years were difficult. "
The reasons for planning just such a difference in the age of children is quite numerous: parents did not have the opportunity to raise two children at once. Rising to his feet, waiting for the first child to grow up, the family again becomes "pregnant." Whereas the decision to have a child suddenly in ten years often causes confusion among others, the intention to give birth to a second husband is clear to everyone.
A common child strengthens the relationship of spouses, but one should not forget about the first son or daughter. Wait at least a year before thinking about replenishing the family.
Let the child get used to his stepfather, make friends with him. Perhaps, the thought of the third is not going to leave him yet. It is necessary that the child, even before the baby appears, understood that the father loves him as his own, that he is dear to everyone and necessary.
Otherwise, a third will overlap into two crises. Then it will be more difficult to show your child your love, it may close and not accept it.
The elder must feel inside the family, next to mom and dad, and not outside, where it is lonely and insulting.
This problem faced Larissa. "I suffered so much with my brother, my parents just shifted the responsibility to me. I was 13, and I sat with the child, everyone walked, and I had to feed, water, wash, change. Even a week in the hospital with him I was lying. Mom worked, Mischa then 3 years old was.
Now I can't decide on my child … ".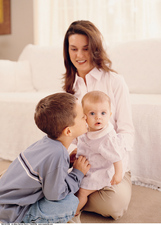 Another problem is considered to be constant assessment by parents, albeit unconscious: who they love more. At the slightest remark of more attentive attitude to one of the children, the parent tries to compensate for "his" child's lost love. Such competitions and observations will not bring to good.
Since you have chosen a father for your children, treat his feelings with confidence. Of course, a joint child will have to spend more time, but this is natural: you do not need to feed the elder with a spoon, you do not need to change his diapers.
Do not try to treat children equally, this is not mathematics, and you may feel different, but strong enough love.