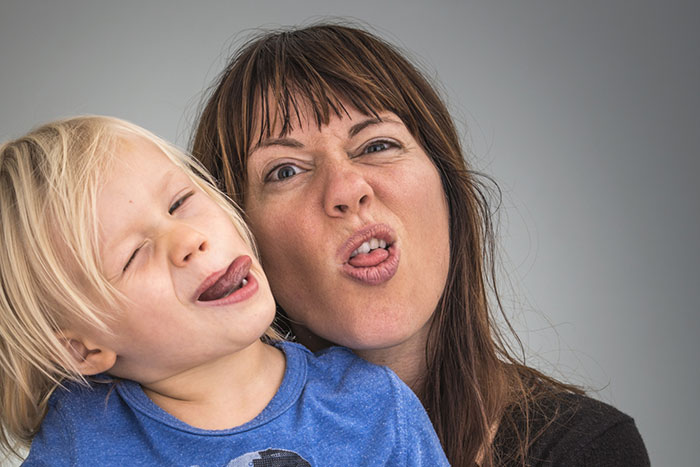 "My child does not know how to behave!" – you summarize in your hearts. Do not worry, most likely, he really "does not know how", and not "does not want" and does not "do everything in spite, mocking mom." And the world law says: if someone doesn't know something, he can always be taught.
Just need to know how.
The kid can be taught to behave well, but for this it will have to work hard for him and you.
If a husband and wife are not always one in their desires, then mom and dad should be united in their demands. Discuss with each other, as well as with other relatives involved in raising the baby, your demands and reactions to various actions, rewards and punishments.
Otherwise, it will be difficult for the child to figure out what is all the same "good" and what is "bad." And what exactly the consequences will lead to "bad."
Began to deal with behavior deficiencies? Patience, consistency and perseverance. Do not give up without seeing improvements.
It takes time.
To disaccustom a baby from a bad habit, it is necessary not less than three weeks. In the calendar, note how often "undesirable" actions are repeated now – progress will gradually become obvious.
Explain. Instinctively, the baby cannot know exactly how to behave. So do not forget to teach it.
Son harsh with a dog? Show how to gently stroke the dog on the back.
See if he does it right. By punishing, but not explaining, how to do the right thing, you make the child angry, forcing him to further misconduct.
Do not read the notations. Six words is enough to explain what you want.
And do not ask: "Are you ready to go?" Softly command: "It's time to go, say goodbye." Set the rules, but do not discuss.
Dispose of clearly, not arguing with your child about your conditions.
Do not take the upset kid literally. If he throws a toy at you and shouts: "I hate you!" – this does not mean at all that you are now the embodiment of universal evil and personal enemy No. 1 for him. Do not get angry and shout in response. Understand the true cause of his anger.
And say softly: "Sweetheart, it's time for us. In the evening, you can return to your puzzle. " Punishments do not exclude, but remember that up to 2-3 years, they are not the most effective method of education.
The nervous system of the child is still very weak, severity can lead to hysterics. It is difficult for a child to stand in a corner, he may simply not remember the punishments.
It is often better to just distract him. Son said bad words heard in the yard?
Do not focus on this – otherwise he will really remember them.
The baby, like the computer, must be "programmed" —to accustom you to the correct behavior in advance. If in a store a child of 3-4 years is enough with his hands – play "to the store" at home. The bear will ask mom: "Is it possible to take it?" – "It is impossible," the mom will answer "programmer" several times.
Preparing to visit the doctor, play "the doctor". In a new situation it is difficult for a child to stop and think over his behavior.
Do not shout, scream "turns off" the child. Want him to hear – lower your voice.
You can sit on your knees, so that your eyes are on the same level, and speak almost in a whisper.
If the punishment does not work – understand why. A kid may perceive punishment as an encouragement, a game, a way to get attention that he lacks. The teacher reads the story aloud and warns: "Who will behave badly, will retell."
Gale really wants to retell, so she starts spinning and making noise.
Watch his condition. You think that the child is stubborn and capricious in spite of you – but he did not sleep, reacts to the weather, is tired or upset about something.
Agree on the basis of his well-being, considering what he wants and what you can.
Take the kid away. , for example, having said something unexpected, if you see that a child's lips are shaking or his hands are clenched into fists, which means: now a tantrum may begin.
Encourage modest success. "Thank you for staying at this place and not going anywhere!" Encouraging words stimulate. Dad is a big authority, his praise is especially valuable.
The phrases said by adults with children are well remembered, but ostensibly not for them.
Do not correct all errors. Frequent comments depreciate, the child ceases to notice them, having become accustomed to the always swearing mother. And he cannot keep many instructions in mind at the same time.
Focus educational efforts on one thing, not trying to simultaneously learn to put things quickly and accurately. And do not deprive the child of their own experience, leave him the right to small mistakes.
The right motivation is very important. Explain at the level accessible to the child why it is necessary to do this way and not otherwise.
Impatient Masha loves to walk and does not like to wait. Therefore, without waiting for her mother to comb her long and thick hair, the girl tends to run out of her uncombed house. One day, mom explains: "All the neighbors will now decide that Masha is a sloppy and slovenly girl.
They will look at you disapprovingly. " And now Masha herself demands that her mother carefully brush her hair, and without neatly and tightly braided braids she will not take a single step from home.