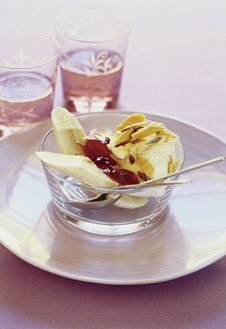 A couple of bananas instead of snacks – and you are awake and full of energy until the evening. After all, these tropical guests are among the champions in calories (about 100 kcal / 100 g) and carbohydrates (up to 20–25%). Ripe bananas of sweet varieties contain a lot of sucrose and glucose, and in unripe fruits and savory varieties there is starch.
They are assimilated especially easily and quickly, because bananas contain enzymes that help carbohydrates to be absorbed more easily. By the way, this is one of the reasons why hearty bananas should not be carried away by all those who want to lose weight.
The flesh of bananas is more tender than that of many other fruits and vegetables; moreover, they contain relatively few dietary fibers (only 1–1.8%). Our "heroes" are rich in potassium and magnesium.
Potassium improves the functioning of the heart, removes excess fluid from the body, reduces high blood pressure. Magnesium contained in bananas will help to normalize the high performance on the tonometer, and in addition, this wonderful substance will calm the nervous system.
All these useful qualities are indispensable for expectant mothers, especially for those who have pressure or sometimes swelling.
Bananas supply us with vitamins C, B6 (it participates in the metabolism of proteins and fats, supports the immune system) and even rare vitamin U, which helps to heal stomach and duodenal ulcers. These aromatic fruits also contain biologically active substances – biogenic amines (serotonin, tyramine, dopamine, and others). They improve the functioning of the central nervous system, raise the mood, help calm down if you are nervous.
And vitamin B6 and magnesium enhance these important properties.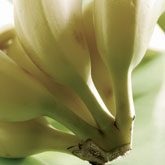 Gentle sweet bananas will ease the discomfort with heartburn. And unripe, slightly greenish fruits will help to cope with intestinal "difficulties" carefully.
Banana purees (including with other fruits, dairy products, cereal) are offered to babies from 6–7 months old, starting with 1 tsp, and by the year – 100–150 grams. From 9–12 months, bananas can be given to a child by cutting into circles.
A portion of bananas (150 g) by 21% fills the need of an adult for vitamin C, by 15–16% in potassium and magnesium.