"Do the opposite," – incites the little man of great harm. For many years, parents struggled with this scourge, until the writer Gregory Oster created a vaccination against disobedience – the famous "Bad Advice" in funny poems.
They were written back in the 80s of the last century, but the Soviet censorship did not appreciate a new look at upbringing and forbade printing a book. Ironical poems began to be published only in the free 90s – and reached millions of copies.
Experts even called Oster the only children's writer who contributed to the development of post-totalitarian Russian literature.
Comic situations, irony and inventive language of Grigori Bentsionovich in the play "Bad advice" are combined with music, dancing, magic tricks and games. And with the main character – Her Majesty the Harm – the audience fights along with the characters of the play.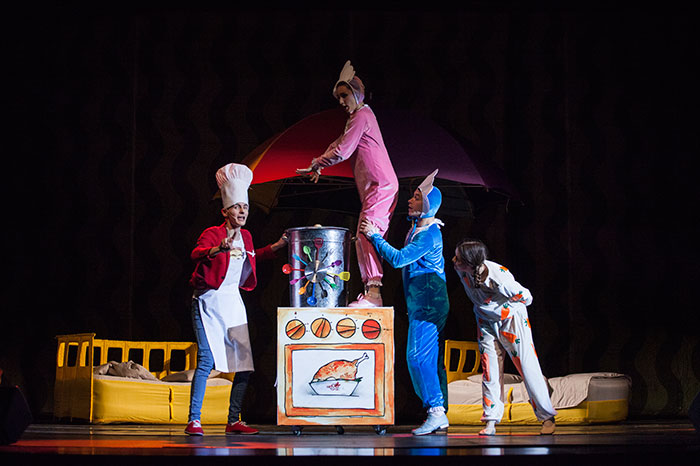 Aleksandr Butko became the director of the "Harmful Soviets", musicians of the Leningrad Rock Club worked on music, Olga Chervatyuk was in charge of the choreography, and leading actors were performed by St. Petersburg theater actors (Litsedei, Estrada Theater named after A.Raykin, Petersburg Operetta Theater "And the theater" Buff ").
Tamara Asakaeva (Litsedei Theater), Anastasia Lazo (Variety Theater named after A.Raykin), Yegor Sigaev (Petersburg Operetta Theater), Svetlana Nayazina (Buff Theater), Nyura Pashkevich-Tichina (actress theater and cinema), Dmitry Bystrevsky (actor of theater and cinema) / Oleg Kalabaev ("The Master and Margarita", "The Demon of Onegin" "The Yudo Miracle"), Alexander Kiselev (ballet) / Andrey Orlov (ballet), Zinaida Nekrasova (ballet) Anastasia Yezova (ballet).
The performance will take place on February 24, 12:00, DK Zueva (18 Lesnaya St., Belorusskaya metro station).