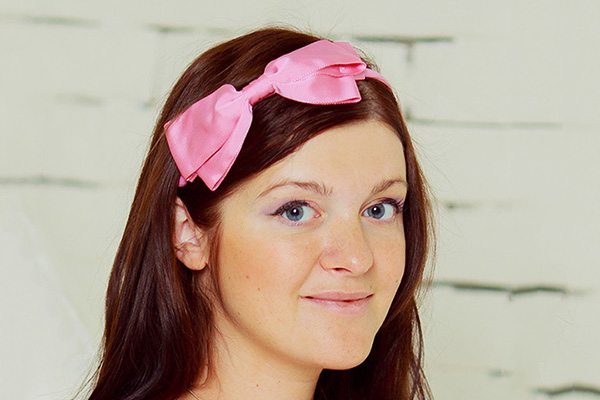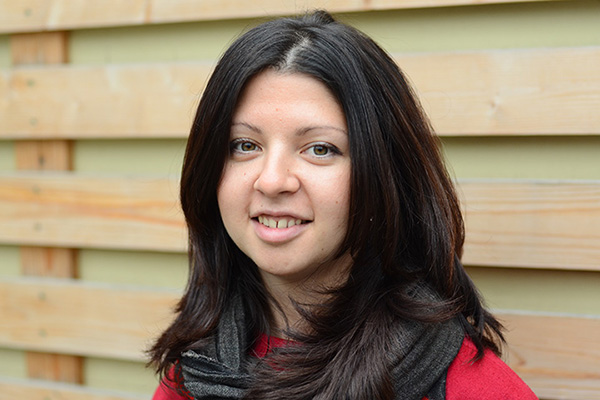 Natalia: Baby Sensors (they call us both baby sensory and baby sensors) are the first educational activities in Russia for children since birth: the youngest guest in the 20-year history of the program was 4 days old. Baby Sensori is a unique method of early development, fully adapted for Russian moms and dads.
It is a structured, fun, colorful activity, each of which is unique during the annual program, and is filled with useful information about early development. In the classroom everything is collected that is the best of advanced techniques and is supported by the research of experts and the most founder – Dr. Lin Day.
Irina: The uniqueness of Baby Sensori is that it was created, indeed, for children from birth. Natasha has been attending classes with her youngest daughter for several months.
When they started to study, the girl was 2 months old, and this is not the youngest "pupil" – our baby sensor – the kids are even younger than us. The list goes on, including excellent musical accompaniment – many songs were created by Lin herself, many English ancient songs were carefully and carefully adapted. This is undoubtedly a new word in the field of "developmental" programs in Russia.
It is even difficult to compare with something.
Nataliya: Baby Sensory is a one-year program of weekly classes, they are built on the knowledge of the world by babies by stimulating all the senses with the direct participation of their mother or father and their young peers. Baby Sensori takes into account that in the first year of life the child lays the basic foundation for the rapid and successful development in the following years. After all, the brain of children in the first year of life increases in volume by 2 times, and never again in life will there be such amazing discoveries that occur during this period.
The lessons of Baby Sensory are the development of hearing through songs, acquaintance with a variety of sounds, and stimulation of vision while observing beautiful visual activities, and various tactile sensations, and even acquaintance with smells and the formation of smell. All activities in the classroom are specifically designed taking into account the stages of physical and emotional development of babies.
Irina: We spent a year in order to adapt the methodology for Russia and prepare our teachers to teach at the highest level. During this year, we translated the songs, and not just translated, but did a great job, so that, for example, the words of the song corresponded to the gestures used during these songs, recorded these songs with a professional singer in the studio, bought equipment for classes (and all for Baby Sensori brought straight from England and every toy is checked and approved by Lin personally.
Considering that each lesson the equipment changes, and the lessons in the year 40, – you can imagine the number of titles!), Our teachers passed trainings and passed exams in England and after that they were preparing for the classes for a long time and diligently – after all for each lesson, according to the standards of Baby Sensori, it takes three full days for a teacher, and this time is often not enough, because so much new information needs to be studied, processed and then brought to class by young parents.
Natalia: After classes, many of our guests prefer not to disperse right away, but to use the opportunity to feed the baby, talk with other moms and discuss development issues with them. And that's great! After all, communication and the opportunity to share experiences, as has been proven, add positive emotions to the lives of young parents.
Not only mothers, but also fathers and grandmothers come to our classes. This is a terrific experience and extraordinary emotions that arise in any generation!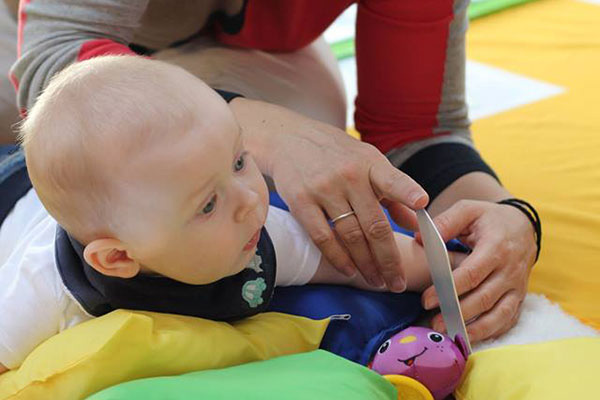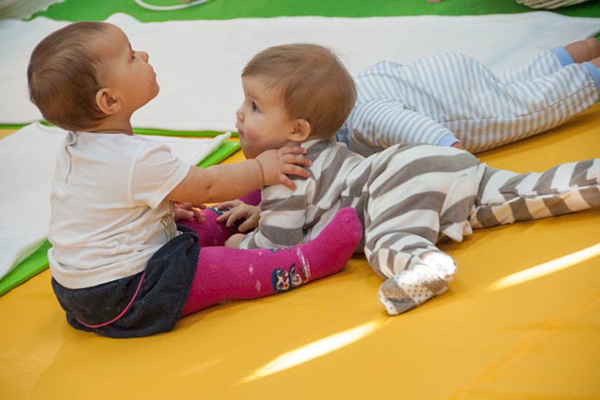 Irina: You can find out if you come to the Baby Sensory open lesson, which also happens with us. You can find out about them on the website: www.babysensory.ru. Usually, a small lecture about the development of children from birth, teaching baby sign language, as well as a lesson with songs and specially selected melodies, actions aimed at the development of vision, emotional sphere, as well as puppet theater, are held first.
The hourly lesson, as a rule, consists of three parts: exercises for development under the guidance of a teacher; time for a research game in a specially equipped and completely safe space; exercises for sensory experiences and impressions.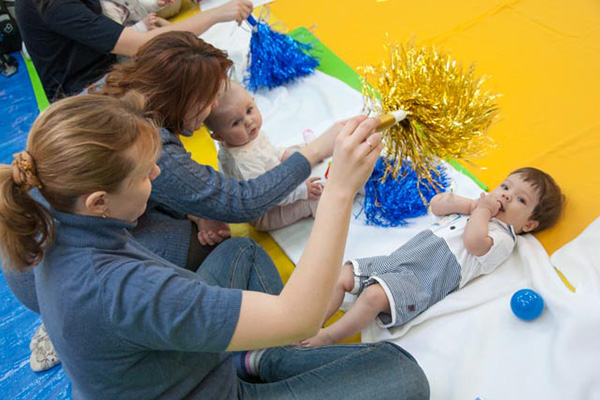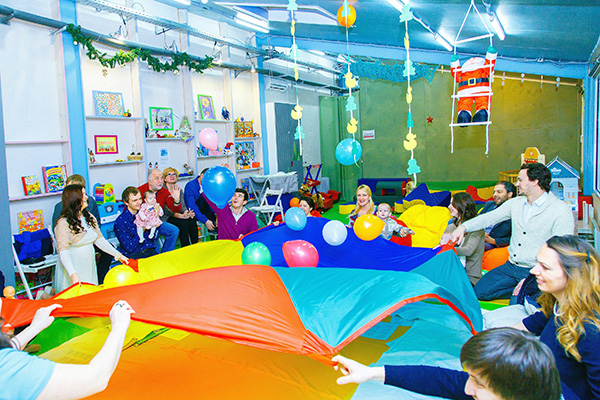 Classes in Baby Sensory are held every Friday in groups of 5 to 20 moms / dads with children at the CitYkids Family Center (City Kids) in Bauman Garden at the address: ul. Old Basmannaya, 15.
Cost – 10 000 rubles for a block of 10 lessons.
11:30 – group for children 7-13 months; 13:00 – group from birth to 6 months.
Every Tuesday, classes are held in the White Rabbit House Family Center in the residential village of Europe-2, 23 km of Ilinsky Highway.
Family centers CitYkids are development centers for parents and children from 0 to 6 years. The idea of ​​creating such centers is to make the life of young parents happier, increase the mobility of young mothers. CitYkids centers have everything to come here even with a baby – changing tables equipped with everything you need, a special baby zone in the game room, and, of course, an interesting schedule of classes for kids and their mothers.
The centers collected advanced techniques for the development of the youngest children. Citykids Family Centers are waiting for visitors:
Baby Sensori classes for children 0-13 months;
the best in the Russian market copyright educational, creative and sports activities for children 0-6 years;
game room for children 0-6 years;
theater studio for children from 4 years;
holding private holidays and birthdays, thematic and seasonal holidays;
urban summer camp for children in groups from 1.5 to 14 years;
ballet workshop for children from 2 years and adults;
nail salon for moms;
classes for moms.
Developing iPad and Smartphone Applications through the Eyes of an Early Development Specialist
Natalya Alekhina, an expert on the early development of Baby Sensory and simply the mother of a little girl, shared her own experience in exploring "developing" and "entertaining" children's apps for iPad and Android smartphones. Read more
Secrets of drawing techniques for the little ones
Is it possible to teach a child 1-1,5 years to draw? Will he be interested in this process? How to start and how to build classes with the future Monet or Renoir?
We found the answers to these questions in a fascinating lecture by Ekaterina Chupova. Read more
Learn to sing from birth!
The first cry of a newborn baby is the first voice test. Scarce already independently declares to the whole world about his birth.
And the people around him, with surprise and even respect, say: "Look, how vociferous!" And it is here that young parents will have to think about how to keep this vociferousness and develop it further. Read more