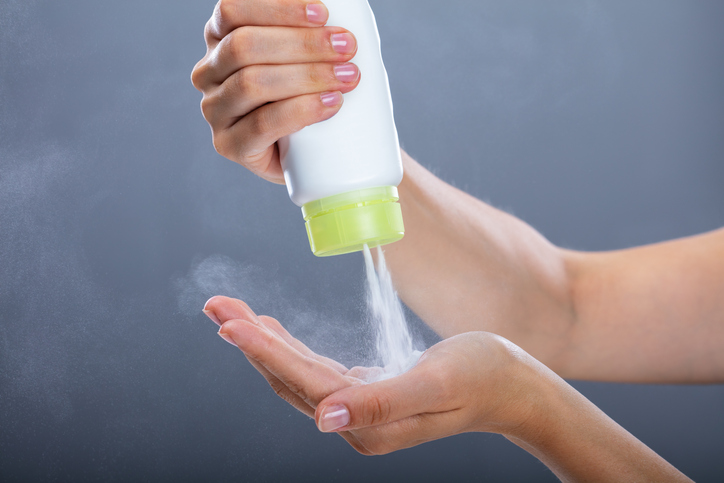 Powder quickly absorbs moisture and dries the skin. It thereby prevents irritation, diaper rash and itching in the groin, armpits and elbows. But pediatricians do not recommend using this tool if the baby is not yet 1 month old.
In newborns, the sweat glands are not developed, therefore they practically do not sweat. At this age, after hygiene procedures, it is sufficient to lubricate the baby's skin with baby cream.
Most powders are made on the basis of mineral talc. It has adsorbing properties and gives anti-inflammatory effect. Often we hear that talc is toxic, but it can be harmful to health only if a person inhales its vapors for many years.
So do not worry: this substance does not hurt the baby. Only preservatives and parabens should be avoided.
On the label, they are designated with codes U214, U216, and E218, and they include methyl, ethyl, propyl, butyl, isopropyl, and isobutyl paraben, paraoxybenzoate.
In addition, corn, potato or rice starch may be found in the composition of the powder. They are used as thickeners. Some manufacturers also add zinc, which has a wound-healing effect and enhances the drying properties of this hygiene product.
Extracts of medicinal plants (most often lavender or chamomile) have soothing and anti-inflammatory effects.
If you choose a powder, then note that it instantly absorbs moisture. To prevent the powder from drying out and not clogging the pores (this may be fraught with the appearance of diaper rash), wipe the baby dry after water procedures. Do not pour powder directly on the body of the child.
To distribute it evenly, first sprinkle a small amount of it on your hands, lightly rub it with your palms and only after that gently apply it on the baby's skin with light patting movements. Never use cream and powder at the same time.
These are two opposites: the first moisturizes, the second dries.