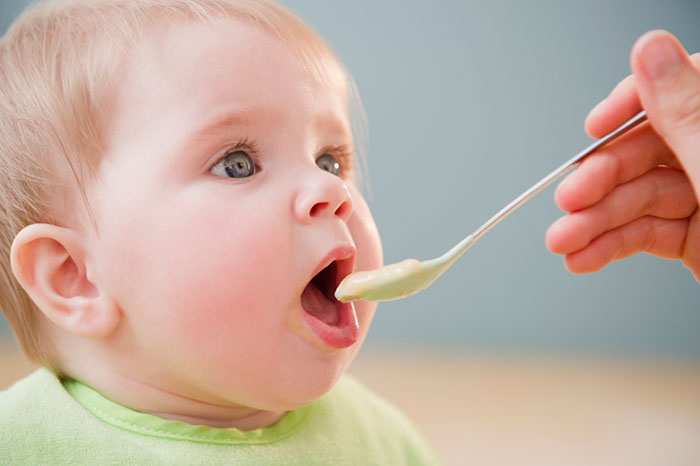 A few words about the usefulness of such porridge. In addition to the grain, baby milk porridges contain a milk component that supplies babies with very high-quality protein, energy plus calcium and phosphorus.
Milk carbohydrate – lactose – helps calcium to be absorbed and supports the growth of normal intestinal microflora. But that is not all!
Over the past few years, new ingredients have appeared in the composition of these products that have a beneficial effect on the health of babies.
Nowadays more and more products are becoming, the adapted mixture, rather than cow's milk, is becoming the dairy base of which. This replacement makes the nutrition of babies more natural, meeting the requirements of age. For all its merits, cow's milk too much loads the kidneys of children, because it contains quite a lot of mineral substances, and its set of proteins and fats differs from those that are part of breast milk.
Adapted mixtures to a greater extent meet the needs of the body of children, which is especially important for the smallest. Keep this in mind when choosing the first porridge.
Porridge enriches with more and more vitamins and minerals. The news of recent years is the introduction of pre- and probiotics into their composition.
After all, the problems with microflora and stool are found now in most babies.
The first food will be porridge for premature babies; lagging behind in weight, height; having the risk of iron deficiency anemia; for those who are often worried about bloating, abdominal pain, regurgitation.
Now that to choose: industrial porridges or homemade. To all the advantages of the first category, you should add one more: purchased porridges do not need to be cooked. The fact is that boiling milk reduces the availability of certain amino acids (lysine, alanine), which makes it less valuable.
In addition, due to heating, we lose some vitamins and minerals: vitamin C – by 60-70%, B – by 20-30%, and – up to 50%, calcium – 15%.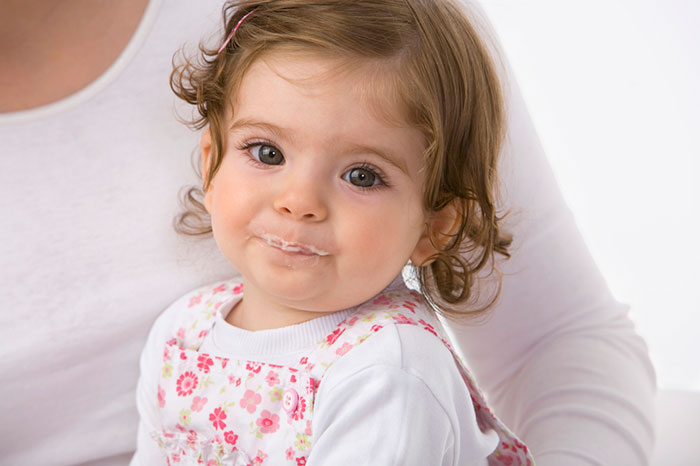 Label inscription: Porridge contains whole milk powder; cow's milk; skimmed milk.
Comment specialist. In the role of the milk base of purchased cereals can be whole milk powder, all components of which are preserved in their original form.
Another option is skimmed milk powder: in this case, manufacturers replace milk fat with vegetable. The purpose of this combination is to provide babies with polyunsaturated fatty acids that are involved in the development of the nervous and immune systems.
An example of cereal containing powdered whole milk: Hainz porridge rice with milk (from 4 months)
An example of porridge made using skimmed milk powder: Nestle Buckwheat (4 months old)
The inscription on the label: Porridge contains demineralized whey, whey proteins.
Comment specialist. Porridge, based on infant formula, will be easier to digest and will not overload the body of a small one. After all, the composition of the mixtures is much closer to the composition of breast milk than cow's milk.
So, if your baby eats a mixture, you can pick up a porridge based on it, and it is advisable to prefer the product already tested by the child.
An example of porridge made with the content of demineralized whey: Milk porridge with probiotics "Buckwheat" Hipp (from 4 months)
Label inscription: Oatmeal; rice buckwheat corn; wheat porridge.
Comment specialist. The value of porridge is largely determined by the type of cereal from which it is made.
Only for moms it is important to remember that rice, corn and buckwheat groats do not contain gluten protein.
Oatmeal is rich in vegetable protein, minerals, vitamins and contains the most solid among the cereals amount of fat (on average 6 times more) and fiber, which means it will be useful for babies who are prone to delayed stool.
An example of oatmeal: Bibikasha on goat milk oatmeal (from 5 months)
Rice cereal is easily digested, but there is little protein, minerals and dietary fiber, but starch is a lot. It is for this reason that it is so suitable for babies who too often visit the pot.
Example of rice porridge: Bebi porridge milk "Rice" with vitamins, iron and iodine (from 4 months)
Corn grits are similar in composition to rice, but there are much more proteins and dietary fibers in it. By the way, it is precisely to the last group of substances that it is obliged for its laxative properties.
Example of corn porridge: MAMACO corn porridge with prebiotics on goat's milk (from 5 months)
Buckwheat is one of the most valuable cereals, because it contains a lot of protein, minerals (magnesium, iron, zinc, copper) and vitamins (B1, B2, PP).
Example of buckwheat cereal: Humane cereal Human buckwheat with pear (from 4 months)
Wheat groats – not the leader in the content of fats, vitamins and mineral salts, but it is easily digested.
Wheat porridge example: Wheat Nutrilon porridge with milk cookies (from 5 months)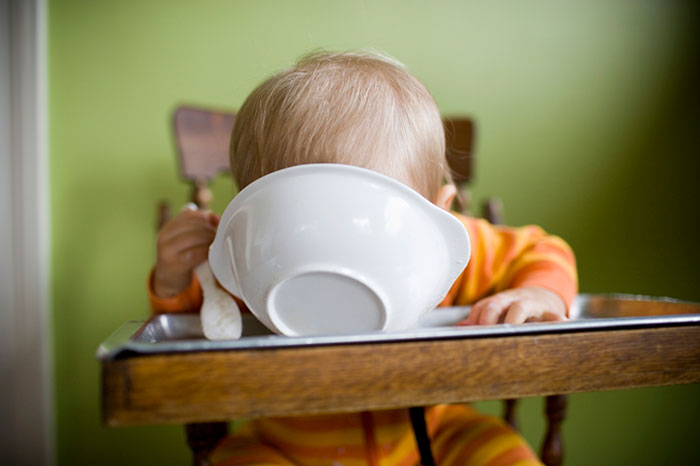 The inscription on the label: Multizlakovaya / multifruit milk porridge.
Comment specialist. Like all foods for babies, milk cereals can consist of one or more components: grains and fruit fillings. The latter are powdered dried fruit, to which manufacturers sometimes add vanillin – for taste.
However, it happens that it is used by itself, outside of this bundle.
Example of multi-cereal porridge: Baby milk porridge multi-cereal (from 6 months)
Example of a multifruit porridge: Milk Semen porridge with apple, pear and banana (from 6 months)
Recall that the first milk porridge of the baby should be a monocomponent product from cereals, which do not contain gluten, and without adding fruit.
The inscription on the label: In the composition – cream, different types of vegetable oil.
Comment specialist. Cream "charge" the product with energy, and a combination of several types of vegetable oils provides the body of kids with a set of fatty acids.
To make the fat of them easier to digest, manufacturers add soy lecithin to cereal.
An example of cereal containing cream: Baby milk porridge of 4 cereals with cream and peach (from 12 months)
Label inscription: Contains pro / prebiotics / fructooligosaccharides / bifidobacteria.
Comment specialist. These substances improve the composition of the intestinal microflora.
Probiotics are beneficial microorganisms, primarily bifidobacteria and lactobacilli, which also protect the intestinal mucosa from harmful bacteria and enhance immunity. The prebiotics include dietary fiber, inulin, oligosaccharides, lactulose.
Prebiotics themselves are not useful microorganisms, but their presence in the baby's diet helps the growth of bifidobacteria in the intestines and regulates stool.
An example of porridge containing prebiotics: Frutonya oatmeal porridge with milk and peaches (from 5 months). Enriched with prebiotic – inulin
Label inscription: Sugar free / sugar free.
Comment specialist. Milk porridge may or may not contain additional carbohydrates – sucrose, fructose or maltodextrin.
Sometimes in their composition there are combinations of these substances.
An example of cereal containing fructose: Frutonya porridge milk buckwheat with apples, with fructose (from 6 months)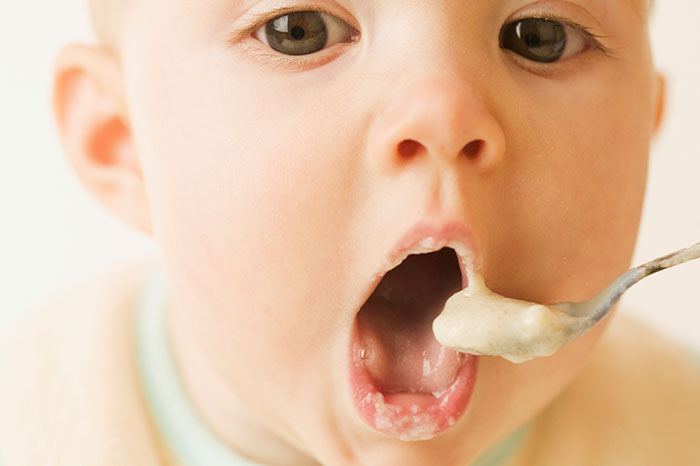 Label inscription: Contains calcium carbonate.
Comment specialist. Manufacturers enter mineral substances into the composition of porridge in the form of special forms – guaranteed for their absorption and proven to be effective.
Calcium carbonate and ferrous sulfate are good examples of this.
An example of porridge containing calcium carbonate: Corn MAMACO corn with pumpkin and apricots on goat milk (from 5 months)
The inscription on the label: Fruit and cereal milk porridge.
Comment specialist. These milk porridges do not even need to be diluted – they are already ready to eat. By their properties, they do not differ from the instant ones; they are enriched with vitamins, micro- and macro-elements.
Available in glass jars.
Sample fruit and cereal porridge: Hipp cereal porridge with fruit
Label inscription: Welling.
Comment specialist. So called one of the varieties of milk porridges – it is traditionally a Scandinavian dish.
Wallings are made on the basis of infant formula and, due to their liquid consistency, are well suited to the role of your baby's first porridge.
Example of Velling: Semper Velling oatmeal dry milk grain mixture (from 5 months)
The inscription on the label: Baby instant cookies.
Comment specialist. He, too, can be classified as porridge, because dissolving the liver in breast milk, the usual mixture of the baby or juice, you get a portion of regular porridge.
Children's cookies are also enriched with useful substances, so the benefits of such treats are obvious.
Example of soluble baby biscuits: Grow Big Biscuits Baby Oatmeal (from 6 months)
The inscription on the label: Sour-milk (yoghurt) porridge.
Comment specialist. In this case, manufacturers add yoghurt to the composition of the dairy base of porridge, which, as is known, has a beneficial effect on the composition of the intestinal microflora.
Example of yoghurt porridge: NESTLE porridge Pomogay cereal-yoghurt 8 cereals (from 8 months)
Baby formula after a year
After the first birthday was left behind, some parents remove strict restrictions from the children's menu in order to teach the child to adult dishes as soon as possible. The first from the menu of the child, as a rule, milk mixes disappear. Instead, parents offer crumbs of cow or goat milk from the store.
However, according to nutritionists, this is not the best option for replacement. Read more
Compound: from simple to complex dishes
Every month of life before the baby reveals the world of tastes. Step by step, he learns what vegetables, fruits and meat products are.
After six months, there comes a time when the children's body is ready to accept not only one product, but also their combinations. Read more