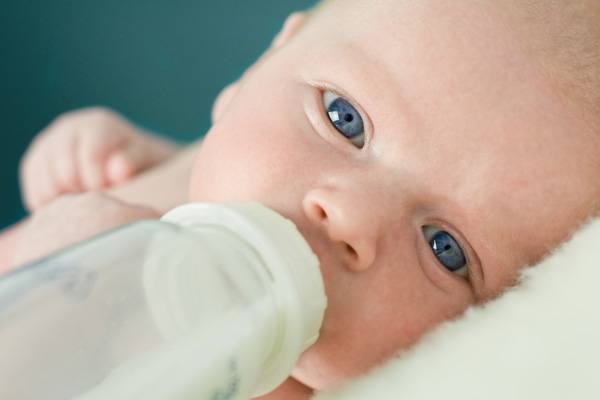 The baby gets used to warm food from the first minutes of life, and although the temperature of breast milk is only 36–37 ºС, this mark for the newborn is the most physiological. But starting from the moment when complementary feed is introduced into the diet of the crumbs, the bar can be raised or raised.
Warm food not only charges you with pleasant sensations, but also provides comfort during and after the meal. It does not irritate the gastrointestinal mucosa, ensures its harmonious work, promotes the development of digestive enzymes.
All these beneficial properties ultimately improve the absorption of food. The maximum temperature of the children's heated food should not exceed 50−60 ° C. If the food is hot, the child will instinctively refuse to eat it, and if he decides to try it, the first spoon can cause scare and even burns to the mucous membranes.
And in either case, the crumbs of the appetite will spoil, he will cry, and the meal will end on this. With a hot dish, he may be entrenched by negative associations, and next time it may be difficult to persuade him to try the food from the spoon. A simple experiment will help to avoid force majeure: before serving, place a small piece on your wrist.
If you are not hot, then the crumbs will not be either.
Although warm food is the most physiological for both adults and small people, not all meals and drinks need to be warmed up. First of all, nourishing food needs to be cooked: first and second courses (soups, meat, fish, side dishes), and also cereals. In the form of heat they are best absorbed.
And porridge is warm and more pleasant: at low temperatures, due to the high starch content, they acquire an unpleasant texture. Vegetable dishes also seem tastier when heated.
All other foods and drinks can be given to the baby at room temperature.
Tempered baby can not only with the help of air baths and douche.
Some parents heat up all food and drinks, including water, for fear that the baby will catch a cold. There is no need to do that.
First, when heated, some dishes lose their taste. Water, juices, fruit drinks, compotes, dairy products (kefir, yogurt), fruit mousses and mashed potatoes can be given to a child from the very beginning at room temperature (18–20 ° C).
From the refrigerator they need to spread for an hour before serving.
Secondly, this "cool" food has hardening properties: it "trains" the immune system. In the second year of life, if the child is healthy and the pediatrician does not object, the effect can be enhanced by cooling the corresponding drinks 2–3 ° C below the norm (at least 15–16 ° C).