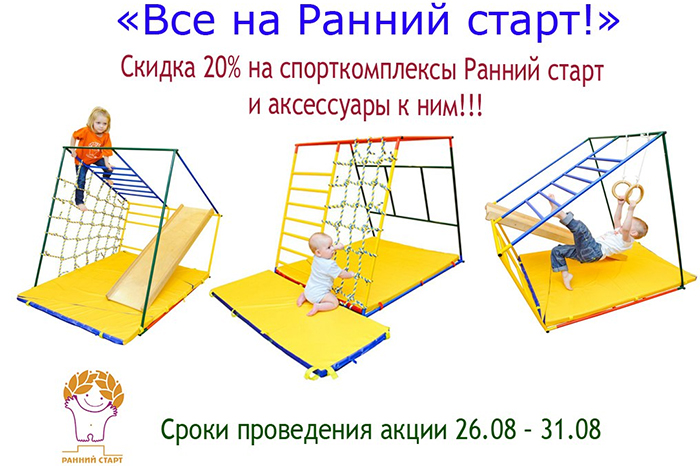 Physical culture – it's not just charging and jogging, not just the standard set of exercises to which we are used. This concept is broader, it includes any physical development, exercises aimed at the formation of a healthy and strong body, forms the coordination of movements, agility, even hardens the vestibular apparatus.
For best results, classes should be regular and, of course, interesting, varied and exciting! The best assistant in this matter can be the sports complex "Early Start"
This is a unique sports and gaming complex designed for children from birth! It is mobile – it does not require any additional mounts, it is all-season – in the winter it can be picked up in a city apartment, and in summer it can be placed on the street, directly on the lawn or the ground.
No rain or wind is terrible for him: durable coating – the same as on street complexes – will withstand any temperature drops!
"Early start" is compact – it takes only one and a half square places (model Lux and Standard). "Early start" is of different ages – suitable for babies from birth, and most importantly, it is multifunctional – unlike all other typical and similar sports complexes, it is used in five positions, and therefore will never get tired of the child. A large number of additional gaming covers and accessories make the possibilities of games for the "Early Start" limitless.
Only in the period from 08/26/2016 – 08/31/2016, on the eve of the new school year for the youngest students and athletes who have returned from summer vacations to the city, the online store Early Start gives 20% discount on sports complexes Early Start and accessories to them