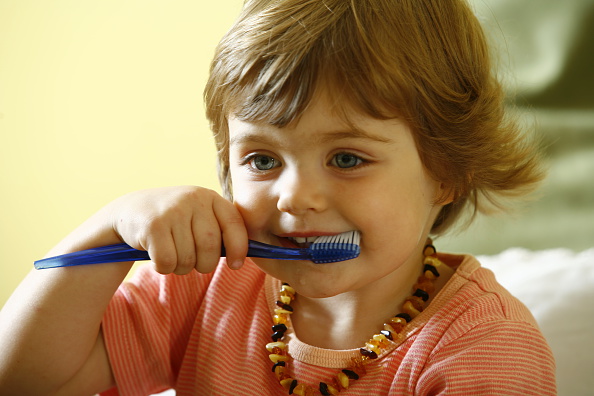 At what age should I teach my baby to brush his teeth? My daughter is 1 year 3 months old.
Lydia, Rostov the Great
To begin to brush the child's teeth should be from the moment the first tooth appears. At first this is done with a finger wrapped with gauze, then with a silicone brush-massager in the form of a fingertip. From 1 year brush your teeth with a soft head and soft bristles.
Change the brush is necessary every month. Up to 6 years old, parents brush their teeth 2 times a day; after 6 years, they should do it themselves.
Can an infant (8 months old) be fed with ordinary boiled water, or only bottled water is needed?
Babies can be watered by both. Just need to ensure that the drink was not cold. A child needs to be given as much water as he wants to drink.
And not to insist, but only to offer: babies independently regulate their drinking needs. If the baby is healthy, it can be done 2-3 times a day and once a night instead of nightly feeding.
My 5-month-old son has seborrhea on his head. Do I need to treat her?
Evgenia, Kineshma
Seborrheic crusts on the head in children under 3 years appear very often. To cope with them, treat the crusts with a cotton pad dipped in A-cerumen lotion (put a few drops on the disc) – this can be done once every two months and more often offer the child to drink, because the occurrence of seborrheic dermatitis in children is associated with a lack of fluid in the body.
If this does not help, it is imperative to seek advice from a pediatrician.
Son 3 months. A pediatrician in the maternity hospital said that there was no need to specifically care for his genitals.
A local doctor recommends that while bathing move the foreskin back and flush the head. How to be?
Who to listen to?
If you notice reddening of the foreskin, the child is worried about itching, he has rashes in the genital area, you should consult your urologist and follow his recommendations. If the baby is not disturbed by anything, it is sufficient to rinse it daily with soap and water (1-2 times a day, if necessary).
Pushing aside the foreskin, you can injure it and violate the microflora of the glans penis.
My daughter is 1 year and 9 months old, but she cannot get rid of her breast. He does not drink milk as much as he uses as a sedative.
If he doesn't get a breast, he starts to beat hysterically, distract her with nothing. Tell me, please, how to wean the baby from the breast so that it does not become stress for her.
Try to feed your daughter with regular food 4-5 times a day so that she does not feel hunger. For weaning, if possible, ask a relative to help you at least put the baby to sleep.
Come up with a new bedtime ritual, which excludes "communication" with the breast and strictly adhere to it. Be patient and act decisively in this direction; otherwise, when the child matures, weaning will require even more effort.