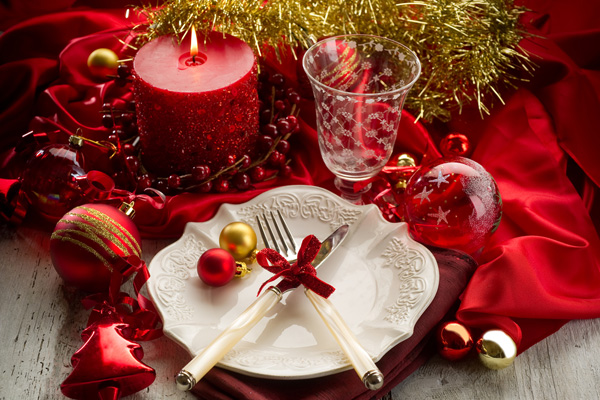 Expectant mothers need to be careful with the dishes on the New Year's table. After all, now you need to take care not only about your own health, but also about the health of the unborn child.
Snacks. Replace raw smoked products and homemade sausages with deli meats (low-fat carbonate, ham or ham).
As for salty snacks, they can be a good start for a feast only if you do not have problems with edema and fluid retention in the body. In any case, in the use of pickles must know the measure.
Salads Prepare a light vegetable salad seasoned with lemon juice and vegetable oil.
If you doubt lemon juice, you can leave only vegetable oil.
The main dish. Almost all types of meat will suit future mothers: beef, lamb, chicken, turkey, rabbit. All of them are rich in iron, protein, zinc, vitamin B12 – substances that are indispensable for the growth and development of the crumbs.
From fried foods, various smoked products and fatty meat should be abandoned altogether. Instead of pasta and potatoes as a side dish is better to use steamed vegetables and cereals.
Dessert. Replace the sponge cake or cake with a yoghurt cake, chocolate candies with dried fruit in the glaze, and ice cream with ice cream with low-fat varieties of ice cream with fruit.
The drinks. Pregnant women are not recommended carbonated drinks, juices in large quantities, alcohol. But the prohibitions in pregnancy are so good that you can break them a bit.
The doctor may allow you to drink no more than one small glass of champagne or dry wine – otherwise you risk getting a hiccupping baby in your tummy or heartburn. Categorical "no" to all strong drinks, such as brandy, whiskey, vodka and so on.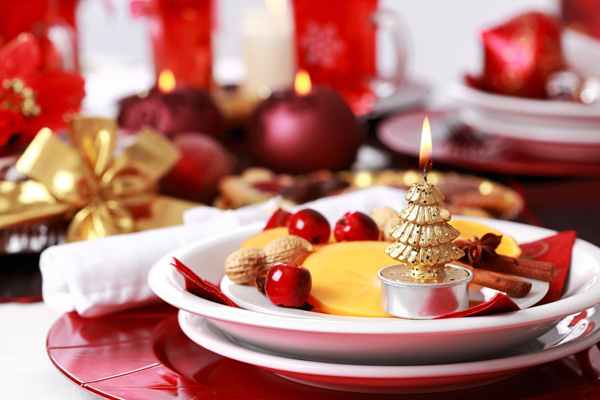 Nursing mothers are not recommended to dramatically change their diet even for one night. Everything that you eat now, immediately reflects on the health of the crumbs.
Snacks. Exclude all dishes with mushrooms. Mushrooms are hard to digest and contain many substances dangerous to the kid.
Definitely not worth trying industrial canned vegetables. It is also better to temporarily forget about the Korean carrot and other oriental delicacies.
Salads Choose salads from fresh vegetables, or at least salads, seasoned with vegetable oil, and not sour cream or mayonnaise. With the help of a food processor, you can quickly cook a salad of fresh vegetables.
And let the guests bring the Olivier basin – they will eat it too.
The main dish. The ideal dish for you now is boiled meat or tongue, meat rolls of pork, rabbit or turkey cooked in the oven.
It remains only to cool them, chop them and serve them to the table. You can also eat baked, boiled or stewed fish, but in moderation, as it can cause allergies in the crumbs.
Salted, smoked fish, as well as canned fish, sushi, caviar and seafood should not be consumed at all.
Dessert. When cooking dessert, give preference to fresh or frozen fruit or berries (blueberries, blueberries, lingonberries, cranberries).
The drinks. Alcohol, falling into the milk, can harm the baby. It is better to fill the glass with a soft drink, prepared on the basis of juice or fruit compote.
But there are limitations. It is not recommended to drink juices from tropical fruits, pomegranates, carrots, and citrus fruits – they can cause allergies in a child.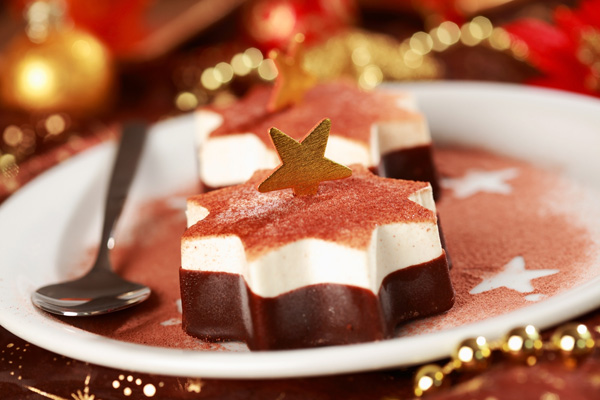 Take seriously the compilation of the children's holiday menu. After all, no matter how exceptional and long-awaited the next year's meeting, the "right" food is the key to the health of the crumbs!
From year to 1.5 years. For the New Year's table, children of this age do not need culinary delights. Toddlers should eat by the clock and diet.
And parents should not give in to anyone's persuasion about the exclusivity of the New Year's night, in which "everything is possible". Young children usually like to take different "goodies" and drinks from an adult table, so prepare juices without preservatives and sugar in advance, chop fresh vegetables (for example, cucumbers), savory biscuits (biscuits), move alcohol and carbonated water away from the table edge.
From 1.5 to 3 years. If you want to set a full table for children with a varied menu, think about its usefulness. At this age, children do not like experiments in the diet, and therefore the menu should consist of all that is well known to the child.
Salads will come from boiled or fresh vegetables, but with dressing it is better to be more careful and give preference to vegetable oil or sour cream. Do not add peas and corn to children's salads, as they can cause bloating.
For cutting use boiled or baked meat, exclude smoked meats.
As the main hot dish, you can cook poultry meat or fish. In order not to spoil the holiday for the child and yourself, make sure in advance that there are no bones in the fish.
Stewed vegetables and cereals, as well as pasta, are suitable for garnish.
Be careful with sweets: limit the consumption of sweets and citrus. Prepare a fruit salad seasoned with yogurt. Also suitable marmalade and candy.
Ideal drinks: fruit drinks, juices and compotes.
From 3 years and older. Prepare sandwiches and sandwiches for a snack.
Combine two or three layers of different products that match with each other in taste and color, chop them onto skewers and stick them into prepared bread slices. Here are a few options: soft melted cheese, tomato and a sprig of greens; cheese cube, on it half a walnut, olive; pate, olive or a slice of red sweet pepper, a sprig of greenery. You can also make vegetable sandwiches.
Simply, instead of bread, use figurine-cut vegetables, raw or boiled. Suitable carrots, beets, turnips, radishes, pumpkin.
Replace red fried meat with poultry meat, best of all turkey.
For dessert, children of this age can already cook a cake. Nevertheless, opt for low-fat yogurt-based cakes and fresh berries.