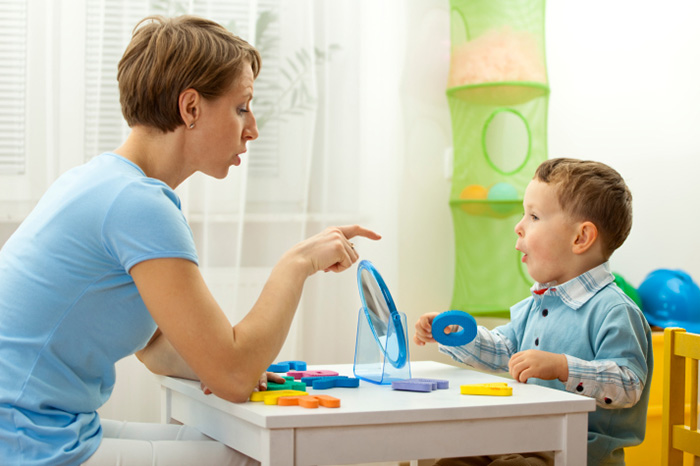 Articulation gymnastics are special exercises for training the organs involved in the formation of speech sounds: tongue, lips, cheeks, lower jaw. Conventionally, all the exercises can be divided into three groups: some help improve mobility and harmonize the work of speech organs, others increase the strength of their movements, and still others help to "teach" the tongue, lips and lower jaw to a certain position that they must take to correctly pronounce or another sound.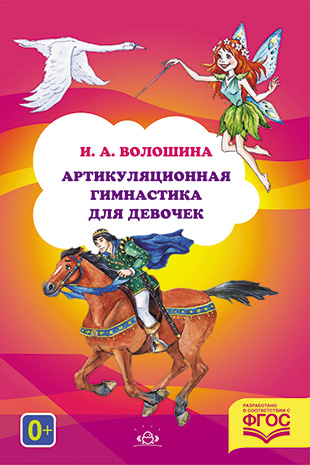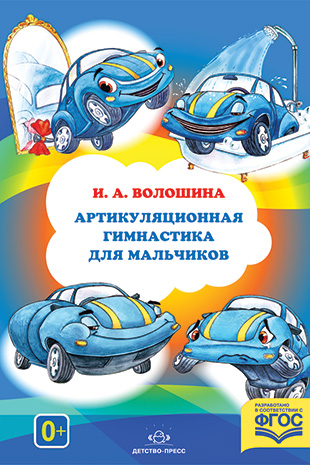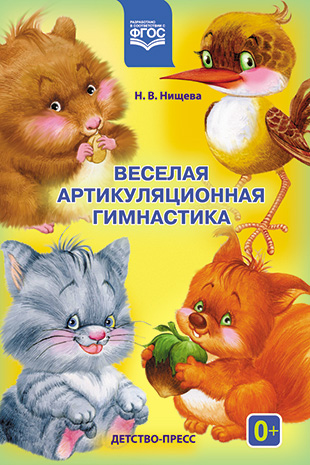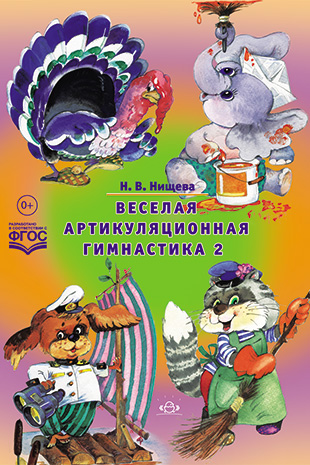 Books I.A. Voloshin and N.V.
Nischeva dedicated articulation gymnastics for children.
In order for classes to be beneficial, they should be carried out according to certain rules:
articulation gymnastics must be done daily;
It is best to do articulation gymnastics 2 times a day for 5-7 minutes so that the child is not tired and does not lose interest;
to turn classes into an exciting game;
in one lesson, do no more than 5 exercises, of which only one or two can be new;
perform exercises on the account in order to work out the clarity of their performance;
It is necessary to do the exercises before a large or hand mirror: the child must control the correctness of the performance of a particular movement. At first, the exercise is done by an adult, then this movement repeats the tot. An adult is either standing in front of the mirror next to the child (in this case, the baby is watching him, looking in the mirror), or facing the baby.
The articulation gymnastics card can help parents navigate and figure out how to perform a particular tongue movement, what position the lips and lower jaw should take. Such pictures can be easily found on the Internet, there is also a card file of articulation gymnastics in kindergarten.
And although it is intended for speech therapists, it can also be used for homework.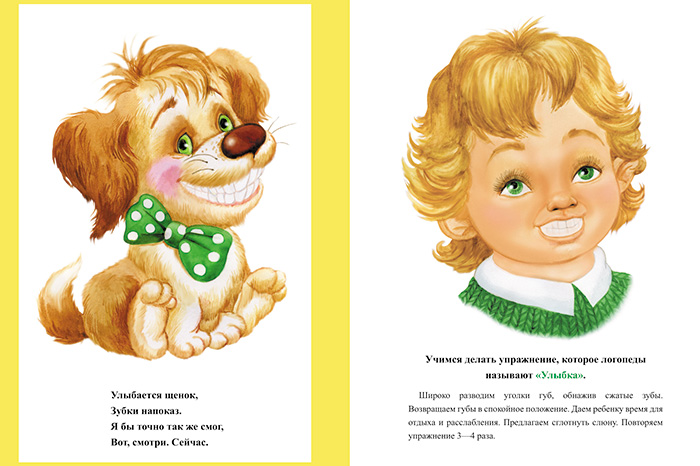 A fragment from the book of N.V. Poverty Cheerful articulation gymnastics.
Exercise Smile.
Parents can independently engage in articulation gymnastics with a child, but this does not cancel a speech therapist consultation. As a rule, by the age of 4 it is already clear what sounds the baby says incorrectly. By the age of five, perhaps these sounds will "fall into place."
But in any case, in 1.5-2 years karapuz it is necessary to show a speech therapist. Only a specialist can assess whether the child's speech development is appropriate for age. Correct the shortcomings, too, must be with a specialist.
The speech therapist will select for the child exercises of articulation gymnastics depending on speech problems, tell and clearly show how to do them correctly.
Kids also do exercises of articulation gymnastics in kindergarten, as a speech therapist works in almost every kindergarten, and at the age of 5 he begins to "put on" sounds for children, that is, to correct the shortcomings of a sound pronunciation. But without homework, you still can not do.
Card file, of course, will allow you to see all the exercises, and in the correct execution, but their detailed description will not hurt.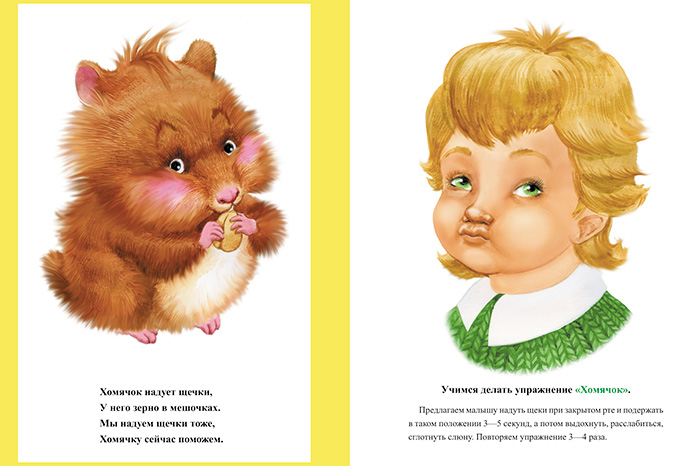 A fragment from the book of N.V. Poverty Cheerful articulation gymnastics.
Exercise Hamster.
You can do articulation gymnastics even with a baby. These will be the simplest movements: a smile, the tongue protruding, the cheeks puffing up, etc. For children of 4 years old, articulation gymnastics already helps to prepare the articulation apparatus for correct pronunciation of certain sounds.
Consider that at this age such activities are a big and difficult job. If you turn them into an exciting game, the child will not even notice how time will pass by and will willingly fulfill all your instructions.
Ask the child to portray a well-fed hamster with a mouthful of pips: for this you need to get a mouthful of air, inflate both cheeks and hold them in this position for 3-5 seconds. After that, you can ask the baby to inflate the cheeks alternately.
But the hamster was starved and very thin. What happened to him? That's right – cheeks were drawn inside. If the child fails to depict the hungry animal from the first time, help him with your hands.
And how does the ball burst? To get the sound of a burst ball, you need to close your lips tightly, your teeth must be open, inflate your cheeks and … slam them with your fists. The air will come out with force and noise.
Let's look at the picture, what a wide tongue stuck out dog. Show the same wide tongue. Relax your tongue.
You can practice a smile, but not a simple one, but a special one.
Ask your baby to smile – stretch his lips in a smile and hold this position for 5-10 seconds.
Have your child smile so that you can see your teeth. In this case, the upper teeth should stand on the lower and cover them. If it does not work, offer the front teeth to bite the "carrot" like a bunny, and smile so that all your teeth are visible. Hold this position should be 5-10 seconds.
The exercise "Chimney" will also be useful. To do this, offer the child to stretch his lips forward and portray the trunk of an elephant or a kiss.
And finally, let the kid portray a bagel. To do this, you need to close your teeth, and rounded lips and slightly stretch forward. At the same time, the upper and lower incisors should be visible.
Alternating the described exercises will help develop the mobility of the lips. First, each pose is fixed for 3-5 seconds, gradually the pace of switching from one exercise to another increases.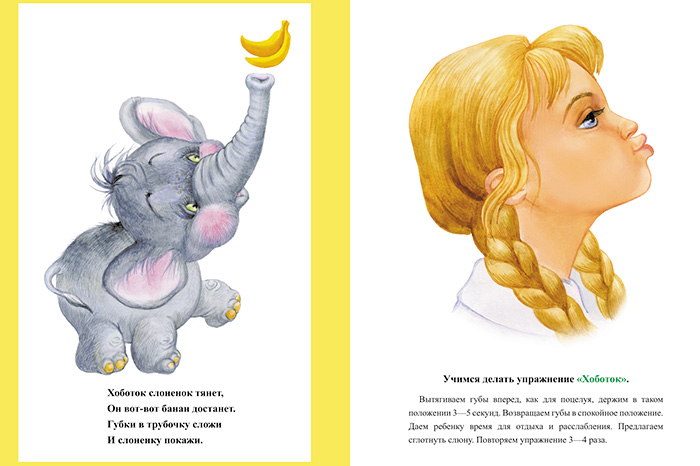 A fragment from the book of N.V. Poverty Cheerful articulation gymnastics.
Exercise Proboscis.
5-year-old children articulation gymnastics will help correct deficiencies in the pronunciation of sounds and develop their good diction. With age, the exercises become more complicated, they must be repeated already 6-8 times, the pace of gymnastics also increases.
In this movement should be smooth.
At 5 years old you can offer a child:
To wrap the tongue up, as if he is folding a pancake, and press it with his upper teeth;
Open mouth and drummed tongue over the upper teeth;
Silently, drawlingly, on the exhale, to pronounce vowels;
To utter on one exhalation several vowel sounds at once;
Cough well with mouth wide open, fists clenched;
With head thrown back to portray how to gargle;
Inflate the cheeks while holding the nose;
Inflate balloons and lifebuoys, blow bubbles.