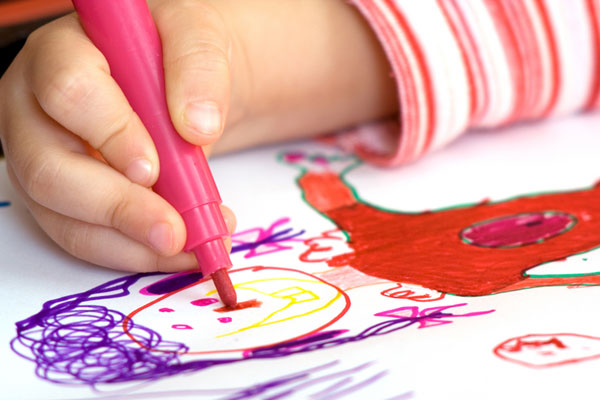 The French artist Tilda Lovi, who opened the Pour l'amour de l'art ("For the Love of Art" – Fr.) children's studio in the Moscow Center for Contemporary Art, is trying to develop in children the talents originally laid down by nature. Small wards Tilda Catch work on self-portraits, landscapes and play in fabulous countries and long journeys.
"If a child says that he wants to draw a cat, but does not know how, and asks me to show, I reply:" Think and do it, you yourself know how to do everything. " I ask questions: "What cat?
Where is her head? Body? Tail? "Children do not like being taught.
Therefore, I never say: "This is so, and this is so." Just asking and waiting for their answers, "- says Tilda Catch. So built all the classes.
Kids do not have to strain their attention, listening to the monologues of the teacher. Questions make you think, develop fantasy. Tilda Catch accepts any answers, even the most unexpected.
If funny faces with pink ears or green noses come out of children's hands, Tilda never wonders why this happened. Each child has his own vision. "It seems to me that you just need to be able to look. Children have a different brain and other hands.
But how interesting it is to move from their own world to theirs and from theirs to theirs. We play, but we play seriously, and at the same time we work, "says the artist.
Kids work on their own self-portraits in mosaic technology. Looking at themselves in the mirror, they draw their little faces, and then stick on the picture pieces of tinted paper, tearing them off from the large sheets. Tilda Catch attaches great importance to the gesture of breaking.
So little children will know the different possibilities of paper, its properties and texture. And the images made of uneven pieces, turn out semi-volume.
And each portrait is very similar to its author. Of course, while working, Tilda asks little artists about what the head and face are, where the eyes are located, and where is the mouth? After the question "Mouth on the face or face on the mouth?" Everyone understands where to start.
First draw a large oval and only then – eyes, nose, mouth, hair and ears. And if you start immediately with beautiful eyes, the continuation is unlikely to succeed.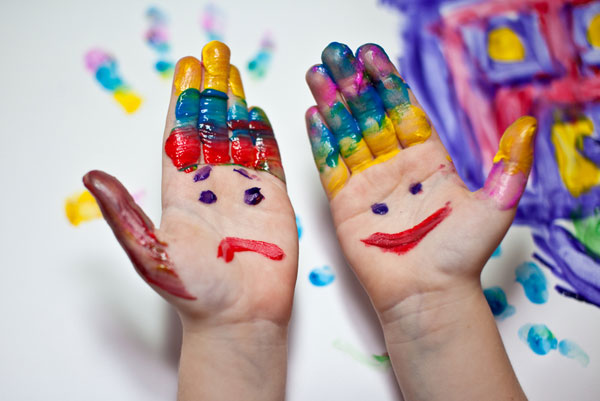 Little students, like adult artists, deal with professional gouache, not with children's paint sets. At the beginning of classes, different banks are opened, and children themselves choose colors. Color preferences reveal the character, temperament, psychological characteristics of each child and even his momentary mood.
For example, one very sunny girl constantly chooses different shades of yellow, and another stormy kid prefers sharp combinations of red and blue. If the kids still do not know the name of their favorite color, the teacher tactfully prompts. The choice of colors can occur in the form of a game: "We are in a restaurant.
What do you need for the first, what for the second? "In the role of dishes – different gouaches. Children learn to dilute and mix colors. Notice what happens if you add too much water or do not dissolve the paint at all.
Comparisons with milk, sour cream, kefir help. It is easier to learn the difference between thick, rich and transparent tones.
What can come of it, the teacher shows on separate sheets of paper, never interfering with the child's work, without destroying his plan, even if it's wrong. "The drawing of each is his property. And the material is absorbed much faster and easier if you are not corrected, "the artist is convinced.
Children paint sheets, make blanks for future work. The most comfortable brushes for kids – big, flat and hard. Then, when they draw smaller parts, they take smaller brushes in their hands.
It is important to immediately teach them to hold them correctly – not in a fist, but with three fingers. A pencil, thick and greasy, on the contrary, while it is better to grab the entire five.
Then a small hand will more confidently draw lines on a piece of paper.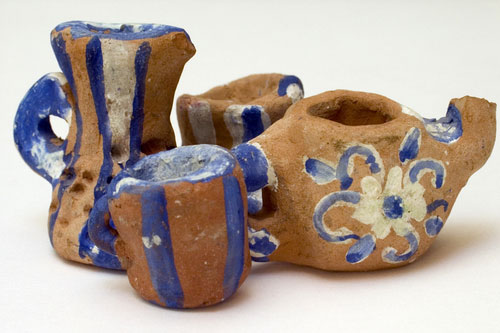 Kids, as a rule, quickly switch from one to another. But in the studio of modern art continue to labor-intensive work for several classes. "They know exactly where they left off and where they should continue from." The artist managed to inspire the creative process even the most indefatigable fidget.
The secret is simple: it is important to listen to the natural rhythm of the child. The teacher does not mind if the kid wants to run, look out the window or around himself and only then get down to work.
And you can interrupt work at any time. There are many educational games in the studio that help shift attention.
With this approach, there is no danger of overworking from monotonous work and leaving it unfinished halfway.
Mosaic, collage help to switch from a flat image to three-dimensional. Children are fascinated by modeling, the creation of sculptures. The most interesting sculpt of clay.
During the work, she changes her properties several times. At first it is a powder bought at an art store. But, if you add water, the dry matter becomes wet.
Children knead the clay dough, with the help of a teacher, determining the desired thickness, and they know that the pliable mass will become solid after a while, and the figure, having dried, will decrease in volume. When carelessly handling the product can easily break, so it is important to teach the child the concepts of balance and stability.
A large head is unlikely to hold onto a long, thin neck. Children paint the finished sculptures, and sometimes even begin to transform the boards on which they sculpted.
Clay figurines are part of a large installation. Tilda Catch came up with a game project: "Sculpture-tours of children -" archaeological finds ", excavated in an ancient country in which only children lived. There was a king-child, a queen girl and all subjects – kids.
We "set off" on an expedition on a ship and brought home everything we found during our trip. Someone found a royal crown, someone – a dog, someone – a pie … And one little artist "brought" from the excavations of clay worms and bugs, compiled into an interesting abstract composition.
All exhibits are carefully studied, supplied with special labels and placed on a large geographical map in exact accordance with the place of "origin".
Children create compositions and make up stories. It is important to listen to them from beginning to end. And the little authors always explain their intention.
Inexhaustible children's fantasy never ceases to amaze Tilda: "One kid blinded a fairy-tale little man. And the question of where he lives, without hesitation, said: "In Africa."
Immediately blinded this country in the form of a grotto, not forgetting to make "the entrance to Africa." And he put a clay lamp next to it so that it was bright in the grotto. "