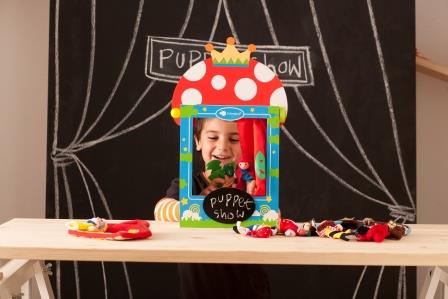 A child animates a toy, treats it as if it were alive. And if she is also moving, talking, rejoicing and sad, then she can become a true friend for the baby for a long time. Probably, you have already observed how sincerely the child laughs at the funny tricks of the characters in the puppet theater or can really really cry, feeling sorry for the doll.
There is nothing surprising. For a child, the doll is live and real. But one thing is to look, another is to become the creator of the puppet show itself.
Putting a doll on the hand, the baby seems to merge with it, through it experiences various life situations, can cope with its fears, throw out negative emotions or, conversely, share its joy. Just imagine how much creativity and ingenuity this occupation will require from the crumbs.
And this is also the training of fine motor skills, the development of speech, artistic taste and imagination.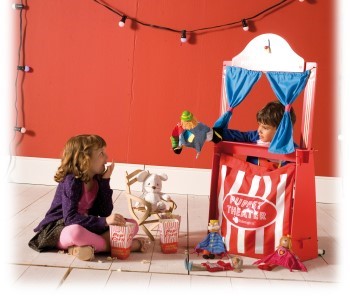 In Imaginarium, you can find everything that helps a child to try on many roles and assemble his theater. A portable mini-theater with a fabric curtain, a notice board and a set of puppet dolls is stored in a fabric bag, and you can take it with you and play anywhere.
Tales about pirates, the hunter and the wolf, the prince and the dragon come to life as if by magic.
For a home game, Imaginarium has a large wooden puppet theater. It is easy to assemble and store.
The kit includes a bag, watches, tickets and other attributes that will allow you to convey the magical atmosphere of this theater. You can supplement the game with a set of fabric finger puppet fabric with a wooden head.