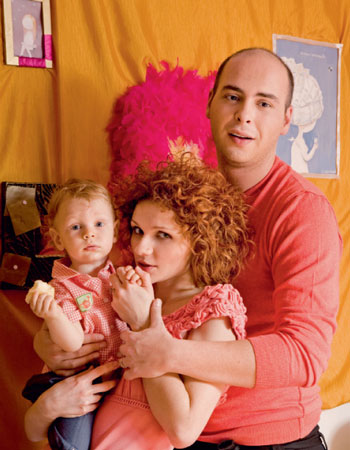 HAPPY PARENTS How did your family begin? ANTON PRIVOLNOV From acquaintance in the School of Film and Television.
Olya and I studied together at the directing department, sat in the same audience, but for a long time did not notice each other.
OLGA PRIVOLNOVA In the classroom, Anton most often slept in the last row, because his life consisted entirely of active working days. We rarely intersected – I preferred the first row.
A.P. It all started with a New Year's holiday, which Olya and I for some reason decided to organize for our friends.
We ordered a limousine for everyone and went twenty minutes before the New Year to buy groceries. And it really united us.
O.P. And it seems to me that Anton first drew attention to me when I gave him twelve pillows for his birthday.
A.P. Yes, Olya can make global gifts.
These were not just twelve ordinary pillows. Each pillow was a work of art and symbolized one of the months of the year. I immediately thought: "Wow, pillows – this is no accident, you need to take a closer look. "
S.R. Farther did your affair with Olya develop in the same original way?
A.P. Since we have a common passion for cinema, the first real date happened in the cinema.
O.P. On that day, all my friends, whom Anton invited for the company, in order to hide the awkwardness, for various reasons refused, and for the first time we went to the movies together. Therefore, we celebrated our wedding in the cinema – July 7, 2007.
A.P. Let it not seem strange, but we did not want to choose the date 07/07/07, but planned a wedding for July 14th. But in the registry office they began to persuade us.
O.P. Just one of the employees of the Civil Registry Office recognized the leader of the "Test Purchase" program and decided to pay special attention to him: "Antoshenka, my dear, only for you is the last place, at 22.00, you will be final!"
S.R. Such a date is bound by much … AP Yes, and we tried to match her. Our wedding was not easy, complicated.
The holiday took place in four places. The guests moved around Moscow on a "fun" bus.
The first item was the cinema – I understand why. The second is the cafe "Little Potatoes". Guests dressed in evening gowns, high heels, etc., were shocked.
The third point of the route was the roof of the hotel in the very center of Moscow. He played a jazz band, unusually beautiful soap bubbles were flying, before the eyes – night Moscow. After this romance everyone was waiting for the final of the holiday.
The guests went to the ship, where we went to them in wedding dresses and finally began to receive congratulations. And immediately after the wedding, we went to the Indonesian jungle. For me, the fifteen-hour flight was a serious test, because at the time of the wedding I was already pregnant.
But the impressions of the trip are still the most wonderful.
S.R. Were you psychologically ready for the birth of a baby?
A.P. Both I and Olya really wanted a child and therefore were absolutely sure that they were ready for his appearance. It turned out that everything is not so simple.
Of course, a child is a great happiness. But above all, it's a big and permanent job, including on yourself.
S.R. And what was the most unexpected? O.P.
Come on, Anton, answer … (Laughs.) It turned out that the child also poops. And you did not know about it!
But seriously, we thought that it would be interesting from the very first days with a small child. And how surprised we were when we learned that the baby sleeps most of the time in the first months. And when awake, it screams.
But we thought that he would have fun and be in constant contact with us. A.P.
Yes, the child was born, but for some reason did not immediately say anything! O.P.
Although for the past six months, as we are in full contact, and this is one hundred percent happiness!
S.R. Anton, how much time can you stay one on one with your son?
A.P. If the need arose, it would stand for a very long time. Because I can do everything: wash the child, change the diapers, and cook porridge.
Responsibility is a terrible feeling! O.P. When Anton stayed with his son, he showed incredible ingenuity.
On the one hand, everything was for Plato, but at the same time not to the detriment of himself and his affairs. The child is supervised, and the father read the book, and on the Internet I dig out! A.P.
I just do not work according to the scheme, I have my own methods. The main thing is to make everyone happy!
S.R. If you, as young parents, something is not clear, to whom do you seek advice?
Are there friends with children who can give a hint? A.P.
First of all, there are grandmothers who love to advise. I am glad that they are very diplomatic, they give advice not in an ultimatum.
O.P. But in general, we somehow do not seek advice.
If it is very impatient, it is better to call the pediatrician.
S.R. By the way, how are your relationships with doctors? A.P.
We have a terrible story happened. We signed a contract with a well-known Moscow hospital, and in the end we almost killed the child. They put the wrong diagnosis and prescribed the wrong medicines.
It's good that we realized it in time, understood: something is wrong! And now we have a wonderful doctor who was advised to us by his acquaintances.
Our advice is to look for a good doctor yourself, there are no other options.
S.R. With the advent of the third family member, how much has your life changed?
A.P. Global change has not happened.
I now have this age when I understand: well, that the child is. It seems to me that if a couple passed the test of a child, then she is already not afraid of anything!
O.P. Thanks to the birth of Plato, I saw in Anton not only a magical man, but also a wonderful father.
When you open up some new sides in your own person, it brings you very close.