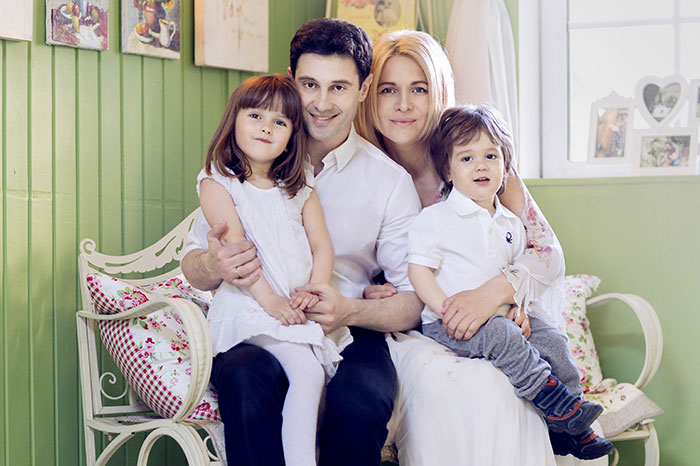 HAPPY PARENTS: Traditionally, September marks the beginning of a new school year for us. Children go to school.
Where will Masha and Vanya go?
ANTON MAKARSKY: While both are in kindergarten. In September, Masha turns 6 years old, but we decided to extend her childhood for another year.
So she will go to school next year. We have very sociable and energetic children, and when we and Masha and Vanya were brought to the kindergarten, the next day they asked for it themselves.
Especially Masha. We even had a pressure lever: "If you behave badly, you will not go to the garden!"
VICTORIA MAKARSKAYA: True, we were very lucky with kindergarten! We moved from Moscow to Sergiev Posad, to a new residential complex, and it so happened that the one next to our house turned out to be one of the best in the region.
The teachers and teachers there are wonderful, we could not even dream about that.
HAPPY PARENTS: Today, many parents are not limited to one garden. Vanya and Masha also attend additional developmental classes, groups?
ANTON MAKARSKY: We arrange the main "developmental activities" in traveling. We have a nomadic life, and kids slowly begin to ride with us. I myself am an acting child and remember how impatiently and joyfully I waited for the next touring adventures!
Although, when we are at home, children and clubs attend.
VICTORIA MAKARSKAYA: For example, various developmental activities. And also – dancing, music.
But so far I do not see a special attachment to something specific. But the game "in school" never bothers.
Vanya is interested in living beings, ocean inhabitants and insects. Masha – all sorts of natural phenomena: tsunamis, earthquakes, ball lightning.
And his daughter's favorite books from early childhood – about medicine. All this instills joy in my mother's heart and hope that our children will not become artists.
ANTON MAKARSKY: I don't really want the children to follow our footsteps. Too many temptations and dangers bears the profession of an actor. But again – they will choose their own path.
Our task is to try to direct them in the right direction and support them in all situations.
VICTORIA MAKARSKAYA: I only dream that our children grow up to be decent and kind people who know God. And what profession they choose … As Anton said, this choice is only for them, I will be pleased with any work!
HAPPY PARENTS: How do you feel about the early and sometimes very active development of children that is popular today?
ANTON MAKARSKY: Development, in my opinion, should be natural! Children in some matters and so smarter than us.
The main thing is that they want to develop themselves, and so far they have no shortage of this desire.
VICTORIA MAKARSKAYA: And I see no point in forcing the child's psyche and forcing him to "beat records" from an early age and "achieve results". As practice shows, it does not make sense.
The child will learn to read and write when he himself becomes interested. It is necessary to instill in the child a love of learning and learning about the world. Every month new technologies appear, and we don't even imagine what kind of world we will live in five years.
Therefore, the primary task of parents is to teach a child to think and make independent decisions in this rapidly changing world.
ANTON MAKARSKY: Exactly. I do not remember, someone said: "One of the main tasks of an educator is to make the child learn to do without him as soon as possible!" And I absolutely agree with that.
HAPPY PARENTS: Some parents give their children to groups or kindergarten for two reasons. The first is to "get sick" before the school. The second – learned to communicate with the team.
What do you think about this?
ANTON MAKARSKY: I have no general recipe. Children are different, someone, like ours, needs action, and someone does not like noisy companies.
I only know one thing: you cannot break a child.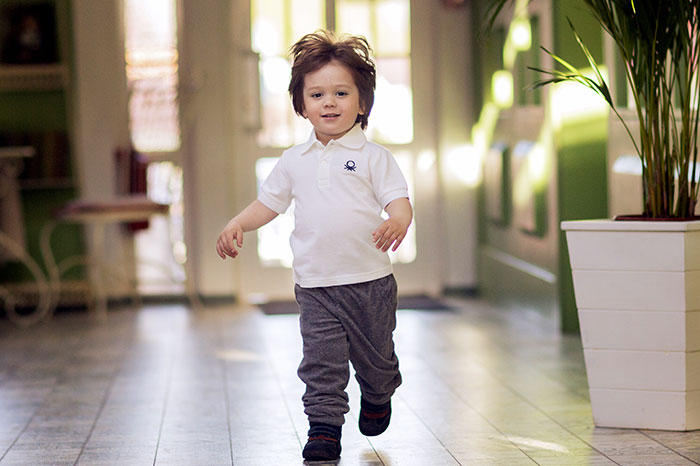 VICTORIA MAKARSKAYA: And in my opinion, a person should not grow in isolation. This is some kind of wildness.
Sitting alone with my mother in a small apartment, but in a harsh climate, when you don't always go out for a walk. I understand that when we used to live in huge families and give birth to children every year, in each house and in the yard their "kindergarten" was automatically formed.
But now is another time. And there are very good children's institutions.
And the guys are sick less, when the immune system is trained.
ANTON MAKARSKY: But, I repeat, it happens differently! I, for example, spent time till 10 years, basically, with the grandmother. And nothing.
I cannot say that I missed something as a child, on the contrary, I visited a lot of places and learned a lot of things.
HAPPY PARENTS: Surely you have already thought about choosing a school for Mary. Which way do you lean – state, private, Russian, foreign?
VICTORIA MAKARSKAYA: We have been monitoring the situation with schools for a long time, carefully and seriously. And the conclusion was made iron. Masha and Vanya will go to a regular public school, which is located near our house.
And we will try to give them deeper knowledge of the world around.
HAPPY PARENTS: What was your kindergarten for you? Your school
Would you like this for your children?
VICTORIA MAKARSKAYA: I am from a military family. Constant transfers to secret rocket garrisons, changing kindergartens and schools left good memories.
True, I, the "new one," had to fight all the time … From Lithuania, where I graduated from the first 3 classes, I moved to a military town near Gomel. Of course, I had a strong Baltic accent.
I was teased, I did not like it. In general, with an excellent certificate, the assessment of behavior was stable: "unsuccessful".
And I sincerely did not understand how you can learn from "4" or "3"? Not to mention the twos.
ANTON MAKARSKY: I'll tell you about this as an ideological loser. True, until the seventh grade I was an excellent pupil, but this does not change the essence. Krovushki teachers drank a lot.
And now, whenever I meet teachers, I apologize to them. Even at concerts very often I dedicate a song to teachers in the hall.
HAPPY PARENTS: What kind of a garden would you ideally like for schools for your children?
VICTORIA MAKARSKAYA: The educational system fails not only in Russia, but throughout the world. It needs serious and global reform.
The information that our children propose to study is obsolete at the stage of printing textbooks and is often simply useless. I have no illusions that someone will do more for our children than we, the parents. The main thing is the personality of the teacher, who will be next to our children in the morning.
But since we live in Sergiev Posad, I have no doubt that everything will be great in our school. Otherwise, children will simply go to home schooling.
ANTON MAKARSKY: Well, yes, probably so …
HAPPY PARENTS: And what do you think parents should teach the child themselves and definitely?
VICTORIA MAKARSKAYA: Teach to learn. All life, not limited to school years, we must be interested in the outside world and develop.
It makes a person happy.
ANTON MAKARSKY: Well, not only learn. The high school is the school of love.
In the right, true understanding of this word! Love is not when "me", but when I can give as much as possible to those I love. And it is impossible to teach this with any words, only by example.
And we show an example, unfortunately, different. So, it turns out, we ourselves still have to learn and learn.
HAPPY PARENTS: Education and character. What outweighs the result, do you think?
VICTORIA MAKARSKAYA: Education in the first place. This has long been proven by good teachers.
ANTON MAKARSKY: Although with character, there are often problems too! But here it is already a matter of approach. A good teacher does not follow the stamp.
Each person can be approached, and each child can be carried away by learning. What we will try to do.
And how and what will come of it, I hope, we will tell you in a couple of years.
HAPPY PARENTS: What kind of people would you like to see your children? What qualities do you need to bring up in modern children?
ANTON MAKARSKY: Decency, responsibility and kindness.
VICTORIA MAKARSKAYA: I explain to our children from the earliest years that we see far from everything. Human perception of the surrounding reality is very limited.
Fish and cats have a much larger visual and auditory range than we, people who consider themselves to be very smart. And great scientists recognize that everything available to the human brain today is just a drop in the ocean of true knowledge. What then is the real with us?
What can you rely on in life? What to strive for? I answer with one word: LOVE.
Learn to love your neighbor, bring good and light with your activities, words and thoughts to those around you. The rest will follow.