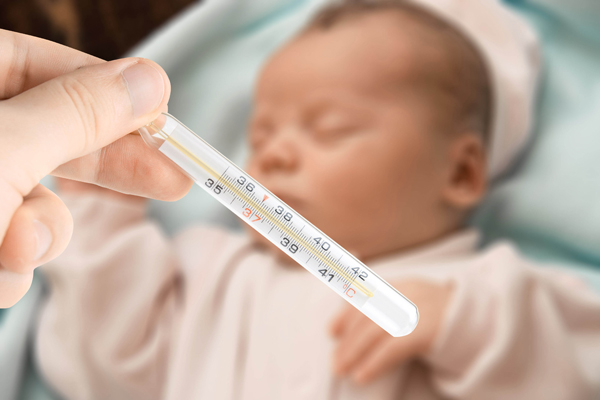 When infectious agents or viruses enter the body, pyrogens are enhanced. These biologically active substances affect the hypothalamus, which is responsible for regulating body temperature.
As a result, metabolic processes start to go faster, and the immune system produces more protective antibodies. Such a defensive reaction is considered natural, and doctors do not recommend suppressing it with antipyretic agents ahead of time.
External assistance is required only after the temperature rises above 39 ° C: with a strong overheating, the load on all organs, including the brain and heart, increases.
Paracetamol-based medications are considered the safest for children. This substance inhibits the synthesis of biologically active substances that are produced during inflammatory processes. You can use these drugs from 3 months (newborn babies should be prescribed only by a doctor).
The only contraindication is individual intolerance. A single dose of paracetomol is determined at the rate of 10−15 mg / kg of body weight.
Repeated reception is allowed after 6 hours. This means that the drug can be given no more than 4 times a day, and the maximum daily dose is 60 mg / kg.
The effect should come after 30 minutes, while stubbornly churning degrees to the "norm" is often not at all necessary. If a baby has 38 ° C, but he drinks a lot and plays with pleasure, further use of antipyretic is not required.
If paracetamol does not help, it is recommended to give an antipyretic ibuprofen-based, which has analgesic, antipyretic and anti-inflammatory effects. The effect also occurs after 30 minutes, but the temperature decreases faster: by 2 degrees in 1–2 hours. In addition, the effect of ibuprofen lasts longer – up to 8 hours.
Since the drug is potent, single and daily doses are less: 5–10 mg / kg body weight and not more than 30 mg / kg, respectively. You can give the drug with an interval of 6−8 hours not more than 3 times per day.
As with any medication, antipyretic drugs can cause side effects. To keep them to a minimum, you must follow the recommendations of the doctor and the rules of admission.
Repeated doses of antipyretics can be given to the child only after the temperature rises again. Otherwise, it is easy to miss the complications and difficult to track the dynamics. In no case should you give antipyretic for prophylaxis.
It is necessary to strictly observe the daily and single dosage, otherwise, due to the increased concentration of the drug, toxic damage to the liver and kidneys may begin. The interval between taking the same medication should be at least 5-6 hours.
Not to withstand this gap is possible only if you alternate drugs based on different active substances.