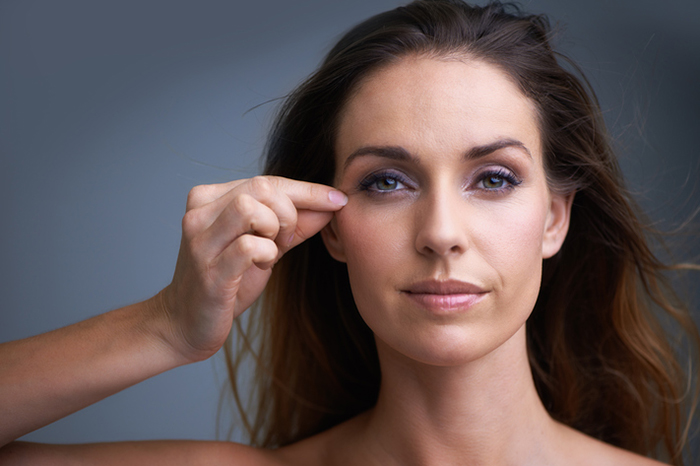 We will not hide – we all believe in miracles, which is why anti-age products are so in demand and popular. They may not erase the signs of aging completely, but they really help to keep the skin in the best possible condition, and some of them are even able to temporarily preserve our achievements.
The skin has its own resources that help it fight aging. In her youth, she copes better with dehydration, fatigue and oxygen starvation. This is because the skin cells that produce collagen and elastin contain a lot of sirtuins – "longevity proteins".
In nature, everything is arranged wisely, but time plays against us. By age 30, the number of sirtuins decreases, and the cells become less active.
Collagen and elastin are produced less and less, causing the skin to become dull and dry. As a result, mimic wrinkles appear, which later become permanent.
Another reason for aging is natural oxidation. They also lead to the destruction of the cellular structures of the skin.
With age, lipid deficiency also increases, which is why the skin becomes sensitive and loses moisture faster.
But it's time for the good: anti-age products are invented with all these nuances in mind! They are able to accelerate cell renewal, stimulate the synthesis of collagen and elastin, smooth the skin surface. Their key feature is a complex effect on several causes of aging.
They simultaneously eliminate wrinkles, improve skin turgor, and be sure to moisturize and nourish it. Independently stand anti-age products that, among other things, are aimed at combating pigmentation or restoration of complexion.
If you make out the composition, then any modern cosmetic product labeled anti-age contains a complex of antioxidants (vitamins E, A, panthenol, alpha lipoic acid, etc.). These agents are designed to neutralize the effects of oxidation processes, preventing cell damage.
Components such as vitamin PP and shea butter successfully combat dry skin. Some anti-age formulas include special and necessarily patented molecules that stimulate the synthesis of sirtuins.
Most often we are talking about biosynthesized peptides – short chains of proteins that are used by the skin to produce new cells. Different synthetic brands of these synthetic molecules are different, and the method of their production is kept in strict confidence. Some manufacturers use plant components for the same purpose, for example myrtle extract, although natural "agents" are less effective.
Lipids, vegetable oils and extracts, fatty acids are added to nourish the skin.
Good news, isn't it? But do not think that now you can relax.
In order to get tangible benefits from anti-age products, you will have to accustom yourself to several mandatory and routine rituals. Alexandra Bogadelnikova, dermatologist, candidate of medical sciences and expert of Filorga and Bioderma brands shares with care tips:
Day and night Skin care should be comprehensive at any age. This is the only way to achieve a visible effect from the use of cosmetics. In the morning, the skin must be moisturized and protected from external aggressive effects, and before bedtime – nourished and restored.
This is an unshakable law for those who are focused on results.
Radiance and shine In youth, skin cells are renewed every 21–28 days. With age, these processes slow down.
And the first visible sign of aging is not mimic wrinkles, but dull skin color. To gain a healthy, radiant complexion, you must regularly perform several tricks.
The first rule – once a week to get rid of dead cells with a gentle gommage. The top layer of the skin should be thin, then the active ingredients contained in the creams will be able to do their job perfectly well. Rule two – use daily moisturizers.
Rule three – to strengthen the metabolic processes, for example, using vitamin C as part of your anti-age products. In parallel, give up smoking, do not abuse alcohol and spices, avoid sudden changes in temperature.
All these are aggressive external factors, traumatic tender vessels under the skin.
Delicate measures The skin around the eyes and around the contour of the lips requires special care. And the reasons for this are compelling.
The skin around the eyes is 4 times thinner than the skin on the face. It is absolutely impossible to use conventional face creams. They are more dense in texture, so they often provoke the appearance of edema and bags under the eyes.
But even if the cream is chosen correctly, it should be applied strictly in the minimum amount. In addition, the area around the contour of the eyes is devoid of a lipid layer, which helps the skin to remain elastic and retain moisture.
A similar problem is observed in the area around the mouth. The task on this flank is to constantly moisten and protect both zones.
For the area around the contour of the lips is allowed to care with the help of means for the skin around the eyes, and you can use complex means "two-in-one."
Enhanced Formula With nasolabial wrinkles and deep wrinkles on the forehead, formulas with retinol and hyaluronic acid do well. It is necessary to focus on serums.
They are designed specifically for aging skin, and compared with creams, the concentration of active substances in them is twice as high. Serum can be applied under the cream every day, and you can use them, especially in the off season, during illness or periods of severe stress or increased fatigue.
To be continued The skin on the neck and décolleté area is subject to photo-aging and dehydration much more than it might seem at first glance. This is because in the summer we often forget to soak up these areas of the body that are open to the eyes and ultraviolet radiation with sunscreen.
Special creams and serums for the neck and décolleté will help to correct the mistakes. Facial skin care products will also work.