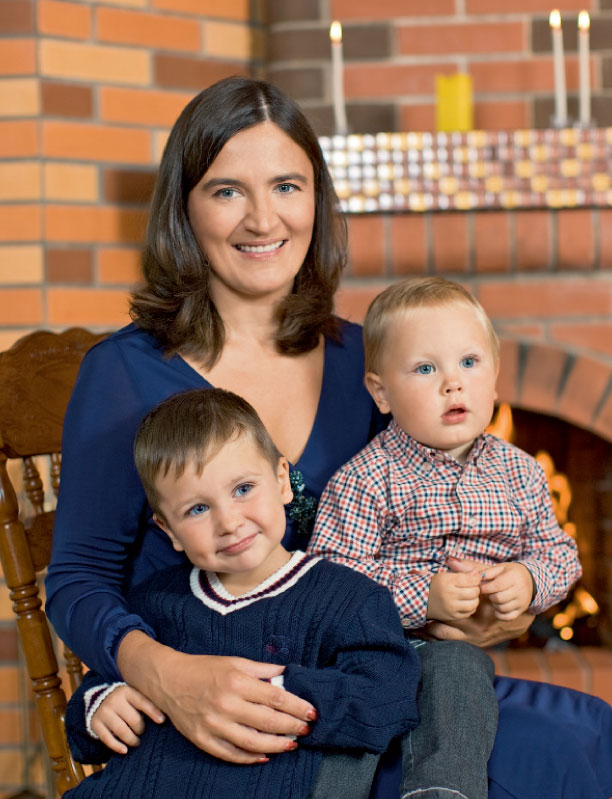 ANNA LITVINOVA I thought if there are two children, then it will be twice as difficult with them. But it turned out harder every five or six. The pleasure of communicating with babies doubles, but it adds problems.
It is still very difficult for the eldest to reconcile with the fact that his mother does not belong only to him. When Nikita was brought from the hospital, it seemed to me that Dani had destroyed some kind of world of her own, a fairy kingdom. He could not understand why the mother is now sleeping with the baby and shaking him in her arms, and why Nikita constantly gets a cushy little place at her mother's breast …
HAPPY PARENTS Senior jealous? A.L.
He is jealous now. Children argue: "This is my mom!" – "No! My! "So far, she has not thought of anything else how to say both:" Half yours, and half yours ".
Danya put forward his version: "You are my mother. And Nikita's mom is dad. "
But my husband Volodya and I, of course, did not agree.
S.R. Are kids friends?
Play together? A.L. Unfortunately, not so far.
Probably still Nikita Dane is not interested in age. In addition, any of their games quickly turns into military action.
And for their property, everyone is fighting desperately. Even if we buy them two identical toys, Dania tries to grab both of them.
And when the elder is suddenly distracted, Nikita rushes to hide all his treasures. Danya naturally becomes enraged …
S.R. Are your sons different? A.L.
Danya, as my girlfriend calls him, "quivering doe". Nature is thin, vulnerable and at the same time very harmful.
Nikita is a good-natured, ladies' man: he helps me to put on shoes, constantly says that "mother is beautiful". Danya is completely indifferent to animals, and Nikita, when he sees them, immediately smiles. Typical "ice and fire" are completely different guys.
My husband and I teach children that for each other they are the most expensive people. I always tell Dana that no one will ever protect him like a brother.
It seems to me that in a complicated infancy there are some advantages. Let it be hard now, but how much do you appreciate the slightest change for the better!
One morning the children played together for about fifteen minutes. And all these fifteen minutes did not fight, did not pinch each other, no one cried.
Honestly, my husband and I seemed to go on vacation, calmly drank coffee, chatted.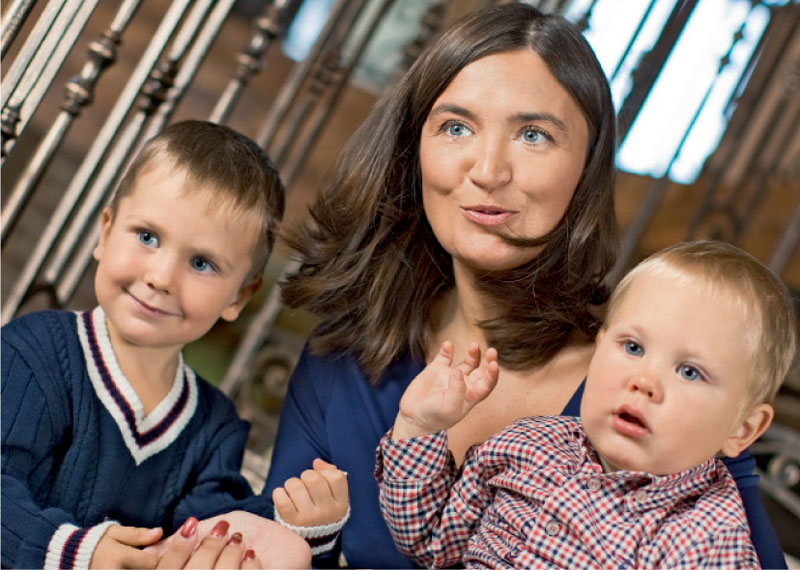 S.R. And do children take time away from work? A.L.
Work should never suffer – this is my life principle. I climb into the farthest room, close all the doors and try with all my might not to pay attention to screams, screams and everything else. Morning hours I'm at the computer.
It could not be otherwise, I have a contract, obligations to the publishing house "Eksmo". When I work, the youngest is with a nanny, and the eldest is in kindergarten. Evenings, of course, I try to spend with my sons.
But the fact that I allowed myself all my life – regular classes in the sports club and a manicure every two weeks, the children did not affect.
S.R. Is the elder already going to kindergarten?
A.L. We live outside the city, and at first I wanted to take him to kindergarten in Moscow. I began to look for a good one, but for some reason all the kindergartens, by some vile law, are located near the highways.
Therefore, in the garden Danya walks outside the city. They have English, physical education, and many other classes there.
True, Danilka still strives all the time instead of studying to escape to the playroom.
S.R. How do you feel about early development techniques? A.L.
Danya – the first child, besides not the earliest. And on it, I tried all sorts of perinatal techniques. Even before birth, he included special music, showed pictures, drove to the theater.
She said: "Danya! I watch "Swan Lake", so listen to the "Dance of Little Swans".
And Danya is there in the stomach. And, of course, he doesn't give a damn about these swans … Then, when he was already born, he included Tchaikovsky, also in accordance with the methodology: they say, he was used to his stomach, he should calm down under this music.
Yeah, now! Only roared, absolutely heart-rending.
But he calmed down, but do not laugh, to the songs of the Ramstein and Cinema groups. Complete nonsense! So I did not try to torture my second child.
And in general, she practically didn't pay attention to the second pregnancy – she flew on business trips, worked with a laptop on the belly, dragged in the hands of an older one. And what do you think? Nikita is much calmer than Dani.
And he immediately began to sleep normally, and cries only when absolutely necessary. So now I advise everyone: the best method is to think less about your pregnancy.
And I also started reading both children very early. Dane we bought Chukovsky when he was two weeks old.
Like all children, he was distracted, tearing pages. Anyway, we read to him, read and read.
My husband and I thought for a long time that we were trying in vain. But when he was about a year old, they noticed that he liked fairy tales and he himself asks him to read. Similarly, Nikita is growing.
The most pleasant moments are when I sit with a book, and they are on both sides of me and we read.
S.R. Does your husband talk a lot with children? A.L.
Of course, these are boys. Already, there are questions: "Mom, how is the socket?" I do not know how it works, and I do not want to know. And dad willingly explains technical details to them, puts them behind the wheel.
With dad, they build toy garages, cities, lay the foundations of buildings, love building themes very much. They love to get into daddy's workshop, ask for a plane, some screwdrivers …
S.R. If you look at your life as a writer, what is the main intrigue of raising children for you? A.L.
In that the relationship of my sons become as warm as me and my brother. And for me the main intrigue is that Danya and Nikita, in spite of their current enmity, realize that they are the closest people. And so Dania to my question: "Who do you love more?" – he said not "Mom", but "Nikita".
So they came to the aid of each other, even if they are in different parts of the planet.