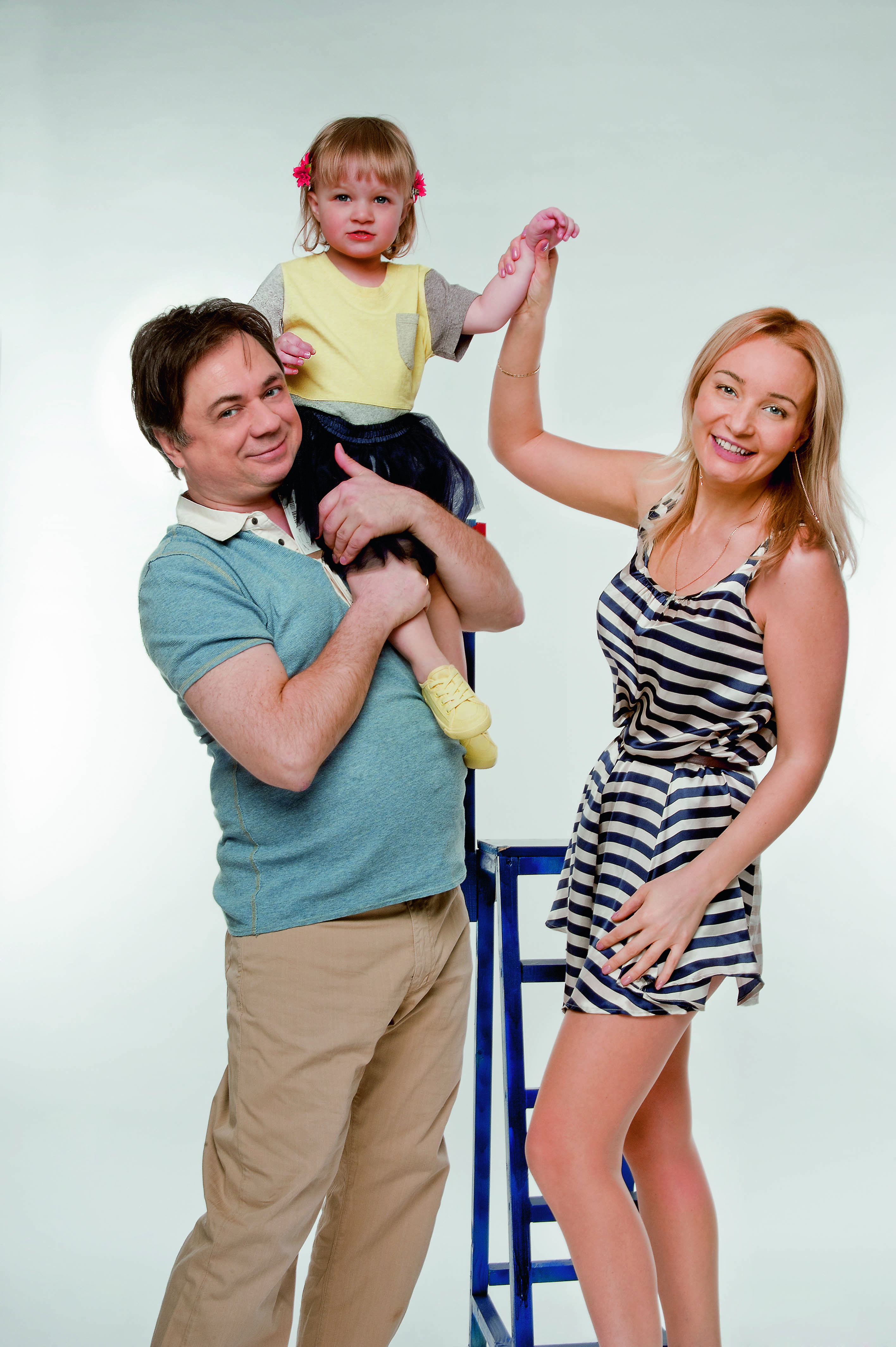 HAPPY PARENTS Long work with children on the site of "Daddy's daughters" did not contribute to the desire to have another child? ANDREI LEONOV I think that the appearance of Ani was not entirely due to this, but still something from above.
First there was a meeting with Nastya, everything went stage by stage … Although, maybe, the meeting with the girls from "Daughters" served as a forerunner. Working with them, I got used to noise, running.
Moreover, imagine all this multiplied by five! And since we were filming a year, I was not only used to, but also adapted completely.
Therefore, probably, the prerequisites for the appearance of another baby in the family were still there.
S.R. You're already twice happy dad? A.L.
Yes, I still have an older son, Zhenya, from his first marriage. He is 25 years old, he lives with his mother in Sweden and there, in Stockholm, he graduated from the theater institute. He worked for a year in an enterprise performance, played a major role – Trepleva in The Seagull.
And all three of us, with Nastya and little Nyusha, even went to see him for the premiere. It was winter, and we, making our way through a blizzard, traveled to another city, 200 km from Stockholm. It turned out the whole adventure.
ANASTASIA LEONOVA And we went to the play in turns. Then I sit with my daughter – Andryusha goes to the premiere, then he stays with her – I go.
S.R. Does Anya and her brother have a big age difference?
A.L. They have a difference of 23 years. Therefore, even her dad's son happens to be feeling himself.
An. L. He somehow asks me: "Listen, and maybe Anya thinks that I am her dad?" I say: "Do not worry, where is her dad, she knows perfectly well!" A.L.
To be honest, I was worried about how their communication would take place, but Zhenya was at his best. Such a real older brother. Despite the fact that we live in different countries, we often go to each other.
Here we had a whole month together last summer, and Zhenya was incessantly with his sister. He himself was trying to take the stroller and go for a walk with her.
And not to make us happy, no, he really wanted it himself.
S.R. Nastya, how did you meet Andrei? An.
L. I was invited to Lenk by a former fellow student at the conservatory, his girlfriend worked in this theater. After the performance, we remained to wait for it, and the artists involved in the play passed by, and I told everyone: "Thank you very much!" A.L.
And then I appeared! An. L. And Andrei, I also said: "Thank you very much!" And three days later, this conservative friend of mine called me and said: "Here Leonov became interested in you, asked what kind of queen she came and if she could be invited to the theater again."
And I came to another performance specifically for Andrew. A.L.
The fact that we are a family was understood almost immediately, but still I had to persistently take half a year to get the royal hand. Such are they, these girls of "blue blood" …
S.R. Birth daughter you planned?
An. L. Quite by accident it turned out.
A.L. But the thought of this has always been. An.
L. I was just engaged in one theatrical project, everything was almost on its feet – and then suddenly … AL A happy coincidence.
S.R. Would you like a baby of a certain sex? A.L.
We didn't care. The main thing is love, everything else is not so important.
S.R. Are you a strict dad?
A.L. I try to behave democratically here.
But with Zhenya, I admit, I am somewhat left in the direction of tediousness. I remember constantly telling him a little: "It's not necessary, it's dangerous." For example, when the two of us rested in Sochi, I did not leave him.
I even made a remark, they say, I just do not let my son breathe. Well, of course, there is a sea nearby, the road – naturally, I was worried.
But I still think that this is correct and normal for a parent. Nastya, do you agree that much depends on parents? An.
L. Everything depends on parents! The initial starting capital of the brain, the soul – all of them.
I, too, without a doubt, in the upbringing of Ani, will be guided by the way they raised me. I had a strict upbringing, I must be afraid, I was afraid of my parents, although they had never shouted at me and, naturally, they had never touched a finger in my life. But dad could say so that it didn't make sense to ask again.
Our family has always had mutual respect: I – for parents and parents – for me. In general, I believe that the child must be respected.
And listen to him so that he knows that he has the same voice, that his opinion is also important. And I do not neglect books on education. For example, according to the Spock system, we taught Anya to fall asleep.
He advises just to leave the baby in the crib and leave. We left. She screamed for an hour and twenty, it was awful, as I stood, incomprehensible.
But as a result, she began to fall asleep herself.
S.R. Andrew was not present at birth?
An. L. He really wanted to, but I was afraid that he would feel bad from excitement, and did not let him go. She and my mom stood by the window, it was so touching.
A.L. By the way, my wonderful mother-in-law, Vera, is my great friend, almost a sister!
She is very often with us, I adore to treat her with boiled crayfish.
S.R. Andrew, do you think the upbringing of boys and girls should be any different?
A.L. Well, I guess you have to be more delicate with girls. After all, they are – little princesses.
However, sometimes they use it and begin to act up like a king.
S.R. And go on about?
A.L. Not. Therefore, when Anya calls her mother, she screams loudly: "MOM!
MOM! ", And when me, too, screams, but quietly:" Dad! Dad! "An.
L. Andrei has the only weapon, but Anya is not yet aware that it is the only one, and not a weapon at all. This is his loud voice. Nothing else.
I do not know a more cordial, warm person. I do not speak loudly with Anya, the nurse too, and when Andrei speaks, it still affects. A.L.
In fact, it is terrible, because I used to live in an apartment alone, and so loudly, in a commanding tone, I spoke with my dog ​​Basia. Before, I could shout and sing loudly, but now there is a real musician in the house … I sing, and Nastya says: "Not there, fake !!" An. L. But Nyusha listens to Papa's singing bewitched!
An. L. From the first day!
I remember when I went to the dining room at the maternity hospital, I returned to the ward and I heard loudly: "Peakless cap, you are my fighting friend!" Andrei stands, sings loudly and shakes to the beat one-day Anyuta.
S.R. And Annie herself hasn't started singing yet?
An. L. Once on TV there was a concert dedicated to the opening of the Bolshoi Theater, and our opera stars sang there.
Nyusha went up to the TV, clenched her fists, opened her mouth, and then Andrey and I began to cry with laughter, because there was a high, long "la!". At the same time, she was intently and intently looking at the TV at these aunts.
S.R. Who does Anya look like?
A.L. They say it looks like my grandfather, my dad. An.
L. Yes! Nose corporate, Leonov.
But the forehead is definitely mine! If you look at each other in this way, you can find something from each relative, but in general she looks like herself, funny cute Nyusha.
And by the nature she is very kind, bright, friendly with everyone. But sometimes persistent, it is in Andrew. For example, he wants cookies – and takes out his whole soul, but will achieve his own.
A.L. This "purposefulness" is called, it just needs to be sent in the right direction.
An. L. While energy is aimed at painting the wallpaper.
And we run with a rag. A.L. But we try to slip the leaf in time.
Although, I think, a child from early childhood should clearly say that it is possible, that it is impossible, and not indulge. For example, I do not like the fact that now in Europe, many have a strange tradition of not raising children at all. We have friends in Sweden, whose child is left to himself.
He wants what he does. He walks, for example, pulls out plants from pots, eats the earth.
He was simply switched from time to time to other classes, but comments were not made. It amazed me, but I thought that if parents calmly relate to this, then why would I say something.
Why do they behave like this? I do not know … Maybe then more free people are obtained.
I can not explain. An. L. Maybe they think that the child himself, better than adults, knows how to develop himself?
And this is partly a sound grain, because sometimes the child has good motives, but he doesn't know how to do it right, based on them, and is simply mistaken. For example, today Anya was engaged in throwing her toys into the sink, where they wash dishes.
At first, we both had the impulse to forbid her to do it, and then we thought: maybe she wants to throw them away, how can we develop a ball in the basket, the accuracy? What's bad about it?
Well, they did not interfere. A.L.
Here I am learning from Nastya. Learning to understand, patience, learning just like her, find a common language with the child. For example, in the situation with throwing toys, I would have said without thinking twice: "It is impossible!" After all, this is much easier to do.
But, thank God, next to me is an intelligent woman.
S.R. Does Andrei have any pure father's duties?
An. L. Andrey for Ani is the second mother.
He shares absolutely all duties with me: he bathes her, feeds her, and walks with her. We all love to do everything together.
A.L. I think it is very important never to leave for a long time.
Not only to relax, but also to go on tour together.
S.R. Are you dreaming about the future of your daughter?
An. L. I dream of an opera singer to see her. Go to music school necessarily.
A.L. And if you want to be an actress – please, but when he grows up, he graduates from school.
I am against children's theater schools. You see, a child is such a tender creature that its organic matter is very easy to change.
In childhood it's too early to act, it's worth doing this when something has already happened in your head, in your soul. However, we can dream, but choose, she will achieve, we can only send.
As my father liked to say, you can take a horse to a watering place, but it should get drunk on its own.