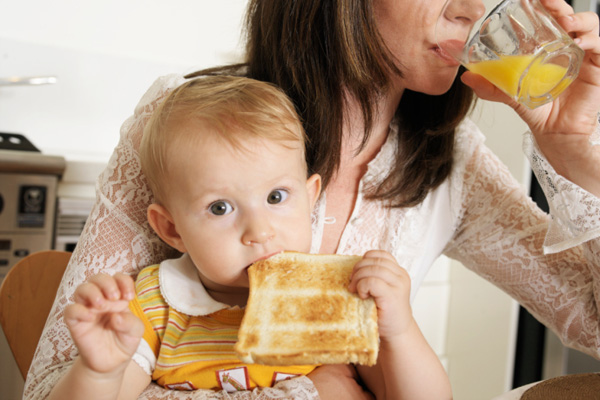 Bread is made from rye or wheat flour, water, yeast, salt, sugar, fats, malt, molasses, milk, spices. It is considered a source of fiber and dietary fiber necessary for the growth and development of beneficial intestinal bacteria.
Bread is black and white. Its "color" depends not only on the raw material – rye or wheat, but also on the degree of purification of flour.
Bread, and also cookies, crackers, and drying, begin to be given to children after 7 months. First, the baby is treated with baby cookies, which quickly dissolve in the mouth under the action of saliva. It is convenient and safe: the child is unlikely to choke on crumbs.
As soon as a small one has first teeth (but not earlier than 6–7 months), offer him a wheaten crouton. If at this age the teeth have not yet erupted, a piece of dry bread can still be given to him so that the baby learns to bite and scratch the gums.
Bagels, dryers, crackers and biscuits – products made from wheat flour and a small amount of water – are first given to the child by softening with kefir, milk or juice. If the little one likes to gnaw something hard from time to time, it is better to give him treats for breakfast or afternoon tea.
Fresh bread is usually given to one-year-old children along with the main dishes – soup, vegetable puree, meat.
In 6–7 months – 3−5 g of dry bread or 1 liver; in 8–9 – 5 g; from 9 months – 10 g.
"How to figure out whether it's time or not to introduce another new product into the baby's diet?"
In this matter it is necessary to strictly follow the recommendations of the pediatrician. Anticipation of the timing of the appearance of each innovation, as well as lagging behind them, can cause problems. Hurrying, you can cause a baby intolerance to a new product, and even allergies, and even diarrhea, regurgitation.
New products will prevent the baby from sucking the breast properly and will not serve as a supplement to breast milk, but will begin to replace it, which will not work for the child. The introduction of products after the term may lead to a lag in the development of the digestive system, chewing apparatus, lack of nutrients, problems in the bowels.
In addition, it will be difficult for a child to get used to food that is denser than milk, and he will begin to refuse it.