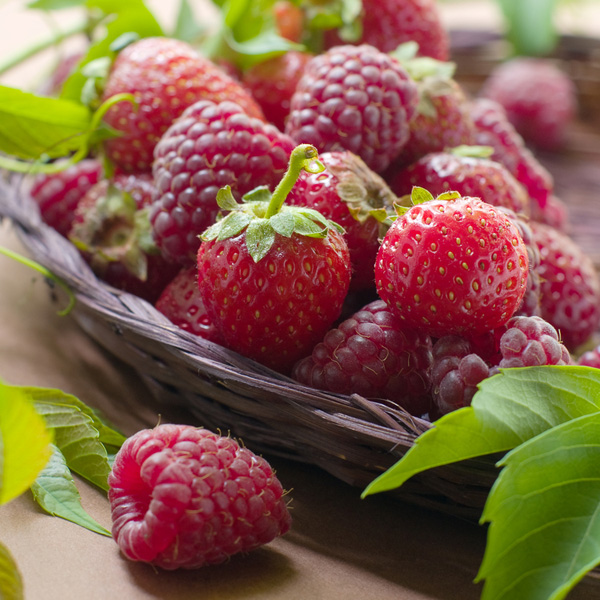 Strawberries and raspberries are a valuable source of phosphorus and vitamin C. 100 g of strawberries contain 65 mg of vitamin C – as much as 1 small orange, and 100 g of raspberries contain 25 mg of vitamin C. Strawberries and raspberries are not as powerful as allergens. considered to be. But it is necessary to take them into the baby's diet with caution – it is worth remembering that these berries have a laxative effect on the baby's intestines.
Early ripening of fruits and vegetables is often due to the introduction of a large amount of fertilizer, so do not rush to give them to the child before the start of the season. Since not everyone has summer cottages and relatives in the village, modern city parents are forced to buy berries on the market.
Keep in mind that sanitary inspection is carried out only in municipal markets. Pay attention to the purity of clothes seller, especially the storage of goods.
Upon arrival home, wash the berries thoroughly and rinse them with boiling water.
You can enter only one product per day and in small portions, for children under one year old – literally at the tip of a teaspoon: in the event of an allergic reaction, discard its further use for a month. Increase the portion gradually – and in 10 days the 8-month-old baby will be able to eat 120 grams of berries (this portion should be divided into 2 meals). A baby of 9–10 months can eat 180 g per day, and children older than a year can eat 240 g.
To start, add berry puree to a small amount of banana puree. The first milky-shake can be offered to a baby older than 10 months: whip together a little strawberry, milk mixture and a little cream.
Children over the year can offer a salad of grated carrots and strawberries with yogurt sauce.