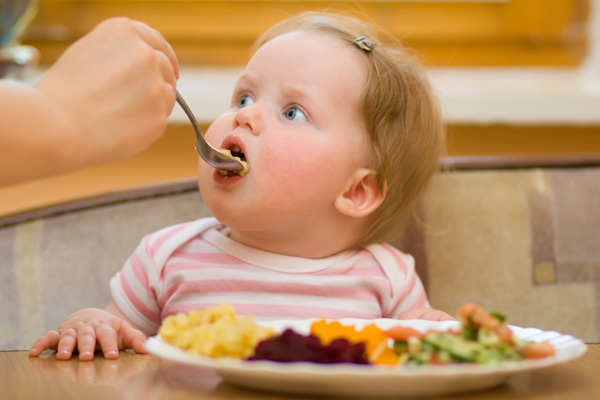 Root crops are rich in sugars, vitamins and minerals. Moreover, the substance of the latter two groups is greater in them than in the leaves and fruits of any other plants.
Most root crops are not rich in essential oils and, therefore, less likely to cause stomach problems (bloating, colic) and allergic reactions. The exception is the cruciferous roots (radish, radish, turnip, etc.).
Therefore, they should not be given to children younger than 1-2 years.
Of particular value for baby food are carrots, potatoes and beets (because of the high fiber content, it is better to offer it to children closer to the year).
Potatoes (from 5-6 months) are rich in easily digestible carbohydrates, contain valuable minerals (potassium, phosphorus). Due to its low fiber content, it does not cause bloating.
Carrots (from 6-7 months), in addition to beta-carotene (provitamin A), contains vitamins C, E, some pigments necessary for the work of the organs of vision. The essential oils contained in this root crop, have the property to remove inflammation and stop the development of dangerous bacteria. The content of natural sorbent – pectin – in carrots is one of the highest among vegetables and fruits.
Therefore, carrots are useful for constipation and dysbacteriosis.
Beets (from 10–11 months). Record shifts in sugar and fiber, it is useful for constipation and problems with the chair. Beets are rich in carotene and pectin and have anti-inflammatory effects.
The first acquaintance with root vegetables is better to start with canned food. Special processing and selection of fruits reduces the risk of such troubles as bloating or allergic reactions.
Later, if the mother decided to mash herself, you only need to select whole root crops that have no damage. Sprouted or green potatoes and carrots can cause poisoning.
Try to choose the roots of small and medium size.
Starting from April, you should not give kids dishes from raw root vegetables and vegetables stored in cellars and warehouses. In spring, the risk of infection from rodents increases.
At first, mashed root vegetables can be mixed with porridge or other already familiar vegetables.
In order for the child's body to better absorb beta-carotene, a little oil (butter or vegetable) must be added to carrot dishes.
If the mother cooks herself, before cooking, peeled roots need to be cut into small (2-3 cm) pieces and soak in cold water for half an hour – an hour.