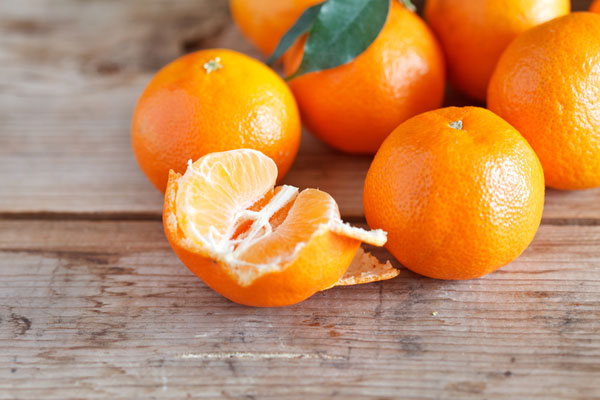 Mandarin appears the first citrus fruit in the baby's diet: there is less vitamin C in it than in all other members of the aromatic family, so it rarely causes allergic reactions. In addition, from just one lobule, the child's body receives in sufficient quantity provitamin A, vitamin B1 and vitamin K. But this is not all. Mandarin contains many vitamins B6, D, E, PP, calcium, magnesium, sodium, potassium, phosphorus and iron.
In addition, they increase immunity, and this property is especially valuable during the season of winter ailments. And if the cold still overtakes the baby, tangerine juice will help fight it: it relieves inflammation and facilitates the discharge of sputum.
A decoction of the peel is used for constipation.
Since the greatest value in mandarin is juice, you need to choose juicy specimens. Weigh a few pieces on your palm and pick the ones that are heavier. The peel should be fragrant, supple and smooth.
Kids prefer sweet varieties that are easy to "identify" in rounded forms: more sour look flattened.
Some manufacturers of baby food add tangerine juice to vegetable and fruit purees, and dried fruit pieces to medicinal teas intended for babies older than 6 months. Fresh fruit can be entered into the menu of crumbs not earlier than 7 months.
To begin with, wet the juice only lips baby. If, after 2–3 days, neither an allergic reaction nor a gastric disorder ensues, give the toddler 1 teaspoon of tangerine juice, diluted with water in a 1: 1 ratio, at breakfast.
After another couple of days, repeat the experiment.
A child who has mastered the novelty is recommended to give tangerine juice with apple or pear no more than 2-3 times a week. At 11 months, have your child suck on a fresh lobule. By the year, increase the portion of mandarin (juice, pulp) in the baby's weekly diet to 80–100 g.