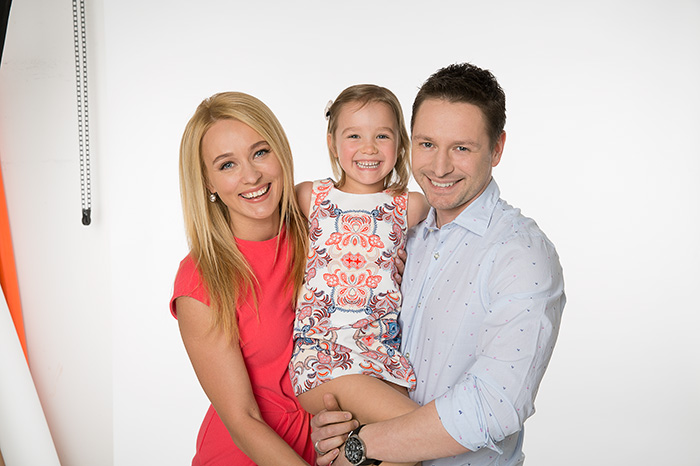 HAPPY PARENTS Anastasia, you are well acquainted with theater, television and moviegoers. And in the role of TV presenter appeared relatively recently. Tell us about the transfer, in which you work!
Anastasia Panina Transfer is called "Mom on 5+" and goes on the Disney Channel in the morning on Saturdays. She is family.
Kids and their mothers come to visit me. Together we talk about children of different ages and how to raise them.
Teachers, doctors, psychologists are connected to the conversation. Of course, there is an interesting rubric for dads – "Daddy can!" And also from the program you can learn how to spend time with benefits for children – go to some master class, exhibition, to the museum …
S.R. Do you think the TV presenter has more journalism or acting?
Anastasia Panina Journalism more, I guess. But the creative component is necessary for any business, and even more so for television journalism. In general, television is different in that the filming process proceeds very quickly: 10 minutes to record a rubric, 5 minutes to change clothes, a short break – and then the next one.
In this case, all new people come to the recording: adults and children, with whom you need to get acquainted and at least a little bit to talk. I had to go into such a complex rhythm … But I managed to do it quickly thanks to a well-coordinated television team led by director Anton Mikhalev.
I am very grateful to them for this!
S.R. To you, as a mother, did this program reveal something new in upbringing? Anastasia Panina Certainly.
And I hope that those mothers who come to our studio, and those who are watching this program, also learned a lot of new and useful things for themselves.
S.R. But your new work does not mean the end of an artistic career? Anastasia Panina No, of course!
I still work in the Moscow Drama Theater. A.S. Pushkin and staring in a movie.
Everything happens in parallel.
S.R. Sasha is watching you and Vladimir on TV? Anastasia Panina Films in which Volodya and I are shooting, not yet for Sasha's age.
She really likes the program "Mom on 5+", but we rarely watch it. The fact is that she goes on Saturday morning, and we usually try to dedicate this day completely to family communication. In fact, this is the only day-off when we get together, three of us, because the rest of the days are a working week.
And Sasha – working kindergarten week (except Sunday) as well. Therefore, on Saturday, as a rule, our family goes somewhere to the park, to the rink, to the cinema or to the cafe.
In general, we are trying to fill this day with the most interesting things for us, to turn it into a family holiday. The rest of the days are busy with work … However, it seems to me that the parents should be busy for the child to see that as he grows up, both mom and dad are also moving forward all the time, developing in the profession, do not stop.
When Sasha grows up, I think she will appreciate it.
S.R. You met at work, in the theater? Vladimir Zherebtsov Yes, we met when we were playing in the performance "Bullets over Broadway" staged by the artistic director of our theater Evgeny Pisarev.
And played lovers. That's where it all started.
S.R. And now in the theater they are engaged in a performance together?
Vladimir Zherebtsov Yes, in the play "Great Magic". And still we play lovers.
S.R. And in "Fizruk" shoot together?
Promote each other, it turns out? A.P.
So, yes. We are always joking like that, because at first I started acting in the series, and then led Volodya.
To pull! In fact, he, of course, acting tests for the role took place on a par with everyone.
S.R. And who stays with Alexandra when you are both on set or in the theater?
A.P. Our main assistant is my mother, Valentina Leonidovna.
Sasha was lucky, she has a real childish one! – childhood, because with her next to a loving grandmother, whom we are very grateful.
S.R. Tell us about Sasha.
What is learning, what is keen on? Vladimir Zherebtsov Sasha goes to an English group in kindergarten.
This is the most common kindergarten, the closest to the house, just there is such a wonderful group called Friendship – friendship. The children in it are of different ages, and all communication, in addition to compulsory classes, takes place in English.
Two teachers work with them: one speaks Russian, the other speaks English. And the second communicates with children only in this way.
Sasha has been studying there since the age of three, and there is already a result: when she watches cartoons in English, she does not ask us to translate. In any case, it does not bother her at all, apparently, the main one understands.
And in kindergarten Sasha is engaged in drawing and goes to the dance studio. In general, with a kindergarten we are definitely lucky. Now in the plans – put Sasha on skates.
We try to introduce her to all the most interesting things you can do at her age. In addition, with regard to sports, I believe that everyone should be able to ride a bike, skate, be able to swim.
Not for records, but just for my own pleasure. A.P. And Sasha and Dad love to play football.
And in tennis studies.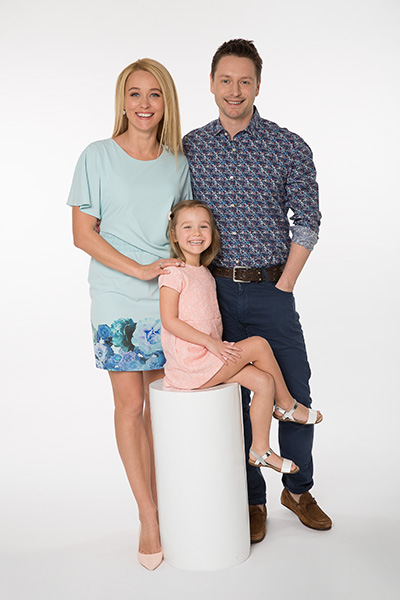 S.R. Anastasia, you yourself were doing rhythmic gymnastics?
Sasha do not plan to give this sport? A.P.
As for professional sports, we have not thought about it yet. Now really, as Volodya said, we just want to show her as much as possible of what we can do, developing ourselves, while receiving pleasure. And then much will depend on her – it's her life!
V.ZH. We will take it away to any classes, but we will not force it, if it doesn't want, for sure.
S.R. Which one of you is Sasha more like a character?
A.P. On both!
And character, and externally. When they see Sasha next to Volodya, they say that he looks like him, when my daughter is next to me, it turns out that she is like me. And when all three of us, they usually say this: in both of you I went.
The same with character. V.ZH. She, like all children, and calm, and clockwork.
Depending on the circumstances. Different!
S.R. Is it possible in relation to your family to talk about a particular system of education?
V.ZH. We, probably, strive to act according to the universal system of education, including many methods. That is, mother, grandmother and I – all three are bringing up Sasha in our own, in different ways.
However, I hope they all lead to the same result – so that a person is educated, intelligent and good. But, I repeat, the methods of influence are sometimes different.
For example, I am a very strict dad. I think that Sasha should know that nothing happens for no reason.
Here we have such a toy Santa Claus, in the form of a matryoshka, empty inside. And it so happened that Sasha asked for gifts from him.
If the daughter comes up and asks for a kinder surprise, for example, or some other trifle, I ask, why is she doing this? There is no holiday.
Well, I say, if you already want something, then give something too, put money in Santa Claus.
S.R. Does she have her money? V.ZH.
Of course, she goes to kindergarten. And this is regarded as her work.
S.R. Pay for the fact that she goes there?
V.ZH. We do not pay, of course, precisely for kindergarten, but pocket money, like many parents, we give, encouraging for something.
S.R. She and kopilochka have?
V.ZH. Purse!
So, she gets money from there and puts it in Santa Claus. Thus, it becomes clear to Sasha that nothing just happens.
For what she wants to get at the moment, she must give up her savings. In addition, I believe that Sasha should be able to do what she can do. For example, a daughter washes dishes, makes tea for herself.
A.P. Well, the grandmother, with whom the daughter spends most of the time, had a hand in this. It was she who took the largest and most active part in the development of Sasha's business.
Sasha molds dumplings with her, manti, dumplings, and kneads dough … And why did they not cook anything delicious for us! And if we return to our family method of education, it seems to me that at this stage of time, its universality consists precisely in the fact that Sasha takes from each of us something of his own, the most necessary things that she can use at this stage.
S.R. And what, Anastasia, is your personal method?
A.P. I can not call myself a strict mother.
Always, literally from the very birth of her daughter, she tried to communicate with her as an adult, we never had any lisping. I definitely try to talk to her in any situation, talk to her so that the daughter tells me what the problem is, that she is not happy, why she doesn't want to do something, why she doesn't like something. That she explained to me the essence of the conflict, and at the same time she dealt with him in this way.
We, fortunately, never had any tantrums, "epilepsy" known to some parents. Well, we also have a reward system, of course. Try, do something well – and get an ipad, for example.
Especially since it is mainly fun games in it.
S.R. Do you think everything in a person depends on education?
A.P. I think that 30 percent is character, the rest is laid in the family.
But this, of course, does not apply to such a concept as talent. Such things can not be brought up, it is innate. V.ZH.
I agree with Nastya. Something is already in the child, of course, at birth … But as he grows up, he sees how people around him communicate, behave, what they are talking about, what they are interested in.
He will not necessarily become absolutely the same, but he will not behave in a different way – he will not shout, swear, because he simply does not see it in the family. We are the daughter of such preserve.
S.R. It is clear that we are raising our children, and how do you think they are raising us? A.P.
I'm sure it is. Not only that with the birth of a child your existence changes – you yourself change too.
You become tolerant, it is absolutely certain, disciplined. A daughter was born, and the center of your universe appeared, the main engine, the most important thing for which you live. And it's great that this engine is in your life, thanks to it you develop, grow up.
V.ZH. And I don't even remember, I can't imagine how it was when there was no Sasha in the world.
Therefore, all our thoughts are not directed backwards, but forward. We are already thinking, for example, of a school where her daughter will go to study.
Moreover, this will happen quite soon, in a year, and we must be ready to choose the most suitable option, the benefit now is all the possibilities for this.
S.R. Do you dream about who you would like to see her? A.P.
Just recently discussed this topic. As for our profession, then, if Sasha wants, we will not interfere, on the contrary, we will help you in every way, than we can, if we see that there are abilities. But specifically, of course, we do not plan to push.
In any case, in every profession you need to become a professional, and this requires labor. And half measures here can not be.
V.ZH. I agree. In any business, the main thing is to become a specialist.
And we have to show Sasha how the widest possible range of possible professions. And in any industry that she chooses, we always, with all we can, support her.
In my opinion, this is generally the main task of parents – to help the child. A.P. And regardless of the profession, I want Sasha to grow up to be a good person.
Loving, beloved, with a good family and good children. And, probably, this is the main thing that all mothers and fathers want for their children.