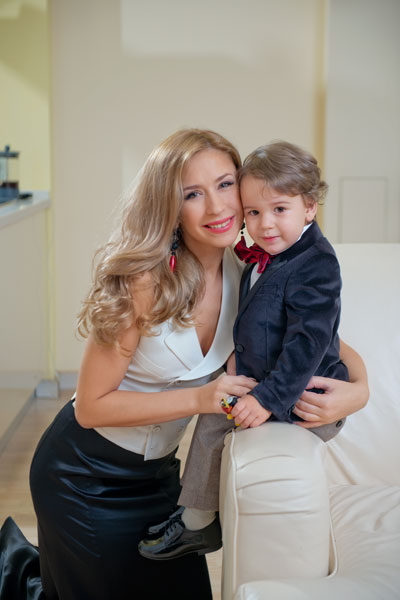 HAPPY PARENTS It is believed that the main thing in a woman's life is the birth of a child. Agree with this? ANASTASIA GREBYONKINA One of the main things is without a doubt.
Although there are women who do not have children at all and feel quite normal … For me, a child is very important, but I don't set priorities: a son – or a successful career, his upbringing – or what I look like. Ideally, everything should stack up equally well. And you need to have time to give birth, of course.
And not one. And a career does not start, and build relationships with her husband so that the appearance of the child does not affect them.
S.R. It is probably important for a modern child that his mom is someone other than mom? A.G. I don't think about that.
Especially since up to a certain age it is absolutely unimportant for a child whether something is his mother or whether she is just a mother and loves him. Although, of course, a personal example means a lot, and if the parents work and achieve something, then the child also strives for the similar.
But I would not want my son to love me for being someone. I want him to love me just like that, because probably this is the right love. Children love their parents.
And further. It is more important for me that I somehow take place, and not what my child will think about me.
S.R. Many mothers share their lives in "before the child" and "after." What about you?
A.G. No, to myself I can not say so. I had everything quite smoothly, as it should.
Wedding, pregnancy, baby. And, for more than two years now, this has been going on. No major changes, thank God, did not happen.
But! All this is only solely because we immediately took a nanny.
We have grandmothers, but they work, and one in general lives in another city, so my life would not have remained the same if there had not been a nanny. I would sit at home from morning to evening, probably would be angry …
S.R. So you think that it is household problems that change a woman after the birth of a child?
A.G. 100%.
Well, what do the birth itself change? A woman only gets happier. And even if my mother is at home all the first year, I do not think she is very pleased.
Knowing some of my girlfriends with young children myself, once left with Vanya, when the nanny left for two weeks, I cannot say that this happiness is infinite. I did not have time, I was completely occupied only by my son.
Being a mom is hard. Probably, you really begin to experience happiness after the first year, closer to two, because there is no particular return from the infant.
My personal opinion is that you become happier when you have helpers. Therefore, I urge everyone not to refuse, in the first year, especially, from helpers, and they can be friends, grandmothers, and relatives. Why do marriages break up after the birth of a child?
Yes, because a woman just does not care for her husband, she would have to lie down and sleep for at least ten minutes. Therefore, knowing all this, I had no doubt that we would have a nanny.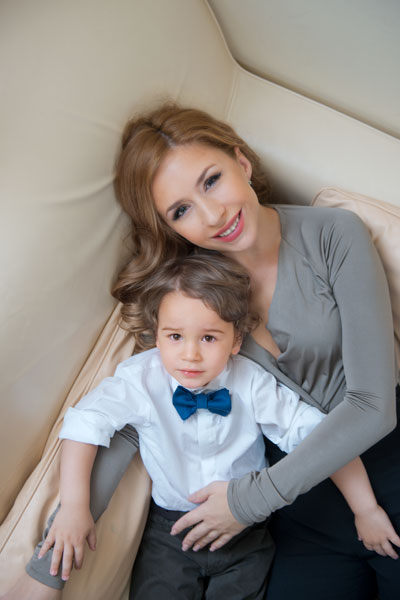 S.R. Do you have any parenting principles in your family?
A.G. I am trying to instill in Vanya some rules of communication. For example, in the courtyard he does not give his cars to his children, "my!" Screams, and I explain to him that the more he gives the toys to others, the more he will have them.
Although now it is still difficult for him to understand why it is necessary to share, give, not to regret, and so on. I try to tune him to the fact that he has all the possibilities and he is the best, the most beautiful, the most intelligent. And this is how a son works, because mom and dad tell him that.
But he is not conceited, on the contrary, Vanya is a very obedient boy, not scandalous.
S.R. Need more praise? A.G.
Of course! In our house it is not at all customary to curse Vanya.
Yes, and there is nothing to scold him. But there are parents who say: Behold, we have such children, that it is impossible not to shout at them. Others are generally convinced that children cannot be beaten.
This is generally a disaster! I think that if you scream at a child, sooner or later he will answer you the same.
It just does not work, and any psychologist will tell you the same thing. All the more beat. In no case is it possible to spank a child on the ass, it is a blood insult that children very hard endure.
It is much more productive not to regret his time and explain to him what he did wrong. Many parents think that it is pointless to explain to the baby, because he still will not understand. Understand, he already understands everything from a very early age, I'm sure of it.
Of course, there are children who are too active, running nonstop. Well, let them run!
Make for them, I do not know, a room upholstered in foam rubber. But how can you blame for it! Yes, and compare: won Petya good, and you – a bully.
It is better to do this on the example of cartoons, for example, or books. Definitely need to praise, to encourage any achievement.
Today, for example, Vanya has collected the word "bread" from letters. True, there was no letter "x" and there were several of the other words, but I praised him.
S.R. And who does Vanya look like? A.G.
My husband Yura and I are both horoscope capricorns, that is, fairly calm, but at the same time emotional. Vanya is the same. And never do anything wrong.
He is an understanding boy. Even if he does not want to sleep, suppose it will still go to bed, because he knows that it is necessary that it is already late. And I always talk with him very calmly, even when he is not happy.
Vanya loves me, like any son, and in a good way, a sissy. Hugging with him from morning to evening.
S.R. Not afraid of him as a future man so razbalovat? A.G.
He is already so much a man that, I think, you need to relax him! He's a father, and our father is such a brutal man. Vanya has a big forehead, an intelligent face.
Well, just a Russian classic writer! Or his literary character.
And by the nature of such a correct, judicious, although still quite a kid. And so he was from birth.
Understood everything, once again not a scandal. In him, and so this is enough male.
S.R. But tenderness never hurts? A.G.
This is more I show him tenderness, and he allows his mother. Itself never climbs. And he has a different relationship with his dad.
But mom, when she kisses, is a holy cause. And I think: the more tenderness, the better, regardless of gender. Later he will be comfortable in life, he will be treated kindly, his mother's warmth will always be with him, and this is very important.
And in the life of a man, too.
S.R. Tell us how you met your husband Yuri.
A.G. Nothing much in the company of friends.
I immediately liked Yura very much, for the first time I felt that I definitely need to get acquainted with this person, something connects me with him. And I was not mistaken. We have been linked for more than three years and have remained in the same relationship as they were at the beginning.
It turned out that married life can be beautiful. If you correctly understand how to live.
S.R. And how is it – correctly understood?
A.G. If you create a family, you should understand that without this person you can't live, but you just can't imagine that you need to rest from him. But some even go on vacation separately, for me it is strange.
If you know that you feel comfortable with this person 24 hours a day and no matter what you do, then it should be so.
S.R. Yura is a good dad?
A.G. I believe that even at the very beginning it is important that it is the father who was next to the mother. But not on the birth, because we are not supporters of this.
There are so many things that bind us so that a supposedly very strong additional bond is needed. But already in the maternity hospital on the second day, Yura himself changed the diaper Vanya, and then bathed him and dressed.
Well, he does everything, Yura – dad is beautiful. They have their own games – locomotives, cars.
Vanya loves when dad rolls him in his car and pulls him out of the car – a scandal.
S.R. Do you agree that it is difficult to raise the boy as it should be, without dad?
A.G. Of course I agree!
In general, a full-fledged person, no matter whether a boy or a girl, is difficult to bring up without a second parent. I was raised by my mother, although there was a grandfather – a man in the house.
But still grandpa is not a dad. Already, I understand how I missed him as a child. Therefore, I urge parents not to have children, if they are not completely confident in each other.
The child still needs to grow up in a full-fledged family, where both parents want to educate him. And now, in my opinion, among my friends, such families, where mom and dad take on equal responsibility for the baby, are becoming more and more. Here, my recently-born girlfriend told me that her husband, while continuing to work, actively helped her with the child, for the first three or four months he was always there.
And I thought: how cool it is that our men love us women so much that they realize this feeling in the most correct way. This is, after all, the manifestation of love for a woman first of all.
And what could be more important than to make her life easier in this difficult period for her? We gave birth together – so it should be. And more and more men are worthy: with the family, everyone is at work, they don't walk, they don't drink, they love their women, they adore children.
I hope this trend will continue, because in the modern world it is quite possible.
S.R. Planning a kindergarten?
A.G. Absolutely not.
I understand that many give up because of the society, to which, it would be imperative to accustom them to school. But that in a group of 25 children and one teacher at all, think less.
And also – that he will be ill constantly. But he will be socialized!
I think that something is something, and this notorious socialization of Vanya is not at all deprived of us. We have children in the yard 15.
Children constantly walk together, play, change cars, communicate in full. And Vanya goes not only to our site, he meets different children.
As far as developmental activities are concerned, does a nanny draw, dance and sculpt worse than a kindergarten teacher? Of course better! Yes, Vanya and it's nice to deal with her.
And then we plan to give the son of the year at four to some sports section, where there will also be children, and socializing, and microbes.
S.R. Do you have any dreams connected with Vanya?
A.G. Well, when he was just born, my dad and I dreamed that we would give him hockey, at 18 he would be an incredible champion and buy us a house.
But seriously, I do not even think about it yet. This is his life, and he was an independent person from birth.
The main thing is for the son to choose the right thing in his life, to do what he wants. We know examples when parents insist on their own, make a child learn not what he wants, and as a result he sometimes finds himself at the bottom of the trough.
So definitely his choice for me is the most expensive.