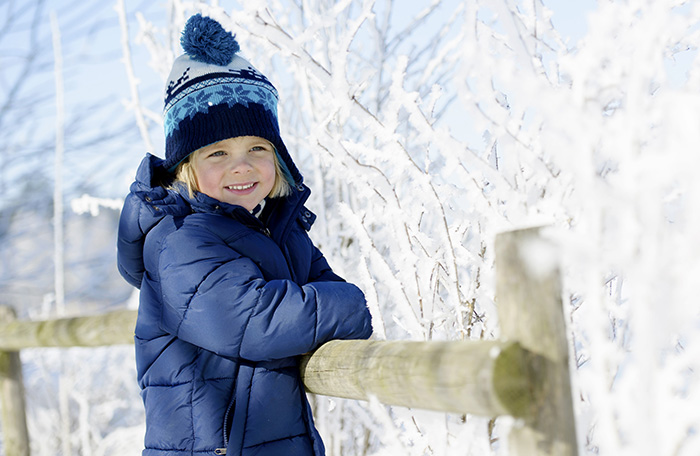 At its core, allergy is the wrong reaction of the child's body to the effects of various environmental factors (allergens) – food, plant pollen, house dust, animal hair, drugs and fungi. An allergen (antigen) enters the body and causes the formation of antibodies, or, as doctors say, sensitization. When this is repeated, histamine is released.
Characteristic symptoms appear: runny nose, edema, cough, shortness of breath, skin rashes or blisters may appear, resembling a nettle burn (nettle rash), and the child will begin to complain of itching. In some cases, the case goes without redness, just the skin of the baby becomes very dry and rough.
It seems that, judging by the most common antigens, an allergy is a spring-summer attack. But it is not. Not all provocateurs of illness fall into winter hibernation.
Some of them in the cold just wake up.
If a child has a rash resembling a nettle on his face, neck, hands after a short stay in the cold, it may be a manifestation of cold allergy, or, more precisely, cold urticaria. These symptoms persist for 20–30 minutes and disappear when the baby warms up.
It happens and vice versa: such signs are found already after the child has gone into heat. By the way, this can happen not only in winter, but also in summer, you just have to swim in a cold river or wash your hands with cold water.
In children, such urticaria can be hereditary and manifest itself in the first year of life or develop after previous infections, for example, mycoplasma, infectious mononucleosis, rubella.
But the "pimples" or meteodermatitis that appeared on the hands after being in the cold have no relation to allergies. It is simply a skin reaction to a low temperature.
To avoid trouble, you have to reduce your stay on the street and, going for a walk, choose clothes that cover all areas of the body as much as possible. Warm scarf, mittens or gloves, hat are required!
Clothing that is directly attached to the body should be made of cotton or linen. On the remaining open areas it is recommended to apply a protective cream.
The doctor may recommend an antihistamine for about half an hour before going out in the cold.
Allergy to dust, or rather, to a microscopic house dust mite, is a year-round phenomenon. But quite often exacerbation happens just in winter. Insect's favorite habitats are bedding, where they feed on human skin's horny layer, carpets, bedspreads, curtains, soft toys, sofas, and armchairs.
In winter, when the apartments are warm and dry, the mucous membranes dry up, and local protection mechanisms work worse. Therefore, the dust mite's metabolic products are much easier to get inside. As a result, the baby begins allergic rhinitis, cough, he may complain of itching.
Similar symptoms may occur if the child is wearing a fur coat or fur coat. After contact with fur mittens, rashes may appear on the wrists.
An attack of allergic cough often occurs when a Christmas tree is planted in the room at the place of honor. Natural or artificial, it does not matter.
In the first case, mold is the culprit. It is formed in the bark or needles.
Before selling, a tree could be treated with a special chemical composition in order to keep it attractive longer. In the second case, the "wrong" reaction is caused by dust accumulated on the artificial Christmas tree for the year.
Christmas-tree decorations treated with odorous dyes can also make a contribution.
Ten years ago, such an expression appeared as "an allergy to melting snow". It occurs not only in the spring.
Thanks to chemical reagents, sand, granite chips, with which public utilities generously sprinkle the streets of major cities, in megacities snow can now melt in frost. These substances are popular rumor and blames for cough and runny nose, which occur after walking through the city streets. But, according to allergists and chemists, the chemicals themselves that make up the reagents, sand and granite chips can not cause irritation of the skin and mucous membranes.
Nevertheless, in the urban snow accumulate harmful substances, which, mixing with the emissions of industrial enterprises and transport, sooner or later can get into the air. Sand and granite chips under the wheels of machines are ground into fine dust that the wind carries around the city.
It can settle in the lungs. It does not threaten a healthy child, but an allergic child can be provoked by its aggravation.
So the body is not sensitive to reagents, but to harmful substances that evaporate from the surface at an accelerated rate of melting snow.
New Year's holidays and food allergies are almost inseparable. Most often in children, it is provoked by smoked meats, pickles, chocolate, oranges with tangerines and sweet aerated drinks, without which the holiday is not considered as such. Allergic reactions can also be caused by dishes with ingredients that the baby has not yet encountered.
The most minor consequence of such negligence is dermatitis, but severe cases are possible. Therefore, no matter how much adults would like to treat a child with something tasty, offer him only what is guaranteed not to spoil the holiday, that is, products with which he is already well acquainted.
Watch your baby and stop his attempts to taste all the contents of that beautiful box at once. And at the first signs of food allergy, nasal congestion, reddening of the skin, itching, give the child an antihistamine medication at the age dosage.
Long runny nose and cough, manifestations of urticaria, repeated obstructive bronchitis – all this is a reason to consult with an allergist. If necessary, he will appoint an examination. It includes:
– skin scarification tests in children over 3 years old or a blood test for allergens in a child of any age;
– measurement of respiratory function (lung volume).
Depending on the symptoms, additional research can be done. According to the results, the doctor will recommend treatment, including prophylactic, in order to avoid exacerbations of the disease.