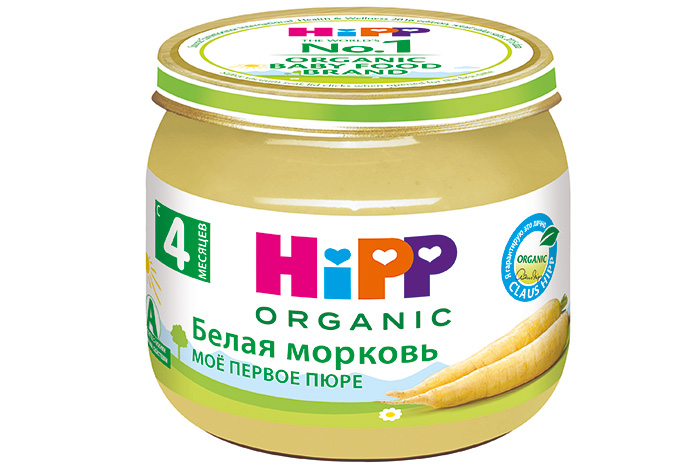 An unusual vegetable will give the growing body vitamins and microelements necessary for healthy development, will delight the baby with a delicate taste and will be an ideal product for the transition to "adult" food.
The first stages of feeding are the time of tasty discoveries for a child who is just beginning to learn a diverse world of food and products. To make acquaintance with healthy food interesting and enjoyable for your baby, HiPP strives to expand the range and make the menu of the crumbs more diverse.
That is why the original new product appeared in the brand assortment this spring, which will add to the range of one-component mashed potatoes. Now the kids can try broccoli, cauliflower, potatoes, zucchini and not only orange carrots, but also a white carrot dish, which will be a great solution for the start of feeding.
White carrot is a type of widely known root vegetable and has been cultivated for centuries.
It differs from its orange "brother" by a considerably smaller amount of pigments, but at the same time it contains equally many useful and nutrients. The advantage of white carrots is low allergenicity due to the absence of coloring matter.
For the same reason, it does not leave marks on clothes, so that the baby will not get very dirty during feeding.
Another plus of an unusual vegetable is a delicate sweetish taste, which will be especially pleasant for a baby who is used to the mild taste of milk. In addition, the new organic puree contains plant fiber, and therefore it can be especially shown to children with a tendency to constipation.
One-component HiPP puree with low allergenic properties is recommended for children from 4 months.
It possesses a gentle homogeneous consistency corresponding to the age needs of the crumbs, and is easily absorbed by the child's body. Vegetables from which HiPP baby food is produced are grown on organic farms, where the use of synthetic fertilizers, pesticides, growth regulators and other chemicals is prohibited.
To create puree, only ripe and ecologically pure white carrots are used, which preserve the natural taste and maximum of beneficial vitamins and trace elements. Ready meals do not contain preservatives, artificial colors and flavors, as well as gluten, sugar and salt.
The composition of products completely harmless even for the smallest gourmets, includes only organic white carrots and water. Each HiPP jar passes more than 260 quality checks at different stages of production, so familiarity with the unusual and tasty white carrots will not only be interesting, but also safe for the child, discovering a variety of vegetables that are so healthy and healthy.