The composition of unusual pasta – their main advantage. Of course, this does not mean that you need to eat them on an ongoing basis.
However, they can significantly diversify any diet. Indeed, among this diversity there are even gluten-free specimens that are suitable for people with special nutritional requirements.
Consists of durum wheat and cuttlefish or octopus ink.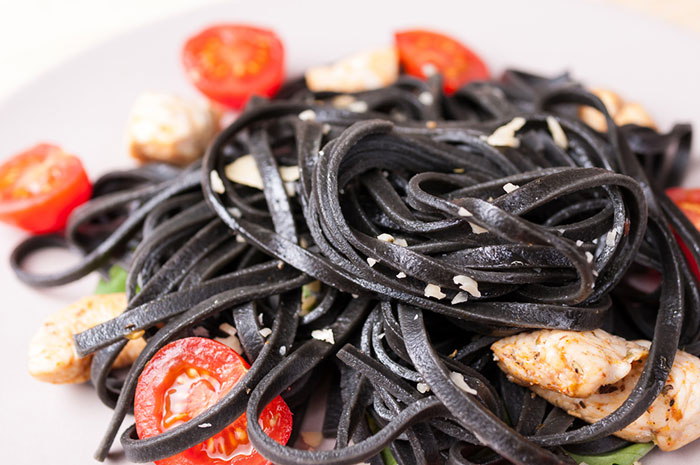 Cuttlefish ink is a special liquid produced by the mollusk, which is contained in the cavity of its body and is used for protection.
Useful properties: Ink cuttlefish in small doses are also included in the composition of many drugs, which are mainly used to treat neurotic states, increased nervousness, excitability. Ink, like mollusk meat itself, contains a number of macro- and microelements, vitamins, a set of amino acids that help improve metabolism, reduce cholesterol levels, and have anti-inflammatory effects.
Nutritional value: proteins – 9.3 g, fats – 1.9 g, carbohydrates – 54.1 g, 270 kcal.
Produced from various types of starch. Do not contain proteins and gluten.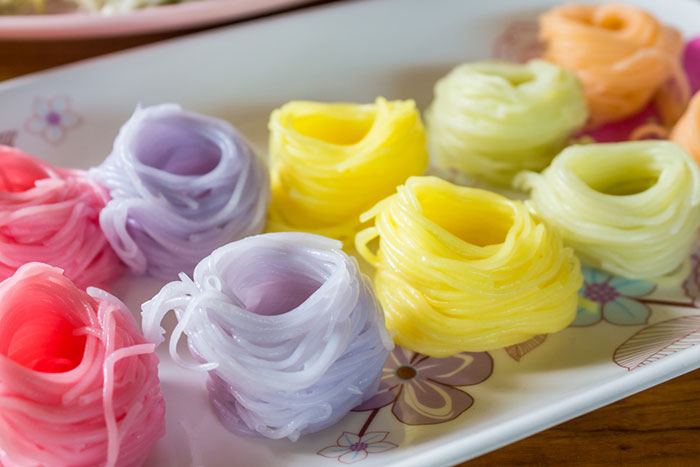 Vegetable: beets, carrots, greens, paprika, corn starch swelling, corn starch.
Fruit: dried apricots, apple, corn starch swelling, corn starch.
Berry: cranberries, lingonberries, cornstarch swelling, cornstarch.
Useful properties: Suitable for people who are forced to follow a special diet. They are very well absorbed, so they are perfect for diet food.
The rich composition of such pasta allows you to nourish the body with essential vitamins, minerals and other beneficial substances.
Nutritional value: proteins – 0.9 g, fats – 0.6 g, carbohydrates – 85.2 g; 359 kcal.
Consist of wheat flour and ground sea kale.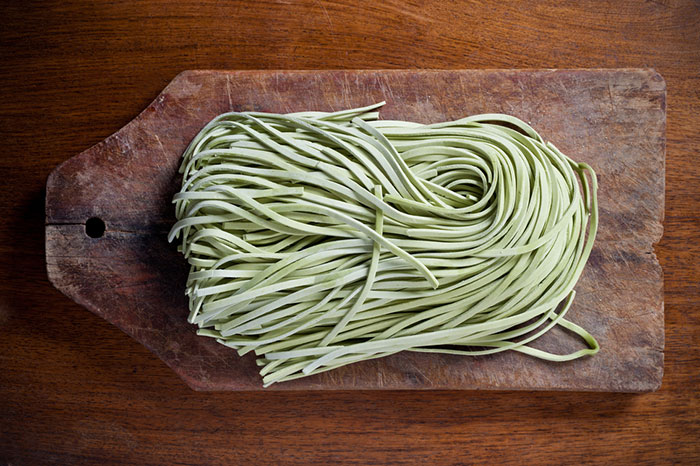 Useful properties: Seaweed contains soluble and insoluble dietary fiber, polysaccharides, essential amino acids, polyunsaturated fatty acids, vitamins A, C, D, B1, B6, B12. Seaweed containing iodine normalizes metabolism, participates in the regulation of the functions of the cardiovascular and central nervous system, and also has a tonic effect with increased physical and emotional stress, in adverse environmental conditions.
Nutritional value: proteins – 10.5 g, fat – 1.2 g, carbohydrates – 57.7 g; 308 kcal.
Made from soybeans and water.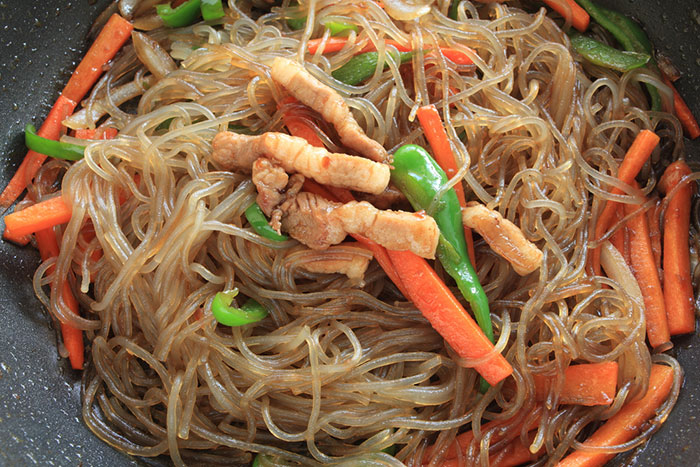 Unlike animal protein, soy can not be called easily digestible. It consists of natural antiviral drugs protease inhibitors, which cause slow breakdown of amino acids.
Useful properties: Being a product containing a large amount of soy, glass noodles are considered to be a valuable source of vegetable protein and phospholipids, natural compounds that make up the membranes of human cells. Eating soy noodles contributes to the regeneration of all kinds of human tissues and skin.
Nutritional value: proteins – 0.1 g, fats – 0.1 g, carbohydrates – 82 g; 330 kcal.
Usually consist of a mixture of flour from durum wheat and ground Jerusalem artichoke tubers.
Useful properties: Jerusalem artichoke tubers contain inulin, fructose, pectin fiber, iron, silicon, essential amino acids, trace elements and vitamins. Regular use of Jerusalem artichoke strengthens the immune system, improves metabolism.
It is recommended to use for people suffering from diabetes.
Nutritional value: proteins – 10.3 g, fats – 1.9 g, carbohydrates – 57.2 g, 287 kcal.
Different from the usual pasta exactly flour, from which they were made. Can be made from whole and soft wheat or durum but ground.
About this manufacturer writes on the packaging.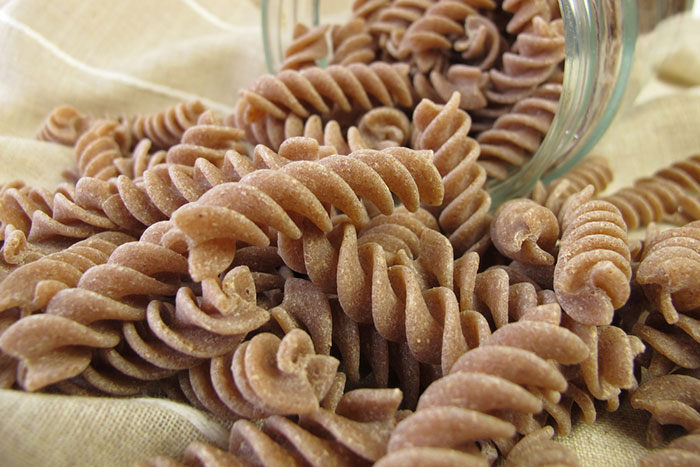 Useful properties: When grinding, parts of a wheat germ with a shell fall into such flour. Therefore, it contains vitamins B1, B2 and PP, calcium, magnesium, phosphorus, iron and fiber, thanks to which pasta is digested for a long time, gradually saturating the body with energy. She also cleans it of toxins, cholesterol, fat
Nutritional value: proteins – 15, fats – 1.4 g, carbohydrates – 67, 348 kcal.
Rye macaroni is made by special technology from whole ground rye grain. Unfermented rye malt is an absolutely natural product without any additives and dyes.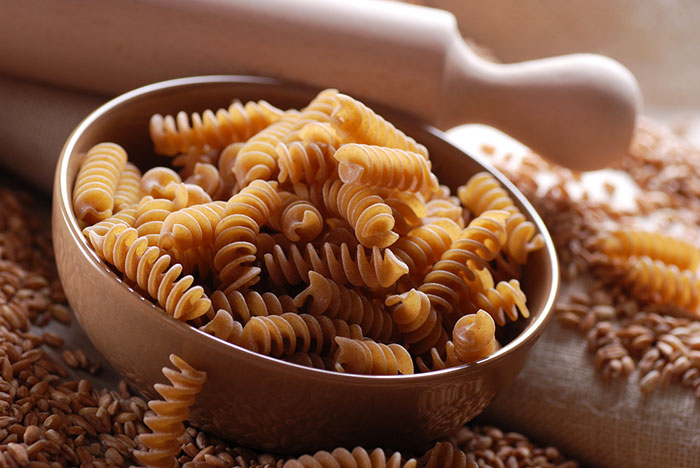 Useful properties: Such macaroni is rich in fiber, minerals, contains vitamin PP, vitamins of group B, essential amino acids. Whole grain rye macaroni has a low gluten content.
Dietary fiber (fiber) promotes self-purification of the body, and vitamin E, being the most powerful antioxidant, prevents premature aging of body cells.
Nutritional value: proteins – 8, fats – 1.7 g, carbohydrates – 62.5, 307 kcal.
Made from corn flour.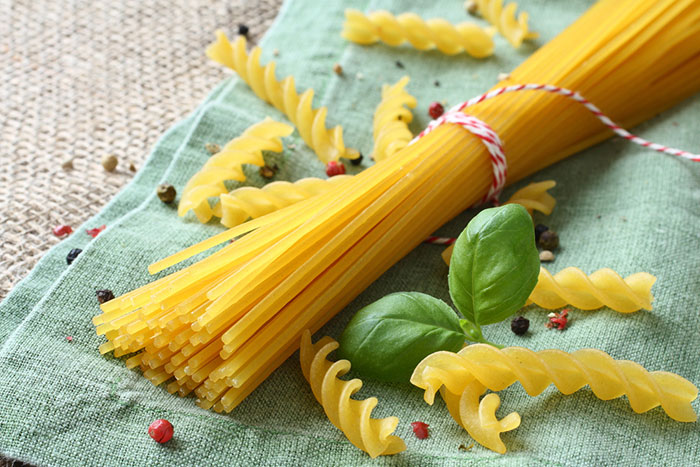 Useful properties: Cornmeal belongs to easily digestible products. It has a high content of vitamins A, B, C and E, especially a large amount of vitamin folacin (B9), protein.
It also contains a lot of potassium and magnesium, honey, phosphorus, calcium, which help to improve the elasticity of blood vessels and strengthen the teeth. Recommended for diet, lowers cholesterol in the blood, improves intestinal function and excretion of fat from the body.
Treats group of the products which are not containing gluten.
Nutritional value: proteins – 2.2 g, fats – 1.1 g, carbohydrates – 77 g; 340 kcal.
If pasta is dough with water, then green pasta is dough with water and spinach. In Europe, spinach is very common, in France – it is the king among the greens.
However, in Russia it is not popular.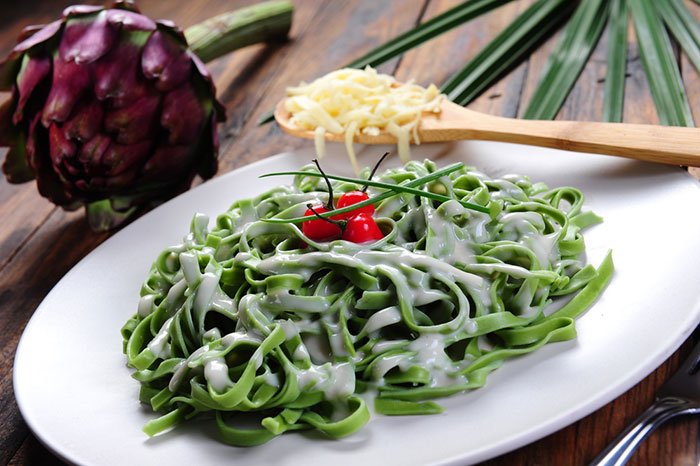 Useful properties: Spinach contains a lot of carotene and iron, thanks to which all the cells of the body begin to be well supplied with oxygen. Since spinach removes all unnecessary from the body, the paste with spinach helps you lose weight faster, and also increases the body's metabolism. Spinach also contains proteins, carbohydrates and even fats; organic, saturated and unsaturated fatty acids, fiber, starch, sugars; vitamins A, E, C, H, K, PP, many B vitamins, beta-carotene; calcium, magnesium, sodium, potassium, phosphorus, iron, zinc, copper, manganese, selenium.
Such important vitamins as A and C in spinach are resistant to temperature effects – they are preserved during heat treatment.
Nutritional value: proteins – 10.7 g, fats – 1.2 g, carbohydrates – 70.7 g, 343 kcal.
National Japanese noodles, which are prepared only from water and buckwheat flour.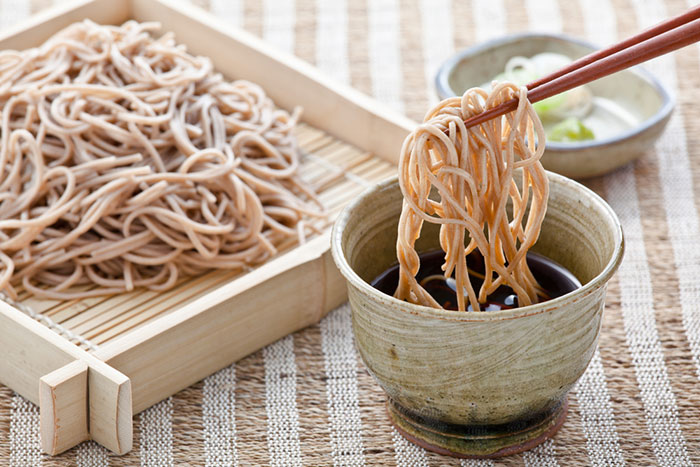 Useful properties: With virtually no fat, soba noodles can be pleased with the presence of vitamins and minerals. It contains choline, vitamins B1, B2, B5, B6, B9 and PP, as well as potassium, calcium, magnesium, zinc, selenium, copper and manganese, iron, phosphorus and sodium. Another noteworthy point: rutin, which is also found in green tea and red wine, overlooked other grains and legumes, but there are a lot of them in buckwheat.
Rutin strengthens the capillaries and is useful for people suffering from atherosclerosis and high blood pressure.
Nutritional value: proteins – 14.7 g, fats – 0.9 g, carbohydrates – 70.5 g, 348 kcal
It is made from rice flour, which after cooking becomes white. Known in China for over 2000 years.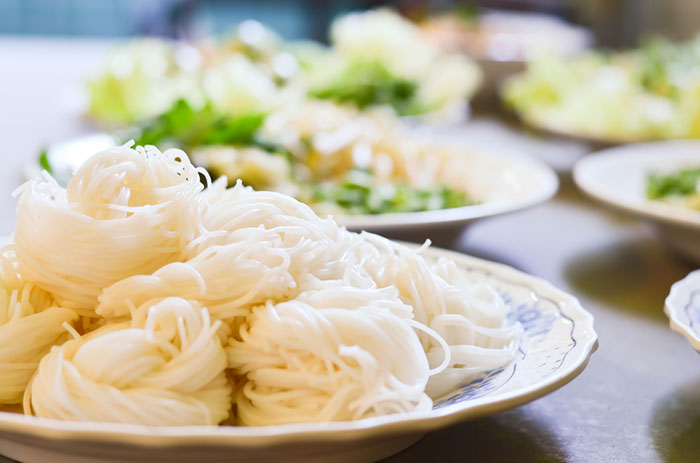 It is eaten cold or hot, used in soups, salads and cooked in a wok. Usually rice noodles look like translucent strips from a few millimeters to three centimeters wide.
Homemade rice noodles are often very long, as it symbolizes longevity. Therefore, to cut or break noodles before cooking is not accepted.
Useful properties: Noodles from rice for 75% consist of starch. However, it is rich in B vitamins (thiamine B1, riboflavin B2, niacin B3), which are involved in the metabolism and help strengthen the nervous system, and vitamin E, known for its antioxidant properties. Of the minerals in rice noodles are potassium, phosphorus, manganese, iron, copper, calcium, zinc and selenium.
As part of this product, there are eight essential amino acids necessary for the creation of new cells and the full functioning of the brain. However, the gluten protein, which is present in cereals and causes allergic reactions, is absent in rice.
Nutritional value per 100g: proteins – 3.5 g, fats – 0.6g, carbohydrates – 82g, 364 kcal
Usually made from mung bean starch. Starch of potato, cassava, canna, yams is less commonly used.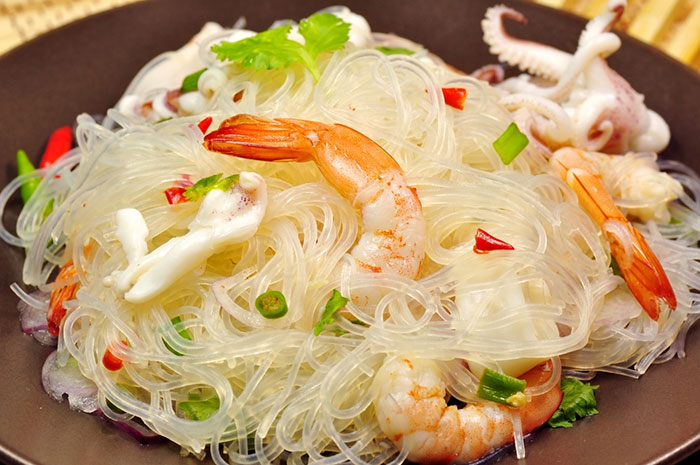 In modern production, bean starch can be replaced with cheaper corn starch. As a rule, glass noodles have a circular cross section. Sold in dried form.
Used in soups, salads, deep-fried dishes. Its name "glass noodles" received because of the translucent appearance, which acquires after cooking.
It should be noted that the noodle of funchoz itself does not have a pronounced taste, the product is rather tasteless, therefore it is often served as a side dish.
Useful properties: Noodles contain a large amount of vitamins of group B, E and PP. It also contains minerals such as phosphorus, potassium, selenium, magnesium and iron.
Nutritional value per 100g: proteins – 0.7 g, fats – 0.5 g, carbohydrates – 84 g, 320 kcal
Spelled – is the progenitor of modern wheat. This type of spike does not absorb any chemicals and mineral fertilizers. Grains are bigger than wheat and have protection in the form of hard scales.
Such a "shell" protects against adverse environmental factors.
Useful properties: Full noodle is a balanced product that improves metabolism. The amino acids contained in it strengthen the immune system, and vitamin B6 corrects the absorption of fat and lowers cholesterol.
Nutritional value per 100g of product: proteins – 12g, fats – 2.5g, carbohydrates – 60g, 306 kcal
Nettle is a rich source of vitamins, minerals and beneficial substances for humans.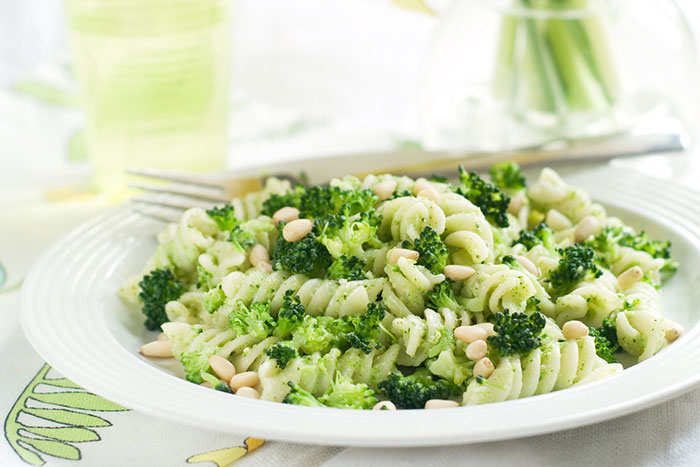 Useful properties: For example, there is more vitamin C in it than in ripe oranges, and the content of carotene exceeds its amount in carrots. The composition of nettle also includes vitamins B, K, Pantothenic acid, calcium, phosphorus, iron, manganese, zinc, magnesium, as well as a large amount of high-grade vegetable protein.
Nutritional value per 100g: proteins – 11g, fats – 0.8g, carbohydrates – 74g, 353 kcal
Italian dish like dumplings. There are different recipes for cooking, but most often they are made from wheat flour, sometimes with the addition of semolina, mashed potatoes and ricotta cheese.
They can also be made from any vegetables, with the addition of flour.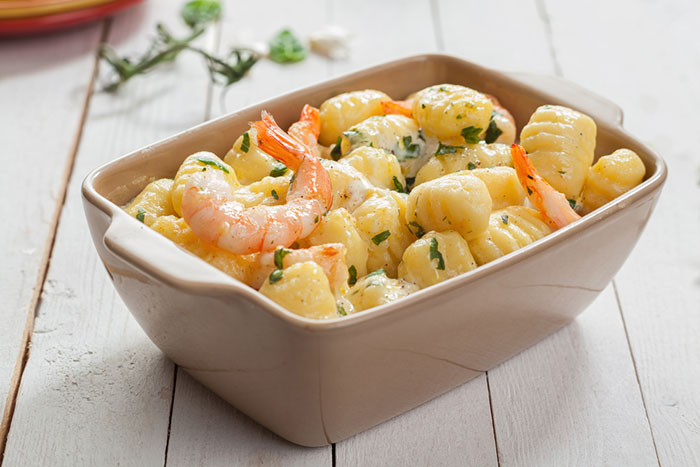 Useful properties: It is impossible to say for sure what useful properties this Italian dish has. It all depends on the ingredients you use.
There are many recipes that include nettle, pumpkin, turnip, beet, sage, etc.
If we talk about potato gnocchi, then you need to pay attention to the benefits of potatoes and ricotta cheese, which is used in this recipe.
Potatoes contain potassium, phosphorus, magnesium, iron, sulfur, zinc, bromine, silicon, iodine, and many other minerals and trace elements. Potatoes are also rich in vitamin C, B, B2, B6, B PP, D, K, E.
As for ricotta cheese, it contains vitamins of groups A and B. Cheese can be used during the diet, because it contains very little fat. It has a large amount of calcium, which means it will be useful for older people with arthrosis and arthritis, and everyone who is worried about the condition of their bone system.
Nutritional value: proteins – 3.5 g, fats – 0.5 g, carbohydrates – 34 g; 182 kcal.
Italian pasta similar to dumplings. They are made from dough and can have meat, vegetables or cheese as a filling.
In their form, the tortellini resembles small dumplings, the corners of which connect to form a ring or a bud.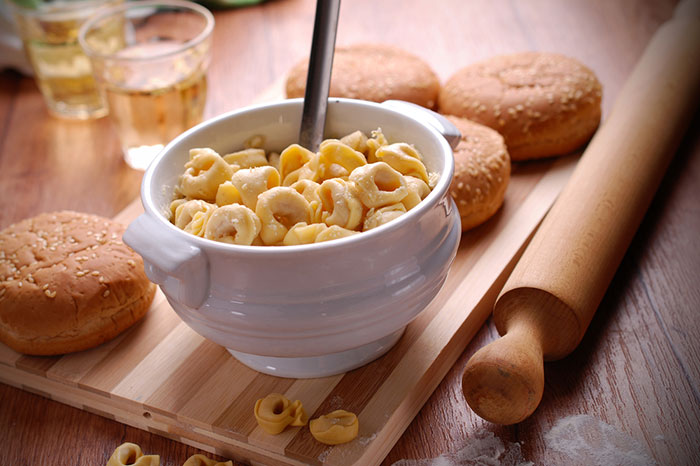 The color of the dough for tortellini may be different (depending on the additives). For example, spinach gives dough a green color, and tomato – red.
As a meat filling, Italians usually use chicken, ham or mortadella (bologna boiled sausage), cheese – Parmesan or ricotta. According to legend, the young cook invented the pasta with the filling, wrapping the blank around the little finger, thereby depicting the navel of his mistress.
Useful properties: Tortellini is usually made from durum wheat, which is rich in complex carbohydrates, and therefore maintains energy balance in the body. However, in more detail to speak about the beneficial properties of tortellini, you can only know what kind of stuffing they cooked.
Nutritional value of tortellini with cheese: proteins – 13 g, fats – 7.7 g, carbohydrates – 61 g; 373 kcal.
Pasta from fresh text, similar to dumplings, as they have a filling. Most often made in the form of a square.
The filling can be meat, fish, poultry, vegetables or fruit.
Useful properties: Take ravioli stuffed with meat as an example. They contain vitamin A, group B, as well as calcium, potassium, magnesium, zinc, iodine, fluorine, etc.
Using the flour from durum wheat in the preparation of ravioli, you also enrich the dish with fiber.
Nutritional value: proteins – 15.5 g, fats – 8 g, carbohydrates – 30 g; 245 kcal.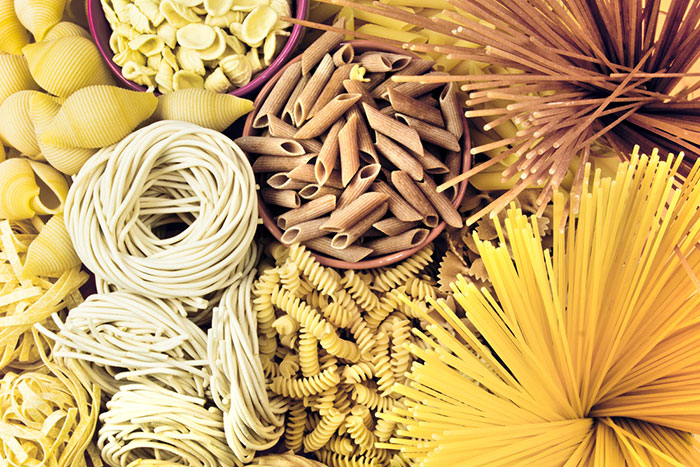 The Italians are rightfully the trendsetters for pasta. And only in Italy could come up with such an incredible number of its species and subspecies.
What kind of paste you hold in your hands can be understood by their shape or the inscriptions on the packaging. Let's see what is the difference
1. Pasta secca – dry pasta, which is made from durum wheat in the framework of industrial production.
2. Pasta lunga – long pasta.
Long and dry pastes differ as follows:
Spaghetti (spaghetti) – in translation means "small ropes". Always very thin and long.
Linguine (linguine) – "small tongues" or flat spaghetti.
Fettuccine (fettuccine) – flat, wider linguine (can reach a width of 1 cm).
Pechutelle (perciatelli) – thin straight tubules.
Vermicelli (vermicelli) – are similar to spaghetti in shape, but they are thinner and shorter.
Capellini (capellini) – very thin and round. Can be sold wrapped in nests or as spaghetti.
Lasagna (lasagna) – wide, long plate with wavy edges. Used to prepare the same name dishes.
3. Pasta corta – short pasta. And here the options are even greater.
Short and winding:
Fusilli (fusilli) – in a form remind "drill". May be of different thickness and length. Rotini (rotini) – short tubes in the form of a spiral. Very similar to fusilli.
Cavatappi (cavatappi) – resemble a small zigzag.
Short and hollow:
Macaroni (macceroni) – have the appearance of small curved tubes. In Russia, many people call them "horns."
Ditali (ditali) – ring-shaped small tubules.
Penne (penne) – medium sized tubes. Have cuts at the ends. Many call them "feathers."
Pakkeri (paccheri) – thick and short tubes.
Manicotti (manicotti) – long and wide tubes.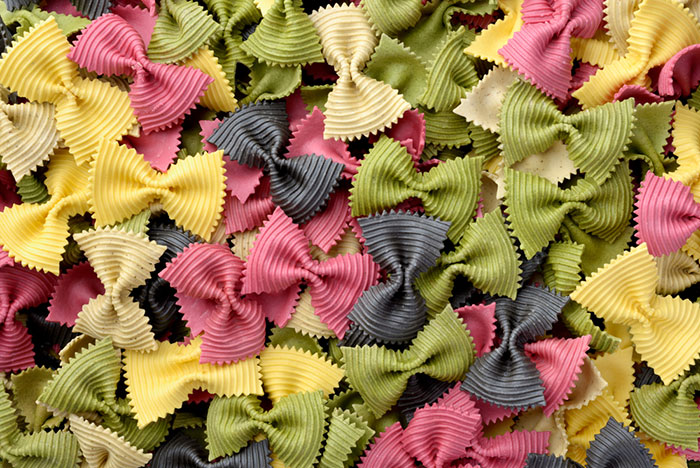 Complex paste:
Radiatori (radiatori) – semi-tubules of medium size. They have transverse plates on the outside.
Alphabet – pasta in the form of letters.
Bows or butterflies (farfalle) – squares, compressed in the middle.
Conchiglie (conchiglie) – pasta shaped shell.
Lumakoni (lumaconi) – have the form of "snails", large size.
Merletti (merletti) – similar to the medallions with a small ornament.
Quadrettini (quadrettini) – square flat plates.
4. Pasta fresca (all'uovo) – fresh or raw pasta with the addition of eggs. Looks like Russian noodles.
Popular Italian pasta is prepared immediately before a meal and is not intended for freezing and long-term storage:
Tagliatelle (tagliatelle) – twisted "nests" of thin, flat and long spaghetti and fettuccine.
Pappardelle (pappardelle) – wide, long and flat plates.
5. Pasta piena (ripiena) – hollow inside to fill it with stuffing.
Stuffing pasta is:
Angelotti (agnolotti) – created for stuffing and have a hollow curved shape of the "crescent".
Gnocchi (gnocchi) – dumplings with cheese, potatoes or semolina.
Ravioli (ravioli) is a tiny fellow dumplings, but square in shape.
Tortellini (tortellini) – have the form of ravioli, but with closed edges.