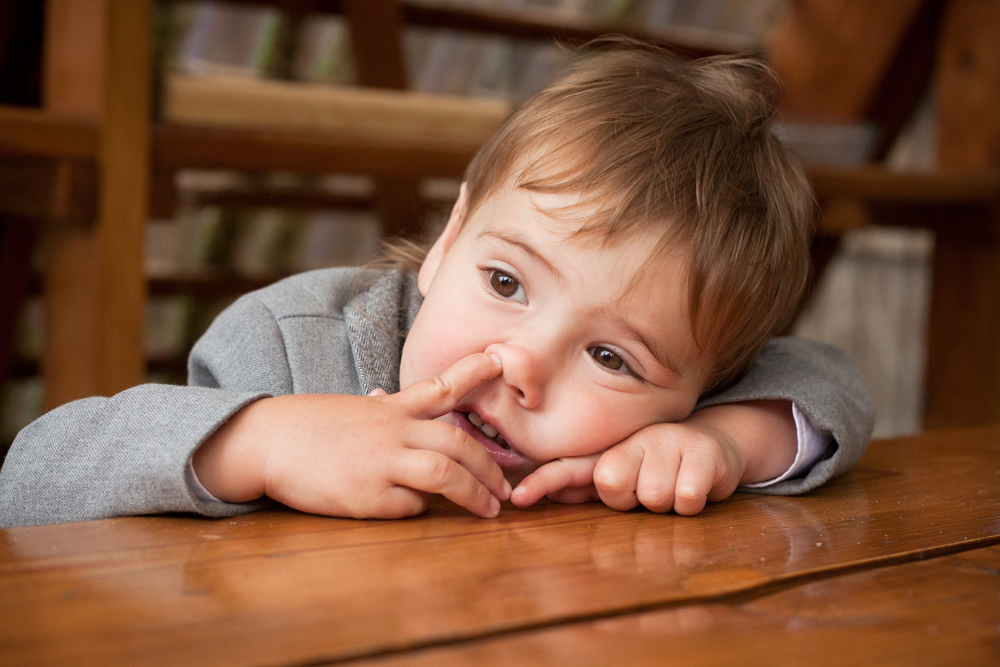 Habit is a repetitive, often unconscious, action, a kind of ritual that the baby performs every time when certain circumstances arise. This means that every habit, especially bad, has a reason, and it helps the crumbs to achieve something, for example, to calm down.
The reasons may be increased excitability and impressionability of the child, transferred stress or illness, conflicts in the family. And sometimes to understand what the matter is, it is possible only with the help of a child psychologist or a neuropathologist.
The habit of obsessive movements (for example, picking in the nose) is often inherent in timid children. To overcome shyness, invite other kids home, try to praise the child more often, say that he is good and copes with everything.
You can only talk about the bad habit of sucking a finger if the baby is more than 2 years old. It may indicate a child's nervous tension, problems in relationships with peers, lack of attention from adults. Sometimes with the help of these unconscious movements the little tot tries to calm down.
About the same speaks and constant nibbling of nails.
Try to find the exact reason for this behavior. In any case, one cannot act here in a hurry and adopt the methods of the "grandmother".
The kid is not stupid at all, and if he smears his finger or nails with something bitter, he can wash his hands. And if you still try the "drug", then you will be offended for a long time.
It is necessary to disturb the child less, for example, not to allow him to sit at the TV or computer for a long time. Relieve tension will help gymnastics, dance, sports. To wean the toddler off these bad habits, constantly remove your hands and finger from the mouth of the crumbs as soon as they get there.
Offer games in which both hands are involved. In no case do not frighten the baby.
Just explain that it is ugly, that other children will laugh at him. Teach your baby to care for your hands, make him a manicure, write funny stories about children who are in funny situations because they bite their nails or suck their fingers.
But most of all parents worry about the baby's habit of touching their genitals. However, before the age of 3, the child does not even understand that it is the genitals that are annoying, for him these are the same parts of the body as the nose or the arm, and you should not worry about his excessive sexuality. In 3-4 years, the baby begins to realize that such actions cause condemnation in adults, but do not understand why.
So, treat such ritual actions as an ordinary bad habit, like picking your nose.
Never make fun of a child. Try to talk to your child in confidence, without raising your voice, and tactfully keep him from doing wrong.
Seeing that the baby is touching the genitals, explain to him that you should not do this for purely hygienic reasons, and try to turn his attention to something else, for example, suggest painting, playing, show an interesting picture. Do not let the crumble sit on the pot, make sure that he does not delay the urination act for a long time.
This leads to the tension of the genitals and the desire to touch them once again. Carefully observe intimate hygiene, as such a bad habit can cause itching in the perineum.
Itching in this place may also occur due to pinworms, therefore, it will be good to pass an analysis for enterobiasis.
Find out if the toddler is under stress and try to eliminate the cause of the experience. If this habit helps a little to fall asleep, find a replacement for it in other "sleepy" rituals: tell him fairy tales, turn on quiet quiet music.
It is impossible to hope that the child is still small, and when he grows up, bad habits will pass by themselves. If we pay attention to them and adjust the behavior of the crumbs, then as we grow up we eradicate bad habits that give way to good manners.