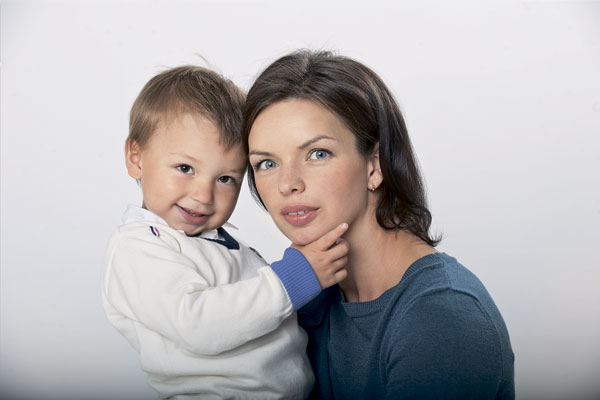 HAPPY PARENTS Alice, is it true that you try to never part with your son? ALICE GREBENSHCHIKOVA Well, now that Alyosha was two years old, I, of course, sometimes part with him. I dragged him up to one and a half years.
And on the shooting, and on tour – just because he could not sleep without me. Such a "mom-dependent" was.
And I think I did the right thing. In any case, if I have another child, I will do the same, trying to combine our common interests: his – to be with my mother, my – to work.
So, after a year we went on tour with him. I starred in Ukraine, and he was with me and with my mom. And, I must say, on the set, where he was brought in a car with a child car seat, we were created very comfortable conditions.
I had a separate dressing room with a sofa, a toilet, with a clean carpet on the floor, where, while I was in the picture, Alyosha and my grandmother were waiting for me.
S.R. Alice, it was not Alyosha who could tear himself away from you or you also could not? A.G.
No, I couldn't either, absolutely. And not only psychologically. More importantly, we could not part physically, I was breastfeeding.
I remember that the entire film crew waited patiently for me when I said: "Alyosha must eat". Now girls actresses consult me ​​what to do, whether to take the child to the set. And after my stories, some of them act like me, combining the duties of my mother and actress.
Just if people are interested in your presence at the shooting, then they will meet you. In addition, everyone has children, and usually people respect the mother who does not give up her child.
S.R. But now Alyosha is not very worried when his mother leaves? A.G.
He is not very worried when his mother leaves, he is happy when her mother comes.
S.R. And why did you feed so long?
A.G. I'm feeding now.
But I try to turn this process over. Moreover, when I am not around, Alyosha calmly goes without milk.
From which, in fact, it follows that it is rather a form of our communication with him, rather than a nutritional necessity.
S.R. Is he sleeping with you?
A.G. So it turns out that for now, yes.
True, I am trying to shift Alyosha to his bed. But the son already a year and a month slept without diapers. He, fortunately, very quickly understood what the bed was for and what the pot was for.
At first, when he woke up, he wrote right on the floor (after all, it's impossible to go to bed, they sleep in it), and then he got used to the pot. And in the summer, when he lived in a country house, and he didn't really need a pot, weed grew around.
S.R. And who helps you with Alyosha?
A.G. My mum.
She is a very good grandmother, who takes great pleasure in her grandson. Mom is both a grandmother and a granddaughter.
She herself as a child, in her very many children. With her actions, my mother often reminds me of an eight-year-old girl.
And, of course, for Alyosha it is very good. In general, it seems to me that this is much more correct when a child grows up with his own grandmother, and not with a nanny.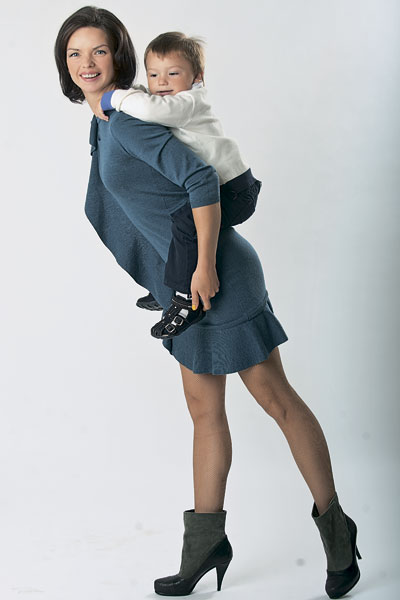 S.R. Do you have any educational methods of your own?
A.G. The entire last trimester of pregnancy and the first time after the birth of Alyosha, my bible was the book of American pediatricians William and Martha Steers "Your baby from 0 to 2". Through it, one thought passes through the entire text: the main thing a child needs is a mother.
Whenever he cries, it means: he needs a mother. And he needs to "give" it, that is, take him in his arms.
In general, to give yourself yourself is to fully tune in to the wave of your baby. That was my setup for the entire first year.
And so I attach such importance to breastfeeding. It really helps to establish contact and mutual understanding when a child feels a mother, and a mother feels a child. The more time you spend with your baby, join it, tune in to its wave, the more you understand it, the easier it is for you to coexist with it.
You quickly recognize, for example, even such household and very important things as when he wants to sleep, when he wants to write. You quickly guess by some signs, driven only by you, what he currently needs.
And it becomes so easy that mom is even strange when others do not notice. Breastfeeding helps so closely.
Moreover, it affects the child's self-confidence. Now everyone tells me that, firstly, Alyosha is very sociable, smiling, and secondly, the son is very independent.
S.R. And this is despite the fact that you have not been separated from him for so long. A.G.
That's exactly why. According to my observations, infants are more confident that nothing will happen to them, because mother has been in direct contact with them for a long time. You know, even my circle of friends, too, oddly enough, is formed depending on how many who fed.
With those girlfriends who fed little, we, as a rule, do not talk about children. And it is easier, in the same language, for me to communicate with those who fed for a long time.
S.R. And what other methods of education, development do you use? A.G.
Probably, my upbringing can be called quite loyal. For example, I believe that if a child is interested in something and asks him to show something, show and tell it is necessary.
If it is not dangerous, of course. Or another such situation.
Alyosha lowers the cars, they roll off, and I offer them to him. I can tell him: everything, they say, I'm tired of it, he will cry, I'll get angry with him … But I think that in such a situation it is easier for me to tune out the child, give it up and catch cars twenty more times than to create a conflict situation.
It is easier for an adult to reorganize, based not on their desires. We must be able to wait for the moment when it will be possible to get out of the situation without conflict, without infringing upon anyone's interests. But only an adult can wait for this, agree.
Anyway, now it seems to me that this is the right way. I don't know, however, perhaps such a statement of the question is wrong and it comes around to me in the future …
S.R. Some would call it pampering.
And you also brought up? A.G. I was a quiet girl who herself played with some kind of leaves, chopsticks, pine needles, I didn't even need toys.
At our country house, near an improvised sandbox from a tractor tire, I could sit for hours and entertain myself. I completely missed my own imagination.
And Alyosha needs a company to participate in noisy games. And I do not see anything wrong with that.
In my opinion, exactly the same way as a woman should mostly adapt to the interests of her man, she should adapt to the interests of her child. If you take this position for granted, then in the future you will have much less problems.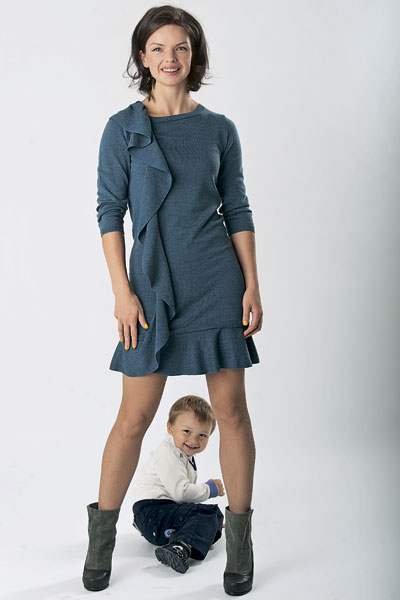 S.R. But after all, there are situations when it is physically impossible to tune under a child and you have to insist on your own?
A.G. Here is an example of how I act in these cases. Suppose we have to go home from guests, but Alyosha does not want to.
Then I say: we will go by car, you know how great it is now to rush! And so I switch attention.
Although this does not always help, but in almost everything you can find something that may be of interest and help to switch. And surely at this moment the power of persuasion is needed.
S.R. That is, without the slightest violence? A.G.
Yes. Again, I do not know what this will lead to, because this is my first child.
Maybe in a year I will bite my elbows for not standing with rods.
S.R. Alice, are you raising a son without a dad now? A.G.
Yes. This is our sick question.
But I think that a man must be present in the child's life. Alyosha, fortunately, has grandfathers and my male friends. And we have two grandfathers.
Firstly, this is my grandfather, my mom's dad, he is 80 years old, and for Alyosha he is great-grandfather, but he is also called "grandfather". They communicate perfectly, just to cheer. They not only play, but also do quite masculine activities: collect lockers, screw shelves.
I confess that grandfather for me – a favorite member of the family. Of course, I love all my relatives, but I have a special connection with my grandfather.
S.R. And your dad, the famous Boris Grebenshchikov?
A.G. With my dad Alyosha, unfortunately, is not seen very often. But not because someone does not want this, but because it is difficult for us to reduce our schedules.
It is clear that men who work, of course, more difficult to often see with all their relatives.
Speaking of our second grandfather, I meant my second father, my mother's husband. He is a psychotherapist and also works very hard, but he built his work in such a way as to pass through Moscow.
Cuts out in his schedule the day and comes to us.
S.R. And which of the relatives look like Alyosha? A.G.
He looks like my mom. And they say it all.
But he is growing, and he has my facial expression. We have similar smiles because we communicate a lot, the gestures are the same.
S.R. And the character?
A.G. His character … Perhaps a good character.
For a little bit of everything he took something. Sociable, like everything in our family.
Not a coward. Such a boy is one hundred percent.
S.R. What games are you playing with your son?
A.G. We love romps.
For example, mother horse. I think it is clear what it is.
He does not like too much when he is read, but together we often look at painting albums. For example, "World masterpieces from Giotto to Picasso" or "500 masterpieces of Russian painting." Now, I say to Alyosha, this is a lamb, and this is a red horse.
We study animals, objects and people by the example of works of art. Now there are three favorite books near his bed. This is the book "The Little Bus", the book by Renata Mukha and Vadim Levy "Between Us" with very sketchy pictures and "World Masterpieces".
Alyosha considers with equal interest both the yellow bus, and the baby Jesus, and these sketchy drawings.
S.R. Has the world changed for you with the birth of Alyosha? A.G.
I have a meaning in life. Not at all, but a specific meaning. We first went with my son to rest together, and I realized that this was my first meaningful rest, when I was not ashamed that I was not doing anything.
And here I was not just resting, I was with my son. Alyosha is a great excuse for my laziness, I tell my girlfriends.
After all, when I don't want to go to work, now I can always say: I need to be with Alyosha. True, one of my friends, who has no children, having stayed with us for a whole day of rest (not our most busy day, I must say), asked me: "And do you call this rest?
You didn't sit down for a minute! "And for me this is rest.