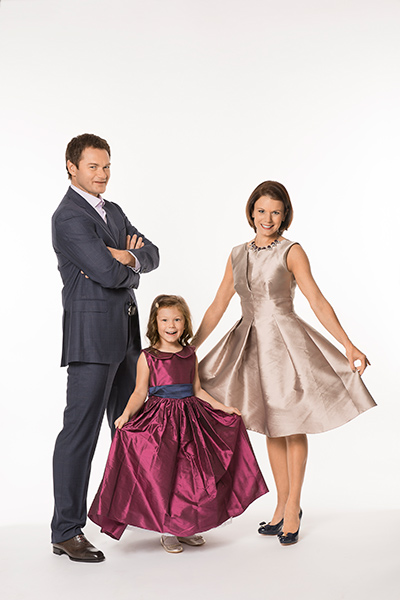 HAPPY PARENTS How did your relationship start – from figure skating or from sympathy?
MARIA PETROVA We saw each other at the World Championships in Japan. I was 16 years old, Lesha – 22.
I remember I really liked his voice. But at that time I spoke with Anton Sikharulidze – with Alexei on the ice, fate brought us together only after four years. And when we stood in a pair, the goal was the same: to skate and win.
So I didn't even think about love. Everything turned out by itself, although at first Alexey was an opponent of close relations …
Alexey Tikhonov Yes, it was like that. It's just that Masha and I not only rode well, but also communicated perfectly. And it seemed to many, including our coaches, that we should definitely be together in life.
I thought that this relationship will interfere with sport. Besides, I don't like being forced into something, they are being pushed to something.
All this together caused internal resistance. But Masha – a beautiful and wise girl – never pressed me.
Just waiting for how women can do it. And the moment came when I saw that there was no onslaught on her part, I looked at everything differently and went to meet me.
S.R. Good advice for girls: do not crush.
A.T. Yes Yes.
Of course, I liked Maria, but figure skating then came first for both of us. For a long time I was afraid that by combining privacy and ice, we would lose something, lose it in sports. And when love came and the relationship went beyond the rink, a miracle happened: these changes only added to us on the ice of severity, beauty and sensuality.
Both professionals and viewers immediately noticed this. It turned out I was wrong: love is not a hindrance to sporting achievements.
S.R. To become world champions, you need some special qualities?
M.P. Need talent and great diligence.
In this case, not always a gifted person achieves a high result. At some point he may go the distance.
Without work, talent will simply disappear, and perseverance may reveal not immediately noticeable makings.
But if a child has good coordination, he is not afraid of ice and wants to skate, then you need to go figure skating! True, not always at a young age children want to train.
S.R. And you need to force?
M.P. It's a difficult question. For example, our daughter Polina – in February she will be five – last year she choreographed with pleasure.
And in this, when the requirements of the coach increased, it became more difficult, she no longer likes it that much. Although she is flexible, she loves to dance and has the ability to eat … We have to persuade.
We do not force, but we try to convey why this is necessary: ​​in order to move beautifully, dance, be feminine.
S.R. Do you mind serious sport for Polina?
A.T. I would like my daughter to be engaged in figure skating as a child because sport and art are harmoniously combined in it.
For a girl, this is wonderful – both in terms of creativity and physical development.
M.P. We are both for the sport to be present in the life of our daughter, but it is not at all necessary that these should be skates.
I, for example, also like tennis. Moreover, it is already clear that Polina went to dad and will not be as diminutive as I am. Will your daughter be a professional athlete?
Everything will depend on her choice.
S.R. Is Polina's character more papa or mama?
A.T. When she is next to Masha, everyone says that she looks like her, when with me she's like me. The daughter is very stubborn – in the good sense of the word.
In his early years, he already knows what he wants, and it is difficult to convince her. Perhaps, but it is required how to explain everything.
M.P. Fields generally took a lot from us. True, when the mischief, Alexey says that he resembles me.
She is not sweet, but I like her character. I love it when the little devil lives in children!
In Polina, he definitely is! Sometimes you do not know what to expect from her. Mischievous!
Especially with the grandmothers with whom she spends more time today than with us.
S.R. You have two grandmothers, and they live with you?
M.P. They come to our city apartment in turns. But now we are building a house in the Moscow region, in the Istra Valley, where there will definitely be a place for all of our native people.
After years of traveling around the country and living in a city, I want to settle down closer to nature. There is a forest, Istra reservoir – beauty!
A country house in such a fabulous place seemed to us a suitable option for a family with a child. And it was bribed by the fact that an active recreation center is being built nearby with the Ice Palace, where we can combine work and rest.
I hope that our grandmothers will also like this place.
A.T. Yes, grandmothers are our everything! The car mom, Tatiana, and my, Larisa, spoke out strongly against the nannies and took many of the concerns themselves.
They say that while they themselves cope. Without them we would be very hard!
Especially when Polina just came into being.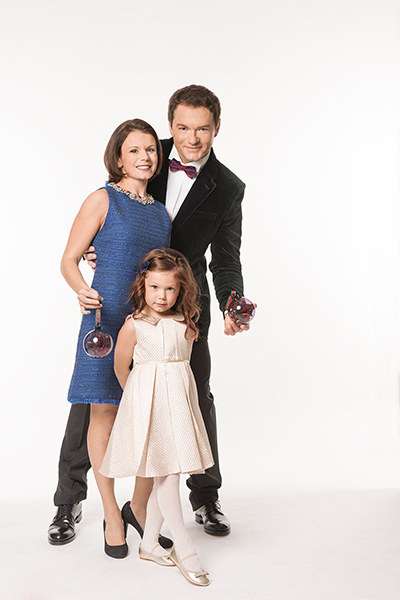 S.R. Was the birth of Polina a scheduled event?
M.P. Yes, very expected and very desirable. Happy news did not come to us immediately.
And I really liked being pregnant! Though long!
In my life there has not been such a long break in skating. However, already 10 days after giving birth, I ran and jumped up and down the ladders to get into shape.
S.R. And who wanted?
M.P. First boy. As a child, I always dreamed that I had an older brother.
But having learned that a girl was born, I realized that I wanted her! And Alexey, oshalev from this news, I remember, issued: "We'll have to give it away …" I am horrified: "How to give?
Whom ?! "" Well, "he said thoughtfully," when he grows up and gets married. "
A.T. Yes, when Polina was born, it was one of my first thoughts: how can I give her in marriage? how do i give it to someone else ?! And, to admit, this thought does not give rest till now …
S.R. Alexey, when did you feel like a father?
A.T. At the time of birth. Masha's pregnancy was very much to her face: she became even more feminine, touching, charming and wonderful!
So beautiful! I admired and admired Mary, but I still didn't feel myself fully in my father then. And Polina appeared – and … I remember, I heard her first cry – and as if a splinter entered my heart.
He stood in the ward with this miracle in his arms, just born, and told her something. At that moment everything happened for me.
Then, when the stormy parents' everyday life began, this feeling – the realization that you are a father – only strengthened and grew stronger.
S.R. On the New Year's show "The Kid and Carlson", where will you play the main roles, will you lead Polina?
M.P. Required. I think Polina will be interesting and fun to see mom and dad in new and unusual ways that the play director Ilya Averbukh invented for us.
I will have the role of the Kid, Alexey will appear in the image of Freken Bock. And Carlson will be played by my partner in the past "Ice Age", favorite of children and adults, Mikhail Galustyan. We are all looking forward to the premiere, because the tale should be very bright, cheerful, and at times touching.
After all, all the adventures with our heroes occur on the very eve of the New Year.
A.T. Moreover, the spectators themselves will also become participants of the performance.
Together with Carlson, they will be at Baby's house, will visit the roofs of Stockholm, take part in the pursuit of rogues. The action will unfold not only on the ice, but also in the air – after all, Carlson cannot live without flying over the city! There will be a lot of special effects, three-dimensional graphics right on the ice.
In general, you will not be bored neither big nor small! And we are sure that the story of the new adventures of the Kid and Carlson will appeal not only to our daughter, but also to all the spectators who will come to the shows at the Sokolniki Ice Palace from December 27 to January 8.
S.R. Do you feel more like artists or athletes?
M.P. We no longer train twice a day, as before, we just keep in shape. And we study acting in the "Ice Age" from artists.
And every season we start with the thought "It's a show!", And then we catch them with excitement and begin to compete in earnest! At the same time in the sport we lacked creativity, and in the show it is as much as you like!
I don't know if we can call us artists, but if we were setting up sports programs now, they would be much more interesting and brighter.
A.T. It seems to me that we will remain athletes forever, this will not be taken away from us. But since now we do not need to chase the technical complexity, there are more opportunities to express ourselves creatively.
Each program in the "Ice Age" – like a painting that the artist writes. We embody our ideas, experiment, try, invest our soul and strength. In the current work more fun, creativity and the ability to show different facets of our skills.
All this is very interesting to us.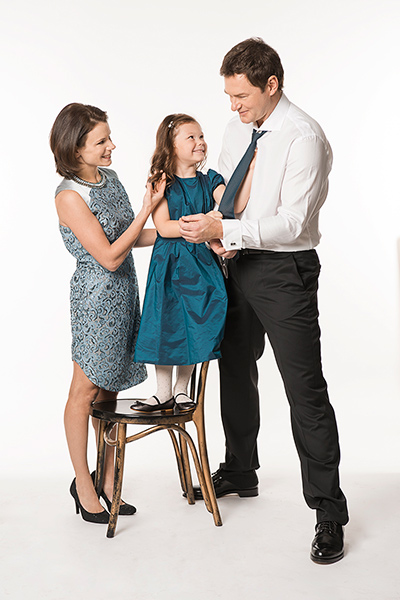 S.R. Can you be called strict parents, or do you indulge Paul?
M.P. Fields and I are like friends – with me she can play a trick.
But dad, we know how to portray severity – he immediately obeys!
A.T. I do this very infrequently – only when I feel such a need. If other methods did not take effect, I can raise my voice a little – let me know that my daughter is doing something wrong.
Children, on the subconscious level, feel how to manipulate adults. Especially grandmothers.
So at least someone in our family sometimes has to be strict.
S.R. And what, besides figure skating, is Polina still engaged in?
M.P. English, painting, choreography.
And already preparing for school. Now they have been preparing for it for two years already!
A.T. I am very pleased that Polina goes to painting lessons. What drawings she gets, I just admire!
Her teacher says that children surprisingly combine colors, sometimes combining incompatible. This sense of color can be developed and then try not to lose. At the same time, there are situations when the teacher wants to help Polina, and the daughter answers: "I myself!" This independence pleases us parents, of course, but dad has to explain: "Daughter, if the teacher wants to help you, do not refuse, because you will draw even better. "
And it seems to me, the daughter hears me.
S.R. So creativity in the future is not excluded for Polina?
A.T. Not excluded, of course.
However, like sports. Which way will she take?
We'll see. Children of champion parents do not always reach the same heights, but Fields is a leader by nature. She will not be afraid to lose and therefore, it seems to me, she will come to her victory.
Will this victory in sports, in art or in something else – will soon find out.