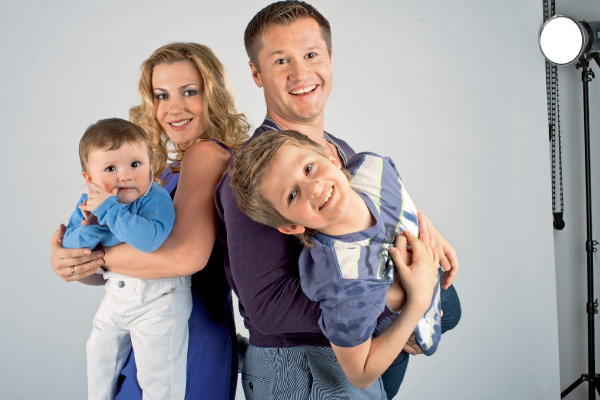 HAPPY PARENTS Many say that you and Galina are a very harmonious couple. What do you build your family relationships on first? ALEXEY NEMOV We were officially married on June 2, 2000, and have lived together for almost twelve years.
So the family experience we have solid. I am afraid to seem banal, but the main thing is love and great respect for each other. And one without the other, in my opinion, does not work.
A family will not be strong if everything in it is built only on respect – and no more. At the same time, a couple who decided to become a family will not hold on to certain feelings, which, as is well known, can evaporate rather quickly.
And I am glad that in our relations there is a combination of both factors. And the third is, of course, our children, who sometimes delight, sometimes grieve, but without them the happiness in the family would be far from complete.
S.R. Did you and Galina plan to have children or did this happen at the behest of heaven? A.N. Everything happened by itself.
God gives you the opportunity to have a child, and we simply do not have the right to refuse such a gift of fate. Galina already had a son, Zhenya, from her first marriage, and Leshka Jr. appeared in 2000, during the Olympics in Sydney. I was very worried then that I could not be near Galya.
But she did a great job by herself.
With the younger – the same story. We learned about pregnancy on the way to the island of Bora Bora, where we went to rest.
We flew through Japan, it coincided with the celebration of the New Year, and here Galya felt unwell. Having doubted, she immediately made a test, which, to our great surprise, turned out to be positive.
S.R. And how did you react to the early addition to the family?
A.N. Of course, with joy! I really thought at first that there would be a girl.
Then we were tormented by vague doubts: we did an ultrasound twice, and twice the doctor could not accurately determine the sex of the child. And only for the third time it became obvious – there will be a son again.
With this child, there are completely different sensations – both at the moment of waiting and after giving birth. Of course, I became more mature. Moreover, when Lesha was born, I had constant fees and competitions.
There was not enough time even to see how it grows, what changes are taking place. And now there is such an opportunity, and it's great!
You see Mitya and you think: "How could we live without this little man?" Of course, the baby is very troublesome, but the child is worth it.
S.R. And what is it, little Dmitry Nemov?
A.N. Very similar to the eldest, Leshku.
In principle, behaves calmly, like a man. But since he is Leo according to the horoscope, then, if he does not like something, he immediately starts to "growl" and be indignant.
S.R. At this time, when giving birth, you were next to Galya? A.N.
Yes. And the impressions are very strong.
But I was ready for anything. In general, I think: childbirth is a real feminine feat, painful and very difficult process, despite how far medicine has gone in the development of painkillers. Gale was given epidural anesthesia, but still the delivery was painful.
During the fights I held her hand. At some point, she squeezed my hand so tightly that the ring went deep into my finger – the trace of him held for three days.
S.R. Who of you decided to save the baby's cord blood? Did you get this idea or did you find the information yourself?
A.N. Shortly before giving birth, the company that deals with these issues turned to us with a proposal to preserve stem cells, which in the future – God forbid, of course! – may be vital. We thought – why not?
And many of our friends do the same.
S.R. How does it feel to be the father of three sons? A.N.
Oh, it's like a real football team! But seriously, the feeling of a full-fledged strong family is an amazing feeling.
After all, I grew up alone with my mother and was brought up mainly at a training camp, among men. And at the table most often was a male company.
Now our family dinners are like a reminder of the past. The boys sit around, lead men's conversations, and each has its own interests.
After all, our children have nine years of difference: Zhenya is eighteen, Leshka is nine, and Mitya has not even turned a year.
S.R. How did you prepare Lesha for the appearance of a brother?
A.N. He, of course, waited with great impatience.
Galya told him how everything happens from the point of view of physiology, how the child develops, what he feels. Together they read children's books in which you can learn about the birth of a person.
And when Mitya was born, Leshka suddenly got a note of jealousy. And I began to devote more time to Lesha.
But for the first five or six months he had to work on himself. Now I've got used to it, I got used to it – and already he actively helps mom with Mitya, maybe he can sit and play.
S.R. How should sons be brought up to become real men? A.N.
In my opinion, strictness is needed with the boys, so that they understand why and why many things are done. And the parent must be patient.
If the child does not listen to your request, does not hear once, the other, the third – then it is necessary to work out a command voice. (Laughs.) Another important point: I always try to praise.
And, of course, you need to teach guys to be independent. Life is a difficult thing, especially in a metropolis, where everyone is for himself and it is very difficult to find true friends.
But I want the sons to understand that whatever happens to them, parents will always be there and help in the most difficult situation, they love and wait.