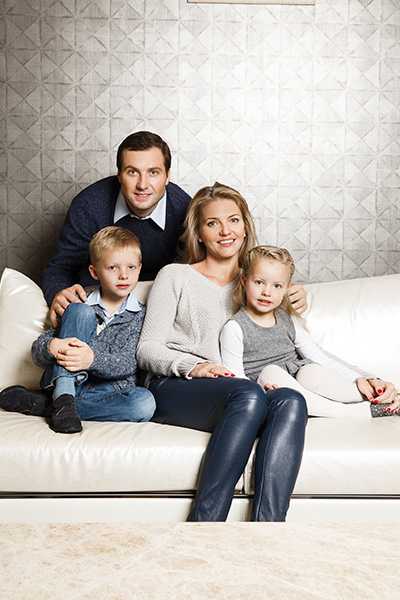 HAPPY PARENTS Irina, Alexey, you have been together for 15 years. For the present time – a long time.
Maybe this is typical for the hockey environment?
Alexey Morozov Probably, this is typical for us. We are so brought up by parents, both mine and Irines, whose couples are still married today.
And no one has ever divorced. Here is an example of their inspiring.
It is important for us to respect the other, to listen to each other, to be able not only to talk, but also to hear. In the family anything happens, you can just be offended and shut up, but Irina and I got used to sitting down and agreeing in case of disagreement.
So we continue to go further.
IRINA MOROZOVA It seems to me that personal qualities are important in many respects. It happens because children who grew up in full, prosperous families, divorced.
Respect – yes. And also – trust.
Here Lesha is often on the road, he has fans. If in such a situation I did not trust the person, this would cause, in turn, distrust on his part.
And these are already serious prerequisites for disintegration. And trust, too, is born out of respect.
First of all, I respect his profession, because it's not so easy to save a family. And it is no secret to anyone that, due to the long absence of hockey players in families in this environment, divorces are not rare. I, even with the USA, where Lesha played in the NHL, were asked how I put up with the fans who constantly surround him.
I do not know how to explain, but I never paid attention to it.
S.R. Maybe because Alex is a person you can trust?
THEM. And this too. But the fact is that I sincerely respect everything in his profession – and fans too.
Moreover, I am proud of it.
S.R. Alexey, have you been a captain of our team for a long time, but does a family need such a captain?
A.M. I would say that, since in our family all decisions are made jointly, the captain probably cannot be called someone alone.
Any problems are discussed at the family council. Although, as for the house, of course, here the mistress is his wife.
And I, maybe, the captain for children. They respect me and are even afraid of me, because if you can easily fool around with mom, then I am stricter.
S.R. What has changed in your family with the advent of children?
THEM. Everything has changed. For example, I have always been a rather serious person, but the children have grown up with me.
With children, you start to look at the world with different eyes. And not only you as a parent teach your children, they also teach you. They see something quite differently from you, and sometimes even make you change your mind.
Every day I take Nikita to school, and every day I am convinced that he has grown up.
S.R. He started school when he was 6?
THEM. Yes, in the zero class of the Lomonosov school, and it benefited him. In a class of 9 people, an individual approach to each.
But, most importantly, he himself really likes. "Mom, I missed Larisa Vladimirovna so much!" The son said about the teacher after the holidays.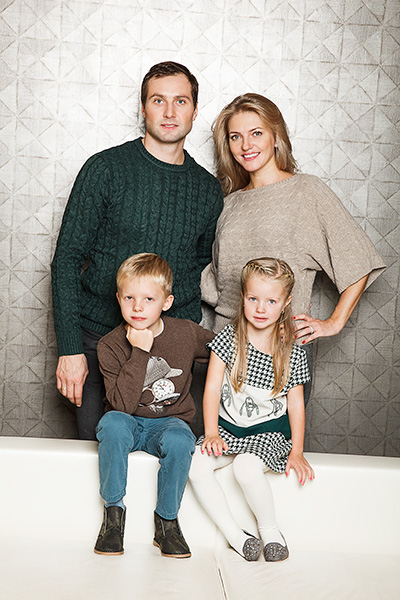 S.R. Alexey, remember the moment when you first realized that you were a dad?
A.M. Right on the day Nikita was born.
Attitude towards life has changed. For example, if earlier I could go with some high diving towers, I wanted to adrenaline, now I'm holding back a thought: I have children, and there is a big responsibility before them.
If earlier, when there were no children, they could go somewhere more often, meet someone, now I want to spend more time with them. And then, they have a regime, and we obey him.
S.R. Alexey, you were present at both kinds.
What are the sensations?
A.M. Friends told us about the presence of their husbands at birth, various stories, and others fainted.
Well, at Nikita's birth, I was still standing apart. And when Nastya was supposed to appear, I realized that I wanted and was ready to cut the umbilical cord myself.
Ira was not against. Impressions, of course, unforgettable!
S.R. Why do you need it?
A.M. To understand what a woman goes through.
This, in my opinion, is important for a husband and dad. And then … I began to love Irina even more.
S.R. When they decided to give birth together, went to some courses?
THEM. Not.
I didn't go to the courses, but I had one for the birth, and the other was absolutely everything.
A.M. We had no superstition, and within a month the nursery was fully equipped.
THEM. What a room!
Were smoothed and neatly folded all the diapers by month: for 3 months, for 5, for 6. And you know how such preparation was useful! Both Nikita and Nastya, when we came home from the maternity hospital, I had everything at hand.
Even the bottles were sterilized.
S.R. Experience with Nikita helped, when Nastya was born?
THEM. Without a doubt! Although they are, of course, different.
First, a boy and a girl. Secondly, different characters, behavior.
Although Nikita is a boy, he is very receptive and gentle. Vulnerable, takes everything to heart.
Nastya is by nature gentle, but her character is firm. We have it – well done!
S.R. Does the whole family go to Alexey's games?
A.M. Yes of course. But Nastya is still small, does not stand up to the whole game, distracts both Nikita and mother.
And the son loves hockey, knows all the teams, players. Even something to me, it happens, tells. For example, tomorrow is a game, and Nikita tells me about the players in the opposing team: who, where, and how he used to play.
Waiting for all my games, watching, asking how many days left. Very interested and he is already engaged in hockey.
S.R. But you, Alex, and dad was a hockey coach?
Dynasty turns?
A.M. It turns out. And it is very natural.
We didn't force Nikita to play exactly hockey, he wanted to. I went to the match, visited the locker room. And that's all.
Even when we lived in Kazan, boys, children of hockey players, a little older son, they all played hockey – and he with them. And now goes to the section.
At the end of the workout the guys usually play, and if Nikita scores, he comes so happy! He tells everyone, boasts, calls to grandmothers, reports.
S.R. Would you like to see him as a professional athlete?
A.M. I do not mind, but only if he wants.
I will never force. Moreover, while we have the first place to study. Hockey players, you know, learn less intensively: either the training camps or the games.
I remember that in the last grades we studied very little, all the time at the games disappeared. And we with Irina want Nikita to study well. Even if it is a professional athlete, study will not interfere.
Moreover, in the current hockey sections already at the age of six such competition among children!
THEM. And it comes from the parents.
Some simply press their children. At six, they want to see them as great hockey stars, and for this they are ready to force and humiliate.
I saw it all myself in training.
A.M. When we grew up, there was a completely different approach. Well, it turns out – great, no – no big deal.
Of course, they wanted a master of sports to grow out of a child, but there was no anger or aggression. As a result, we were transferred from one section of Nikita to another.
S.R. Is it because the stakes are so high in modern hockey?
THEM. I talked about this with Maria Butyrskaya, whose son also had hockey and who also transferred him to another section. She completely agrees with me, and we both came to the conclusion that, by "training" their own children, parents simply raise their retirement.
Children become hostages of the desires of parents who destroy their psyche. But is it really necessary to force hockey to play?
This is absurd! In the end, it's just a game.
S.R. And on what, basically, you rely in education?
THEM. To be honest, for example, I rely most of all on my own intuition.
I feel my children, I don't even know how. Apparently, this is something that is inherent in every mother, simply, some do not want to listen to this. We had a period when Nikita could not sleep, he was afraid to remain alone in the room.
Generally, when evening comes, it gets dark, for any person the subconscious mind begins to work differently. I realized that my son, falling asleep, imagines something terrible to himself, and it is impossible to convince him that in fact there is nothing like that around.
What to do? I decided to give him less reasons for such visual pictures, and therefore, to protect him from terrible tales, for example.
We try to bypass the stories about Baba Yaga, Koschey the Immortal and similar characters.
S.R. Don't you think they need such a natural "vaccination of fear"?
THEM. You know, they still somehow find out something themselves.
Nastya saw, for example, a cartoon about Snow White, and there was a witch. But! We do not watch it at night.
And if they see something like that, hear it, then in extremely small doses. In addition, children do not live in a closed space, they go into a society, where there are also problems and conflicts. As soon as the child plunges into the group (and Nastya already goes to the ballet studio), he will know everything himself.
I just think that too much to a certain age to anything.
S.R. Nastya is only 4 years old, is she already engaged in ballet?
THEM. Yes. In the studio Ilze Liepa, where they take children from three and a half years.
And already knows how to sit on the splits. But there is not only choreography, there is English, and speech development.
Nastya likes it very much. In general, lately I have been trying to tune myself all the time to the fact that studying, development, development, but these are still children.
For them it is normal and necessary to play and misbehave. Yes, we have some limitations, there is a regime, but we allow a lot. And I notice that the older I get, the more I allow.
Moreover, they are also growing and time is running faster and faster, and childhood will soon end … And I want it not to end any longer.
S.R. What do you want the children to pass on?
A.M. The main thing is that they are decent and honest. To be able to be aware of their actions, they knew how to admit.
I think these qualities are primarily laid in the family.
THEM. I want them to strive for the best, but without stepping over other people.
S.R. Alexey, the birth of a child and a big sports victory – can this be proportioned?
A.M. It's still different things. Of course, I am an athlete, my goal is victory, but … We do not win so rarely, and you get used to it.
And the child is something special. For example, the birth of both a son and a daughter is so significant and major events in our life that I cannot compare with any of my victories on the ice.