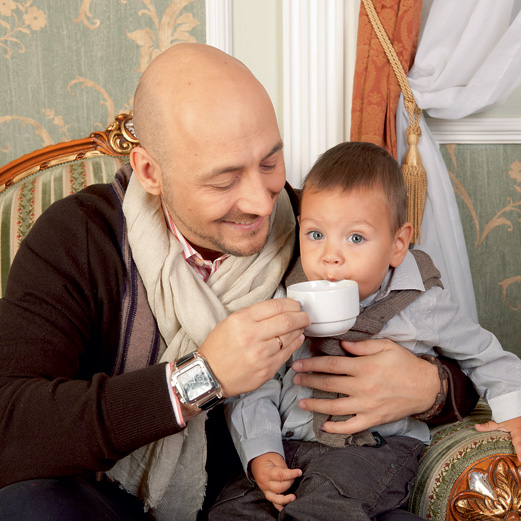 HAPPY PARENTS Alexey, why did you leave such a successful project as Taxi? Alexey Kulichkov It was not me who left, this program was closed. But now I'm in a new project, in a program about love, about people trying to find their soul mate and, perhaps, already desperate to do so.
And in our life there are many temptations to which we succumb, primarily due to only visual sensations. Apparently, this is also the sin of the television itself, which has taught us just so to choose literally everything — in appearance.
And people too. We stopped to choose what is called heart.
And also with the help of hearing, tactile sensations, smell, even. And the program that I run allows participants to experience their partner according to these criteria, since all the action takes place in the dark.
And if disappointment awaits them, or, on the contrary, the joy of recognition, when the lights are turned on, viewers will recognize in the final.
S.R. And how did you choose your half, your wife Latsyna?
A.K. Since it so happens that in my life a lot is connected with the car, our meeting with Latsyna happened when I was also driving.
And so it was. At two o'clock in the morning I was driving home along Korolev Street, there was a terrible frost, about 35 degrees, and on the side of the road I saw two voting girls.
I decided to give a lift – and I still ride one. Recently, by the way, one of our common friends made us a horoscope, and it turned out that our meeting was predetermined.
S.R. The woman, as a rule, in the first place in life is the family. And a man, you have in particular?
A.K. It seems to me that for a man the first should be the family. Both the woman and the man have the same attitude towards the family.
Just the roles are different. And if your family is not in the first place, what then is the main thing?
It will be strange if I, having earned money, will spend everything on myself. No, everything is done to ensure that the children, the wife, are comfortable.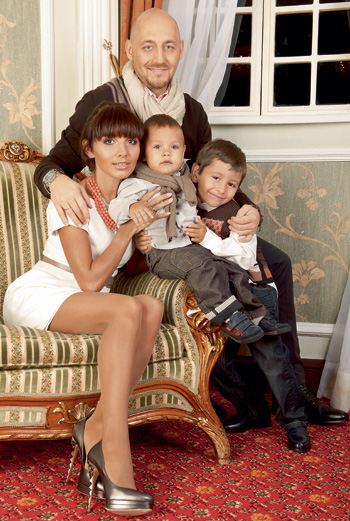 S.R. And acting ambitions? Does it happen that they go against family values?
A.K. Yes, there are, of course, people who devote themselves entirely to creativity, but we see only the tip of the iceberg, those who succeeded in this and they took place. And those who did not succeed and there is nothing more – and there are so many more, we just don't see.
By 30–40, not to have a family and not to make a career is to be a deeply unhappy person. As for creativity, in my opinion, the most important work is the birth of another person, your child. And not only birth, but also education.
This is the most important art. And in this case, to achieve good results, acting, directing and other creative skills will also be very useful. After all, all parents with their children are somehow engaged in creative work: they draw, they read poems, they sing songs.
And how great, if you can do something of this professionally.
S.R. And what else happens to a person with the appearance of a child? A.K.
Something happens inside a person and, oddly enough, besides him. I was terribly afraid when I waited for my first child.
There was uncertainty with work, with housing. I was worried if I could provide my son and wife. So, when a child is born, some kind of spiritual powers rise, I don't know.
You are changing. I can not say exactly what, but it is for sure.
You become very collected or something.
S.R. Alexey, did you attend the birth of your sons?
A.K. Not.
I am very conservative in this respect. And then, in my life I have enough adrenaline to get it even during the birth.
Still, from time immemorial, it was accepted that men should not be there, and I do not understand why go against customs and nature.
S.R. And how do you call your sons diminutive?
A.K. Fully name is called. I believe that it is necessary to talk with the child as with an adult.
With tenderness, with love, but respectful and on an equal footing, and therefore call the full name. Of course, the child should know that the authority of an adult in a family is greater than that of him, and they can punish him, say something strictly, but always consider his opinion and recognize him as right when that is so. This does not mean that we spoil the children.
But sometimes for a child you just need to make a choice, as, for example, in the story of Yaromir and karate. Coming from the first lesson, he declared that he would no longer go to the section, because they were taught to fight there. I explained that he was going to learn to defend and defend himself, which is important for the boy.
But the son did not want to listen. Then, figuratively speaking, I hit my fist on the table: you will walk!
And now he walks and no longer resists, because he himself felt that he had become stronger, and that karate was not a fight at all.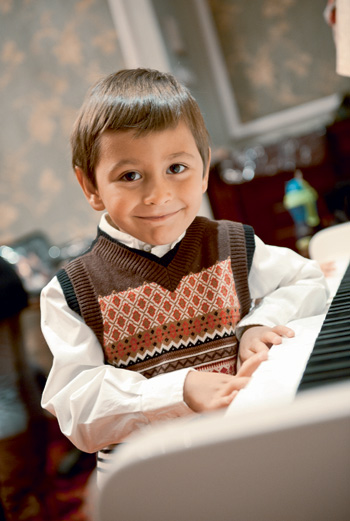 S.R. So you already have some methods of upbringing? A.K.
I do not know about the methods. I simply made the choice easier for Yaromir, because I myself had tried many of these circles and could not stop at anything.
And parents said: as you wish. Now I think that, probably, it would make sense for them to direct, insist, finally.
And the main principle, in my opinion, is education: children should live in love, in confidence that their family will always accept them. Do you know how they, when they get scared of something, almost instinctively hide behind the back of their parents? It is necessary that the children know that they will have such protection forever.
The main thing is not to lose touch with the child, which is why, in my opinion, it is so important to stay the same age with your children.
S.R. Do boys have a nanny? A.K.
No nanny. And, in my opinion, Latsyna simply will not tolerate having anyone else near her children.
She is from the category of crazy moms. While she literally kisses her sons.
And although I have a small and fragile Latsyna, 47 kg of live weight of everything, it seems to me, in relation to children, it can be compared to a she-wolf. In the best sense of the word, because wolf families are very strong, these animals are monogamous, and everyone in the family is devoted to each other.
And the wolf, if she chooses a she-wolf, then for the whole life.
S.R. All women dream to raise their sons real men.
Do you know how to do this? A.K.
Well, you can probably write about this treatise. We must understand first what a real man is.
Maybe he has some physiological features? I think this is such a trick of civilization – "a real man", because they mean a certain stereotype.
But is it worth it? First of all, the son must become a man.
It is most important.