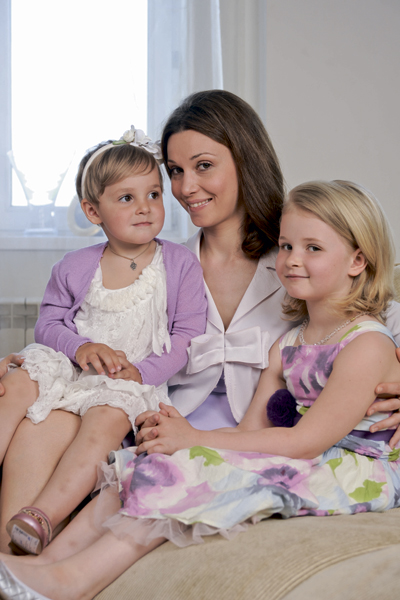 HAPPY PARENTS Let me congratulate you on the premiere performance of the theater. Pushkin's "Much Ado About Nothing," where you play Beatrice.
And what's new in movies, on television? ALEXANDRA URSULYAK Thank you. On television, on Channel One, the premiere of the 12-episode film about Ekaterina Furtseva is expected in the fall.
There I play her girlfriend Fira Livshits. After years they meet: Furtseva is a manager, Fira lives in a camp to be near her beloved person.
These are such different fates.
S.R. Theater, cinema take a lot of time, and many mom-actresses are worried that they do not communicate well with children. And you have two of them … A.U.
And I, of course, worry. And these ghosts of maternal feelings of guilt pursue me.
Although I am one hundred percent convinced that children are happier when they know that their parents are busy with something, somewhere in demand, besides the family. But sometimes it bends.
Suppose when I have a release of a performance, I don't happen to be around the clock. But there are days when I am only with them all the time. No one – not a nanny, not a grandmother, not a grandfather, just me and them.
And every summer, I spend a whole month with the girls in Montenegro, where my dad has a house.
S.R. Tell us about the girls. What are they like?
A.U. Everyone says that outwardly both of them are poured out dad. Although I think that the youngest, Nastya, still reminds me.
Then somehow I opened my childhood photos and saw how I still look like my children. As for the character … Some first characteristic can be given already in the hospital. And over time, this does not change, the essence remains.
Anya, for example, is very compliant. Given that she has a character, that she has a very complicated inner life. But I remember how in the maternity hospital children were carried on a gurney, who were shouting in chorus, and one boy shouted directly to Anna in her ear.
And she lay quiet, very intelligent, and was silent. She is still like that. And she likes everything about acting, on the level that is in kindergarten.
I come to their holidays and see with what joy, seriousness and dedication she takes this. And she's good at it. I think she is already infected with the acting virus.
Nastya can be called a more homely child than Anya, simply because she is younger. Nastya really wants to kindergarten. We have a scandal every morning, because Anya goes there, but Nastya does not.
In general, the elder sister for Nastya is of great authority, she repeats everything after her.
S.R. Your dad, directed by Sergey Ursulyak, was against you becoming an actress.
And how do you react to a similar choice of daughters? A.U.
No, I will not mind.
S.R. What will your dad say? A.U.
My dad, as I think, has not yet fully gained the status of a grandfather. He internally very much resists old age, and it seems to him that grandfather is somehow indecent.
While he is a young, handsome grandfather. Constantly on the phone, constantly learns what we have and how.
But messing with young children is a lot of stress for him. I think when the granddaughters overcome the level of the pot, it will turn on. In the meantime, he really likes to make movies.
And thank God! And we have two more grandparents from the father's side (father – actor Alexander Golubev).
That one is the grandfather the predushka! He is ready to play with his granddaughters and do something.
In general, grandparents help us very, very much. They come in turns, and this is very good, because girls don't get bored and sad without me – the characters change all the time. Here is one grandmother for you, another one, then suddenly my dad came from the shooting, and there, you see, I have a day off.
Diversity! And the older one often goes to work with me.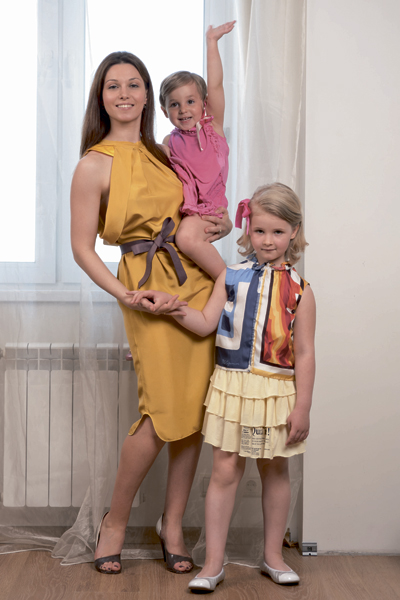 S.R. And when did Anya first go to the play? A.U.
She has already been many times, loves theater and the audience is very receptive. And the first performance was "Treasure Island" in our theater, which, in fact, is designed for boys of 11-12 years old. It begins with a rather scary synth music, while the chandelier above the hall slowly and slowly goes out, and then suddenly lights up again!
Then full darkness reigns again, and the blind Drink in black glasses comes onto the stage with a candle.
S.R. Just a horror movie!
For teenagers just right. And how much was Anna? A.U.
Two years. In general, she was scared of all this, and we left. But imagine that the first performance that Nastya saw, also in two years, was "Treasure Island" again! "Scarlet Flower", "Puss in Boots" had to wait, and "The Island" was on the next day, and I took it.
I still do not understand how I managed to! Nastya did not leave immediately, we left the hall and returned.
And Anya at that time was already quietly sitting alone in the hall and looking.
S.R. And since when do you think children should be taken to the theater? A.U.
I think, from two and it is necessary. But, of course, not on "Treasure Island", but in the puppet show, in the theater of animals.
I'll tell you a secret (maybe I'm in this dad): I do not know how to entertain children games. This is wildly boring to me.
But the real pleasure brings viewing with children of any representations. A mechanism turns on when you begin to look at the presentation through the eyes of your child and all the emotions experienced for the first time in childhood are experienced again. And five times stronger than your child is going through!
And this, in my opinion, is very natural, because the parent for a child always worries even more than himself. Both good and bad.
So, when we go with Anya to different performances, the daughter is very interesting or not, and I always get high! I embrace her, I repeat something, retell it, I am just overwhelmed with delight, emotions …
S.R. Was there any psychological difference in feelings at the birth of the first and second children?
A.U. Yes Yes. Both were planned.
But the first is a very young girl, 22 years old, and the second is also young, but a little more thoughtful. For a long time with Anya I did not understand where, what, why, why.
And, of course, with all the advantages of my mom's help, it now seems to me that the communication between the mother and the baby is such an intimate moment that, perhaps, they should be left alone.
S.R. And dad? A.U.
And dad? I do not know … Daddies are different.
There are those who are easily included in this case.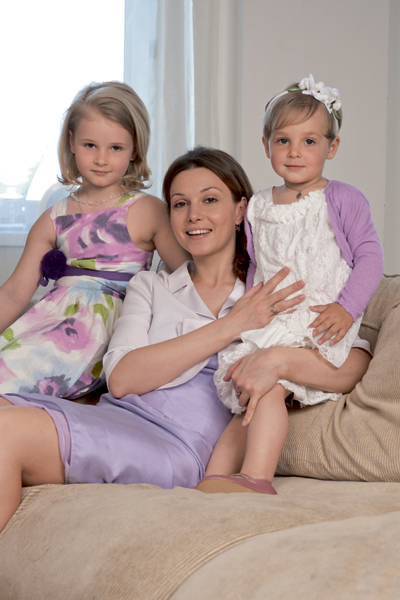 S.R. Was Papa Ani and Nasty included?
A.U. Yes, it was, of course, but then, when Anya was born, we had such a triangle: my mother, me and my husband. And in it the child was lost.
Honestly, I don't know how it should be when a child is born. Perhaps, it is not necessary at all men to admit to this business? This idea that mom and dad on an equal footing should do the same thing: change diapers, feed them, rock them … I'm not so sure of that.
In my opinion, this is some kind of modern artificiality. For example, I know one family in which a fourth child was born, and their older children are already graduating from college.
So, I was immensely surprised when I found out that in their big house, the wife and the baby settled in a separate room, so as not to disturb her husband. And now I understand how it is right.
Why do we need to clutter family, already and sometimes out-of-life relationships, with unnecessary problems? Why, if you are an adult, intelligent woman who has already given birth to several children, if you know with one finger how and what is being done, attract even a husband to these matters?
Well, let the person sleep, and do not run four hands to change the diaper.
S.R. But does dad get in the way if they want to help themselves? A.U.
I do not know … I can say that with the second child I already knew that I did not want to count on anyone. The only help was – this is my nanny, very good, experienced. I gave birth to Nastya and immediately, after 10 days, ran to work.
And this is largely due to the nanny. We literally lived in seconds, because it was necessary to preserve my milk.
S.R. Why was it necessary to hurry so much? A.U.
The director came from Latvia and staged a performance where I had the main role. And while I was still pregnant, I said that I had a face and, if everything was all right, I would immediately come.
I could not refuse!
And I stayed with childbirth for as long as two weeks, which in my situation was a catastrophe – only a week or more remained for the postpartum home period. Thank God, the birth was safe, and Nastya was a very calm, wonderful child.
Just not a girl, but a gift, even born on Christmas Day!
S.R. And how did Anya perceive the appearance of Nastya?
A.U. She really waited for her sister, loves her very much and helps me a lot.
And I see that they have a special connection. Brother, sister – this is more than a friend, it's such a lifelong support.
The biggest motivation for the appearance of Nastya I had a desire that Anna someone was.
S.R. And what should be done so that the children were happy?
A.U. I do not know … Happiness is a very abstract concept, and, of course, this is what is inside of us, what we are creating.
Of course, you need to try as much as possible to help find it. On the other hand, I know quite a few wonderful, intelligent people who had a not very happy childhood. And I know that because of some life problems, pains, even children, these people have grown so indifferent to other people, with an open, sensitive soul.
And you do not know what is best. It is better to raise a child who is absolutely safe, he has an absolutely normal, healthy nervous system, but … Suddenly he will not be capable of any subtle feelings?
Stupid in spiritual terms? Therefore, I think that perhaps those flaws that parents admit in upbringing (and I admit) can be a push for both the bad and the good. Basically, the person chooses the path himself, I am absolutely sure of that.
I really believe in my children, I pray God that they make their choice correctly, because no one except them will make it.