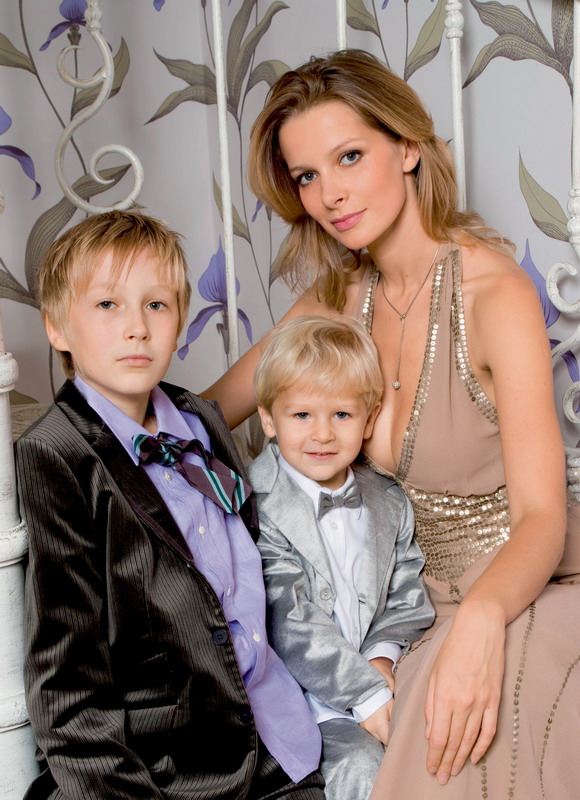 C.P. Alexandra, you are from a famous acting family. What was your childhood like?
Alexandra Florinskaya Like all acting children, my childhood was spent in the theater. My grandmother mainly dealt with me – at that time she stopped playing and worked as an assistant director, and then became the head of the troupe of the St. Petersburg Comedy Theater. N.P.
Akimov.
C.P. Then where did you come too … A.F. Yes, and moreover, it was in this theater – in one of the first Akimov's troupes – that served my great-grandfather Gleb Florinsky.
My father has another surname, but they decided for me to leave my mother's house, Florinskaya, since there was a theatrical dynasty along the female line, the forefather of which was my great-grandfather.
Before me, our family was dominated by women – men were not born for three generations. But this story ended with me, although I was always sure that I would have girls too.
Now I have two boys – Gleb, who is now old enough, he is eleven years old, and two-year-old Nikolai. All previous generations of Florinski dreamed of a son. And so his name was certainly Gleb.
Now this name has become quite fashionable, but here it was thought out by three generations at once.
C.P. What are the happiest moments from childhood you remember?
A.F. I have a feeling that I have perceived the world for almost four years just like now. And I remember myself small as a grown-up thinking person.
Once on a warm sunny day I was in the country. Our cottage was in a beautiful place, beyond Zelenogorsk (if Peter knows, this is the former Finland, the Karelian hills, lakes, pines). Then there was no running water in the cottages, and one had to go to the column.
And here I am running from the mountain in a beautiful dress in a flower, with a pink jug, and I am overwhelmed with the feeling of flight, the sun. When I came running, I remember that I said very clearly to myself: "Probably, this is called happiness."
C.P. Have you already thought about your future family? A.F.
Yes, my mother asked me: "Whom do you want to be?" And I answered: "I want to grow up, get married, so that I have many dogs and children." And this mother terribly upset, apparently, it seemed to her something awful. She rushed to bother me: "Well, don't you really want to become serious?" And my ideas about the profession were: first I wanted to be a clown, then a tiger-tamer, then a tightrope walker (I don't know why it was connected with the circus – apparently, my childhood ideas about the scene were embodied in this way).
Although I was allergic to animals and I could not go to the circus – I only watched on TV.
We can assume that now my dreams have come true – to some extent I became (laughs), I have quite a lot of children, and there are dogs too. At a construction site we picked up a cute mongrel, she now lives in a booth near the house, because it is impossible to bring her into the house because of allergies.
And she now had puppies.
C.P. Since the second child was born, has your work schedule changed a lot? A.F.
Before the birth of my second son, I starred quite often. But this event coincided with the feeling in me of the most specific professional level, when you begin to more selectively relate to the proposed material. I can not say that before playing everything.
And nevertheless agreed on roles interesting to me, maybe, in not the best films. I had a period of self-study, saturating myself with roles. I wanted to play all the time, and play different things.
Although most often I was offered monotonous heroines – bitchy, cold, but even in this I was looking for and coming up with some nuances. Then he still managed to break the stereotype – thanks to the film "Captain Children".
C.P. And this series has the most direct relation to the birth of Nicholas … A.F. Because it was then, during the shooting, I learned that I was pregnant!
We were shooting for a long time – the working period together with the installation and dubbing lasted almost a year. I had already come to voice my heroine, being from the eighth to the ninth month. On the set was visible and tummy!
True, the plot so coincided that the heroine is also pregnant.
By the way, my pregnancy, we absolutely did not plan. I do not know what it is – to plan!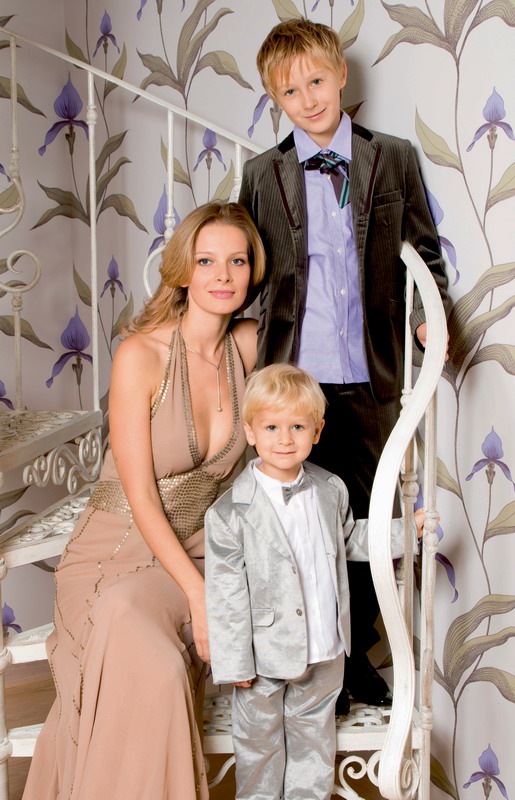 C.P. How did the older brother react to the appearance of his younger brother, Gleb? A.F. No jealousy!
And I take it as a gift of fate. I don't know if this is such a good child or I just, like my mother, tried to prepare it in advance and did it right.
Somehow I even took him on ultrasound – in the later periods, when something was already visible there. At first, Gleb, of course, did not understand everything, but when the little fingers and heel clearly moved into the monitor, he saw and was very happy.
In general, he perceived my pregnancy with joy. We had a conversation with him about this before the New Year – he asked me about the opportunity to get a brother or sister. Although he just wanted a brother more.
And, actually, his question was the following: is it possible to order from Santa Claus or Santa Claus? I remember, I replied that it was probably quite difficult – after all, the child would not be brought in like that in a bag.
And after the birth of Kolya, I reminded Hleb of our conversation.
The kids have a great relationship now. Junior is also very fond of Gleb.
He definitely needs to know that Gleb is somewhere nearby – even if they do not always manage to play together.
C.P. How do you feel about the fashion for the early development of children?
A.F. It all depends on the child.
If this does not overload the baby, if the child himself is happy from this and does not force knowledge into it, through tears, then why not?
I have a girlfriend who, in my opinion, has a phenomenal son – he can solve a mathematical problem in sixth-seventh grade at six. At the same time, he is engaged in football, tennis, shows good results in swimming, always has time and everyone loves it. He has three hours of training – and this is six years old!
The main thing is that the child does not suffer from this and, I believe, very much gains. Such a working rhythm will not frighten him in adult life.
But do not make a fad of it. If your child does not remember the letters in a year and a half, and the other has already learned them – please do not panic!
It's okay, after a year or two, your child will succeed. Most importantly, treat this without fanaticism and without fear – and then everything will definitely be good. Our Kohl also attends classes – in a group where children from 2 to 3 years old gather.
They draw, sculpt, paint, dance, perform logic tasks – of course, at the level of their age.
C.P. Does Kolya like talking to peers?
A.F. He is very pleased! And besides, he sees that there are other children, that there is a teacher who gives the task, and all the children do it. Then, when the child comes to school, where, it turns out, it is necessary to follow some rules – "they all sat down together, they all stood together," it would not be a shock for him.
And the child will not take it as some kind of restriction of freedom, because for him it will be already clear and familiar.