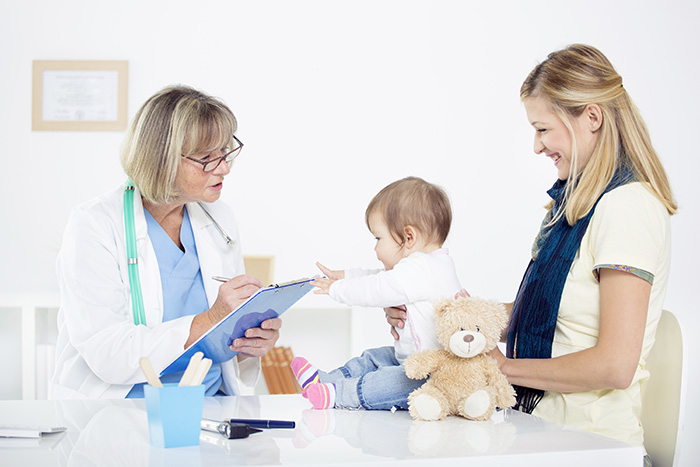 We are talking with Natalia Lopushanskaya, pediatrician of the European Medical Center, why such statistics cause alarm among specialists, what a measles disease is, how dangerous it is and how to protect oneself from it.
– It is believed that the child should definitely have children infections. Measles is one of them.
So why are the cases of this disease cause great concern to the doctors?
– Measles is very easy to catch. The virus is volatile, transmitted by airborne droplets when coughing, sneezing, talking. At the same time, a person may not yet suspect that he has measles and that he is generally sick: from the moment of infection to the onset of the first symptoms, it takes from 6 to 21 days, and the person becomes infectious five days before the onset of acute symptoms (fever, rash) and virus continues to excrete another four to five days after that.
So the measles contagion is close to 100%.
In unvaccinated children and adults, the disease is very difficult: the temperature can rise to 40 ° C, complicated by secondary infection and even lead to death. The gastrointestinal tract, respiratory organs and the central nervous system can be seriously affected. The most frequent complications are gastroenteritis, hepatitis, appendicitis, false croup, bronchiolitis, pneumonia, encephalitis, encephalomyelitis.
Infrequently, it still happens that keratitis develops – an eye disease that can lead to blindness, as well as myocarditis and pericarditis – very severe damage to the cardiovascular system. Cause of death can be pneumonia and encephalitis.
– It turns out that you can catch measles, having passed a couple of stops in public transport next to a person who is already contagious, but still does not know about it?
– Unfortunately, this is possible. Outside the human body, the virus remains viable for two hours.
But it does not infect everyone, but only those who have not been vaccinated against measles.
– What are the symptoms of measles?
– High, up to 40 ° C temperature, light runny nose, cough, purulent discharge from the eyes, enlarged lymph nodes, white spots on the mucous membrane of the cheeks (Filatov-Koplik spots). But the main thing – a rash, which consistently appears on the face, torso and limbs. The rash lasts four to five days.
From the fourth day of the rash the child is considered non-infectious. His condition begins to improve, and the skin at the site of rash – peel off. Measles is a serious blow to the immune system, so after it the baby often gets sick.
Quarantine is announced on day 21, as it is believed that during this time the virus may appear. Alas, this measure does not save from complications, and it is impossible to predict them.
– How to cure it?
– According to international studies, it is inappropriate to use antiviral and immunostimulating drugs for measles. Therefore, the symptoms are treated: reduce the temperature, with conjunctivitis and otitis, prescribe local remedies. Vitamin A can be prescribed as an additional therapy. It is proved that its deficiency leads to a delay in the disease and increases the risk of complications from measles.
The administration of drugs with vitamin A to children accelerates recovery and reduces mortality.
– Do people who have had measles develop a lifelong immunity?
– Yes, but why risk the life and health of the child, if the vaccine protects against this dangerous infection? Get your baby vaccinated on time, and the risk of getting infected will decrease many times. Routine measles vaccination in Russia is carried out at the age of 12 months and 6 years.
And although no vaccination guarantees 100% protection against the disease and it is possible to get an infection after vaccination, the risk is significantly reduced. A person vaccinated against measles can tolerate an illness easily, without complications.
Vaccination protects against death. And this is the main point.
– What vaccines are now vaccinated children? How safe are they?
– Combined ("Priorix", parotitis and measles) and monovaccines (protection against measles only). Unfortunately, Priorix is ​​not being supplied to Russia now.
All vaccines are safe. Very few complications. Most often it is redness and soreness at the injection site in the first three days after vaccination, fever, slight redness of the throat, runny nose, from the 6th to the 18th day after vaccination – a small rash.
Coughing and conjunctivitis are less common. And even in very rare cases, allergic reactions and enlarged lymph nodes appear.
– How to act if you still had contact with the patient?
– If they are vaccinated twice or have had measles, if they get sick, then it is mild, without complications. If a child older than 12 months is not vaccinated against measles, the vaccine is administered once for three days (72 hours) after contact with a patient.
Re-vaccination is done according to plan – in six years.
When a baby is 9–12 months old, he is also vaccinated within 72 hours after contact, but since such immunization does not affect long-term immunity, it should be repeated after 12 months.
After six years, do this: the first time vaccinated for 72 hours, and the second dose is administered no earlier than three months. Up to 72 hours, vaccination is safe and effective.
The production of antibodies to the vaccine protects against the development of the disease.
If the child is vaccinated once, after contact with the patient, emergency vaccination is not required.
Children less than nine months old, unvaccinated to pregnant women, as well as to people who have not been vaccinated and who have not been ill, but are suffering from immunodeficiency or have other contraindications for vaccination, after contact with the patient, immunoglobulin is administered for six days. Also, this method of prevention is used in those who did not have time to vaccinate within 72 hours after contact.
– Is it necessary to prophylactically administer measles vaccine to adults?
– If a person has not suffered from measles and has not been vaccinated against it, he should receive a double vaccination with an interval of at least three months. If given once, vaccination should be repeated at the same interval.