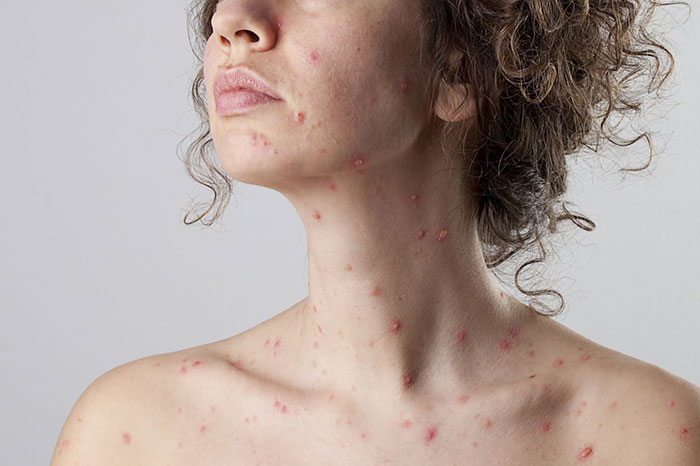 At once it is necessary to make a clarification: for the so-called "children's" diseases, the concept of "adult" begins already with adolescence. If the disease has overtaken you after 12 years, the likelihood of a moderate or even severe chickenpox with a bunch of side effects is higher, the older you are.
The most difficult way for chicken pox is people over 50 years old, if they are ill for the first time. True, fortunately, the chances that an adult will not have time to be infected with the varicella-zoster virus before such a solid age are almost nil.
Paradox: an adult is many times more likely to meet the chickenpox virus than children. The same applies to adolescents who begin to move a lot outside the house. The virus varicella-zoster is extremely volatile, easily moves through the air, is transmitted by airborne droplets.
A sick person is contagious before the first symptoms appear (approximately 48 hours before). That is, no contact with the patient is needed. You can just go in the same elevator, in the same subway car, you can walk past the carrier of the virus, or sit in its place at a table in a cafe.
The only thing that saves is the instability of a virus that has got into the air. But, it's not really necessary to count on it if you haven't had chickenpox.
It does not have to rely on non-specific immunity. If someone tells you that good immunity can save a chicken pox, don't believe it. The only way to get immunity to varicella-zoster virus is to catch this virus either through illness or through vaccination.
And this immunity lasts as long as the virus is present in the body. Therefore, when an adult who claims that he did not have chickenpox as a child does not get chickenpox, there are only two options.
Either in childhood, he had asymptomatic chickenpox, or for some reason this disease was not recorded in his children's medical card. Alas, but still there are parents who manage not to remember what their children were sick in childhood.
Be careful: you can get chickenpox from shingles (herpes zoster) because the disease is also caused by varicella zoster virus, being in essence the "reincarnation" of the virus in a person who has had chickenpox.
For chickenpox in adults there is a seasonality – this is the winter and spring periods.
In adolescents and adults, chickenpox almost always occurs in a complicated form.
From the moment of infection to the first symptoms of chickenpox in an adult, a minimum of 7, maximum 23 days passes. The disease begins with a sharp rise in temperature to 39-40 degrees, which can be held for several days, hardly giving in to control.
This is due to the peculiarities of the immune response to the virus in adults.
At this stage, an adult suffering from chickenpox feels weakness, aching joints and muscle pain, headaches, nausea – all these are signs of general intoxication of the body. Against the background of high temperature and intoxication, an adult with chickenpox may experience loss of consciousness.
In this case, you should immediately call an ambulance, as with such a course of chickenpox the patient should be monitored in the hospital.
Important: in no case do not use aspirin (acetylsalicylic acid) or analgin (baralgin, metamizole sodium) as an antipyretic and analgesic for chickenpox. According to numerous scientific data, the use of these drugs in chickenpox (it is in this disease, and not in general) often gives complications from the liver.
Behind the temperature appears chickenpox rash. The temperature may remain high.
Classic bubbles usually appear first on the body, then cover the neck and face. The rash can spread to the mucous membranes of the mouth, pharynx, tongue and even the mucous membranes of the genital organs.
In addition, a rash can affect the inner surfaces of the eyelids and go to the cornea, which is fraught with loss of vision.
The main problem with the rash in adults is not only more abundant than in children, but is almost always complicated by a bacterial infection. The bubbles have a tendency to turn into pustules – non-healing acne with purulent contents, after which the so-called ospins can remain on the skin "for memory" – small recesses visible to the eye. The chickenpox eruption itself in adults lasts longer than in children – up to 9 days.
And the consequences of its often have to clean up in the office of a beautician.
In addition to secondary bacterial infection, chickenpox in adults can lead to the following serious complications:
viral pneumonia (especially often this complication occurs in adolescents and pregnant).
partial or complete loss of vision (when the rash spreads to the cornea, scars remain in place of the bubbles)
vulvitis in women and inflammation of the foreskin in men
optic neuritis (can also lead to loss of vision).
viral tracheitis, laryngitis (with the defeat of a rash mucous membranes of the pharynx).
acute stomatitis
renal failure
toxic liver damage
encephalitis and meningitis (these complications occur when chickenpox damage the nerve cells and meninges.
As you can see, chickenpox in adults is not a harmless childhood disease. And it requires immediate treatment.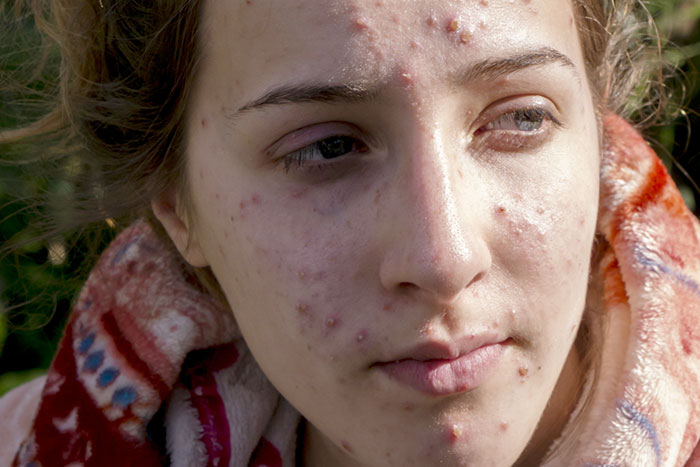 Children over 12 years old and adults with chickenpox are prescribed specific antiviral treatment, and a special regimen is prescribed. Most often, without waiting for the appearance of pustules, the doctor may recommend taking antibiotics.
To suppress viral activity can be assigned:
1. Virotsidnyh drugs directed specifically against herpes viruses:
acyclovir = zovirax = virolex (from 2 years); also use acyclovir ointment on rashes and conjunctivitis (eye damage);
valciclovir (since the age of 12)
famciclovir (since 17), isoprinosine.
2. Immunomodulators: interferon, viferon. In severe cases, chickenpox patients are given immunomodulators more potent (timolin, timogen, IRS-19) and cytokine drugs (ronkeylikin).
3. Immunostimulants: cycloferon, anaferon
In severe cases of varicella, immunoglobulins are administered intravenously. All of the above drugs should be used in age dosages.
To alleviate the symptoms of the disease are prescribed:
Bed rest for 3-5 days (with a complicated course longer)
Careful skin and mucous care:
treatment of rashes with antiseptic preparations to prevent secondary infection, which often accompanies chickenpox in adults (up to the formation of ulcers, followed by scarring, which leaves scars on the skin).
Mouth mucosa treatment – rinsing with furatsillin and / or sodium sulfacyl
with conjunctivitis, acyclovir ointment is used, and albucid 20%, levomycetin ointment or tetracycline ointment is used to prevent bacterial complications.
antihistamines (suprastin, tavegil, etc.);
antipyretic (ibuprofen, nurofen, or physical cooling methods – wrapping).
In addition, a rich alkaline drink is shown.
If a secondary bacterial infection cannot be avoided, antibiotics are strictly prescribed by a doctor, and 3-generation cephalosporins are the drug of choice.
Important: if you get sick with chickenpox or recover from it, beware of sunbathing in the sun during this period, as chickenpox can cause pigmentation problems in the affected areas of the skin. It is best to hide areas of the body affected by chickenpox until complete healing, as even fresh scars from chickenpox can hyperpigment.
Adults with a pustular form of chickenpox rash are advised not to use water treatments until acne begins to dry out.
If a woman who has not been vaccinated or has not had chickenpox is sick during pregnancy, an unborn smallpox can develop in the unborn child, which is manifested by scars on the skin, low birth weight, and even mental and physical retardation. But the risk that the chickenpox during pregnancy will cause certain consequences depends on the duration of the pregnancy at which the infection occurred.
Chickenpox in late pregnancy is much more dangerous than chickenpox in the early stages.
Chickenpox in the early stages can lead to missed abortion and miscarriage, however, if the fetus survives, the risk of complications of chickenpox will be very small (less than 1%).
Chickenpox in the 2nd trimester has consequences for the unborn child in about 2% of cases.
The greatest risk is the infection of the pregnant woman in the 3rd trimester. If a pregnant woman has contracted chickenpox a few days before giving birth, then the risk of congenital chickenpox in the unborn child is 20-25%.
Chickenpox in children: symptoms, course, treatment
Chickenpox is a disease that does not lose its popularity. She suffers from whole kindergartens, families: children, adults, expectant mothers.
But despite the fame, the symptoms and treatment of chickenpox in children and adults continue to raise many questions. Today our experts will answer the most common ones. Read more