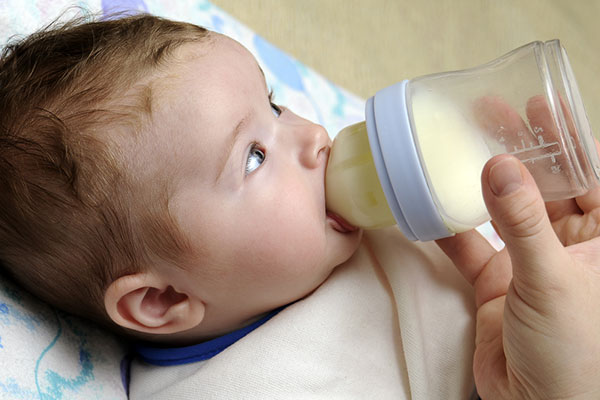 Adapted dairy mixes are special products intended for feeding the crumbs from birth. Manufacturers have tried to preserve in them the advantages of fermented milk products, to get rid of the shortcomings of the latter and to bring their composition closer to the mother's milk.
The composition of adapted dairy mixtures differs from both ordinary milk mixtures and from dairy products. Like sour-milk products, "acidic" mixtures are produced by fermenting milk with lactic acid bacteria.
But compared with kefir, ryazhenka or yoghurt, in such mixtures there is less protein and fat, so they do not burden the immature kidneys of the infant.
Fermented milk products differ from fresh mixes by the fact that protein molecules in the latter are partially split. The level of casein protein fractions, to which the crumbs may be allergic, they are minimal, reduced and fat content. All this facilitates the absorption of "acidic" mixtures.
In addition, enriched with lactic and bifidobacteria, they help to maintain a healthy microflora in the baby and protect it from infections, as well as help normalize stool, eliminate bowel discomfort and flatulence. The acidic environment stimulates the enzymes of the liver and pancreas, accelerates intestinal peristalsis, improves the absorption of nutrients.
Despite these advantages, pediatricians say that fermented milk mixtures in the diet of healthy babies are optional and it is impossible to fully transfer babies to them. After all, the acidic environment can lead to frequent regurgitation and excessive activity of the enzymes of the liver and pancreas.
Usually recommendations for the introduction of such products are infants with problems in digestion and with a tendency to constipation. Be sure to add such mixtures for dysbacteriosis caused by intestinal infection or treatment with antibiotics, as well as allergies to fresh mixes.
If the pediatrician recommended fermented milk mixture, it is important to follow the rules of its introduction and acquaint the child with the new product gradually.
When prescribing a fermented milk mixture, the pediatrician focuses on both medical indications and the physiological characteristics of the child. The usual mixture is replaced gradually, giving the fermented milk, first 1 time in 1-3 days, depending on the reaction of the crumbs.
Begin with 10−20 ml, slowly the volume of the new product is adjusted to the amount recommended by the doctor and give it in one feeding.
Now there are both ready-made liquid dairy mixes, and dry, which are diluted with water. The advantage of liquid mixtures is the low price, as it is technologically easier to produce.
The disadvantage is that the closed package is stored for no more than 3 days, it cannot be opened.