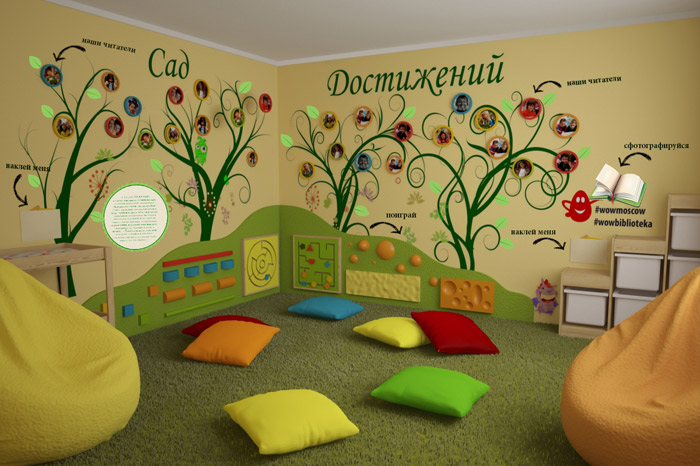 City libraries are now experiencing a new birth, once again becoming the center of family leisure. In times of crisis, libraries are ready to offer citizens even more free services.
But without the help of the readers themselves they can not do.
"The Garden of Achievements" is a project of a developing children's area, which will be equipped in several libraries of the capital. There will be installed sensory zones for babies, aimed at the development of intellectual abilities, as well as corners for young mothers.
Each child here will be able to "grow" their tree of achievements, sticking petals on each of which he will write his achievements: from reading the first book to success in friendship and kindness. Children will tell the world about their achievements and learn what others can do. The concept of sensory zones "Garden of Achievements" was developed jointly with the Institute for Research and Development of Emotional Intelligence.
But the idea of ​​such a "Garden of Achievements" was filed by the Muscovites themselves. Libraries of the Western District of the capital, whose readers initiated the project, decided to approach its implementation outside the box. It was launched on the crowdfunding platform Boomstarter. The world needed to raise the necessary funds.
And thanks to caring people, out of the required 100 thousand, 102 thousand 850 rubles were raised. And this means that at least in one library of the Western District of the capital a "Garden of Achievements" will appear!
Much has already been done on the path of "revitalizing" libraries. Today, some libraries are well-equipped places where you can work in the coworking zone, read, play with your child, take part in events or hold your own, get advice from professionals in both fiction and business literature, relax in a special "quiet" zone, listen to music, drink freshly brewed coffee and delicious cocoa, take books with you or print the necessary information, use a scanner, services of real-time color printing.
In addition, library staff, if necessary, can prepare an analytical report and a professional selection of literature on a specific topic.