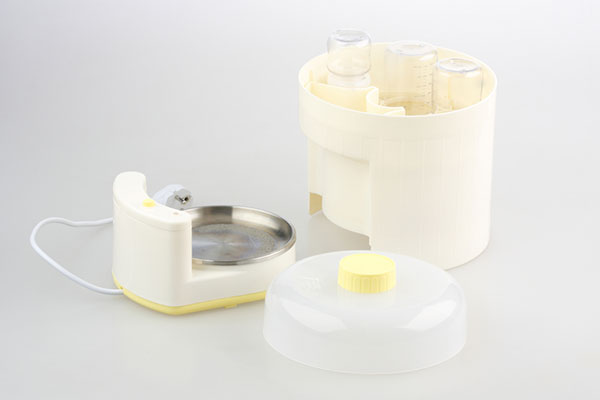 Western doctors believe that a child from his birth should have the opportunity to train the immune system. Otherwise, the baby will not be able to effectively fight against pathogenic bacteria. For this reason, foreign pediatricians do not recommend sterilizing bottles.
Russian specialists have a different opinion. The first argument is that the intestinal microflora and defense mechanisms are formed on average by the end of the first year of life, therefore, if there is at least some way to reduce the risk, they should be used.
Another argument: breast milk is microbiologically safe. In addition, with it, the baby receives antibodies to fight infections. "Artificial" such natural protection devoid of a priori.
But if he drinks from a non-sterilized bottle, the risks for him will only increase. The remains of the mixture (or expressed milk) are the breeding ground for the reproduction of pathogenic microorganisms, including E. coli and Staphylococcus aureus.
From dirty dishes, bacteria can get into the baby's mouth first, and then into the intestines, from where they will very soon displace the beneficial lacto-and bifidobacteria. And this is fraught with digestive disruptions.
Parents, of course, decide for themselves which look is closer to them, but in the first months it is still better to sterilize the bottle. The simplest and most modern way is treatment in an electric steam sterilizer. You can perform the procedure in a microwave oven in a special container – a microwave sterilizer or use non-toxic tablets for disinfection, dissolving them in cold water.
It is also allowed to boil the bottles for 10 minutes in a clean saucepan – let the method be old, but effective.
There is no exact time when to stop sterilizing the bottles, but most domestic pediatricians suggest keeping this habit for an average of one and a half years.
It would seem that when a baby begins to crawl and strenuously pull into his mouth everything that comes his way, no sterilization will save him from the invasion of harmful microbes. But this is an erroneous conclusion. Microbes that live on the floor are much more difficult to penetrate into the intestines of a child than bacteria that multiply in milk residues on the walls of the bottle (or in stale dishes and food).
Everything is simple: the former are mostly excreted from the mouth with abundant saliva, while the latter almost invariably enter the stomach. Immune system "neutralize" microbes the immune system learns only to one and a half years, so you need to adhere to this date.