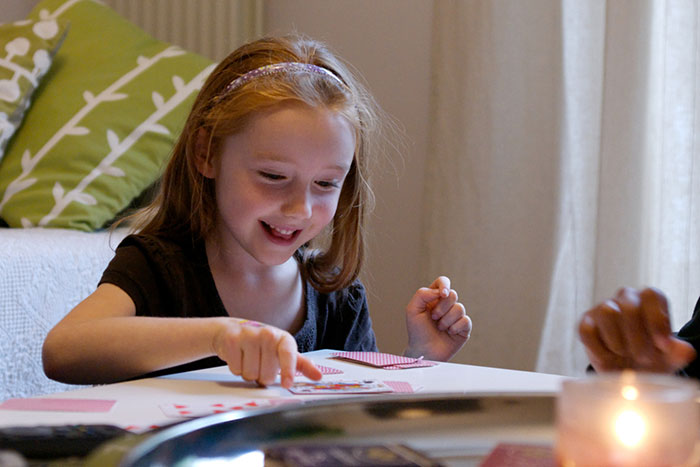 Parents love to remember that I was taught to play in the "flush" grandfather. He coped well with the task: in my five or six years (I suppose that I had been at that time), I skillfully cracked down on any adult rivals.
There have been losses, of course, but I don't remember them. I remember, however, how adults played with me willingly, how they praised me for my skills, and how interesting and fun I was.
Nick has already figured out the rules, but still asked to play "in the open." We sat down, I dealt cards.
I was lucky: I had a trump ace on my hands, a lot of high cards, while my daughter had a trifle. No matter how you play, lucky one is lucky.
I won. Calmly reported this to Nick and thought hard.
All my feelings said that it was not supposed to win. Suddenly she will be hurt? Suddenly she will be upset?
How to support her self-esteem? How not to discourage the desire to study further?
Give in or vice versa?
I think that every mother sometimes finds herself in a situation where it is clear that it is necessary to adhere to some wise and the only correct strategy, and what kind of strategy is completely unclear. This is exactly what happened to me.
There were only three variants of succession of events: to win, lose or let everything go to chance.
It was easy to win (with my cards). But it was clear that if you win every time, the whole story will most likely get tired of the child. It is like choosing the highest difficulty in a new video game, and then sit back and play again and again.
Either get bored, or switch to a level easier. (I'm not talking now about people who are proud and goal-oriented, ready to forget about work and food, to sit for days on end to overcome the invincible and jump higher than their heads. This usually does not apply to four-year-old children).
In short, I firmly decided that it was definitely not worth winning all the time.
Giving up was an interesting perspective. However, there was something to ponder.
I remembered one case. Once we came to visit. The son of the owners was just as much as my Nick.
Children and adults sat down to play a board game (I think it was a lotto). When it became clear that the master child (let's call him Vasya) loses, an animal scream rang out in the room. We are dumbfounded.
Our younger Slavik pressed into me just in case. Vasily sent messages to the atmosphere that he did not intend to lose.
The man was noisy and showed off so skillfully that any actor would envy. But this is not interesting.
Parents, who obviously did not like all this, decided to correct the situation. They offered Vassenka to pull out the chips out of turn, gave up their move, it seems, they even removed some of the chips from their cards back into the bag.
They were sure that no one would mind. This is a baby.
We objected. True, silently. And more to visit them just in case did not go.
Therefore, the history of Vasin's victories remains unknown. But my attitude to such situations is not questioned.
The child must be taught to lose. According to the famous psychologist and teacher, the author of the book "Communicate with a Child.
How? "And" We continue to communicate with the child. So? "Julia Gippenreiter," playing with a child prepares him for life. " "The game is a prototype of life situations where there will be competition, rivalry and, of course, possible losses."
She is echoed by Robin Berman, a psychotherapist and author of the book "It's impossible to control him": "Our task is not to save a child from failures, but to teach him that failure is a step on the road to success."
After all, playing by the rules is not learning to draw. I read about it a hundred times: you can't criticize a child's drawings, suggest "how to" draw a particular object, or guess what it was he depicted.
This is a great strategy for teaching fine arts. The trouble is that the subconscious is trying hard to apply this advice to all other areas of life.
Definitely, drawing and "flush" have nothing in common here.
So win or play giveaway? As it happens most often, I decided that I needed a middle ground.
Therefore, the third variant of the development of events "to let everything go to chance" came up better than others. But I must make a reservation: I decided to surrender to fate only in terms of the outcome of the game.
But regarding her behavior as a mother, she formulated a whole list of rules.
Let the child win. I am ready to be a computer game with a "beginner" difficulty level, imperceptibly make a couple of mistakes and demonstrate that you can play with dignity.
You should always follow the rules. In order for a person to be able to state in the future that the rules are necessary in order to break them, he must first learn to live with them somehow.
Let the child lose. This is an excellent opportunity to show by example that the winner must also behave with dignity. In addition, the loser can share his disappointment, and the winner can sympathize with him.
Need to finish on the positive. Especially when it comes to small children or those who are painful about their failures. If you were able to win in the end, there are sure to be good memories of the game.
"Mom, you have a lot of cards, but I have a few! I'll win now! "- Nika was delighted in advance.
I was so good at thinking about my mother's problems that I didn't notice how my little one turned up the trump ace with the king, and I collected about ten cards of unpersuasive value. And it seems that she was not mistaken and did not give in. Here, here it is!
We must also write down the fifth: spend time with your child efficiently, fully and as often as possible. Do not have time to look back as he overtakes you.
And you will sit and wonder: you seem to have lost the game, but you feel like the most important winner in the world.
What are good "games by the rules"?
No wonder many card and board games are categorized into games by the rules. Their main advantage: the child learns to act in a clearly defined framework.
Rules games are often very instructive. For example, they almost always develop logical thinking.
With the help of card games it is possible to practice a child in mathematics unobtrusively and very intensively. If your kid effortlessly wins you in a "flip" at four, then at school it will not be difficult for him to solve any comparison example. Pray only that at the blackboard the child will keep silent about the fact that most of all is the ace.
A child learns to lose. This skill is especially important today, when parents are so characteristic of hyper-care.
Your child learns to win in a fair fight. Agree, it's nice to know that you won yourself, without any help and without indulgence.
As a parent, you learn to gently support and guide in case of defeat and honestly praise for concrete achievements in case of victory.
The time spent in the company of mom and dad for a child is priceless. But the games by the rules perfectly unite the family, no matter how the writers of the American comedy TV series laugh at them.