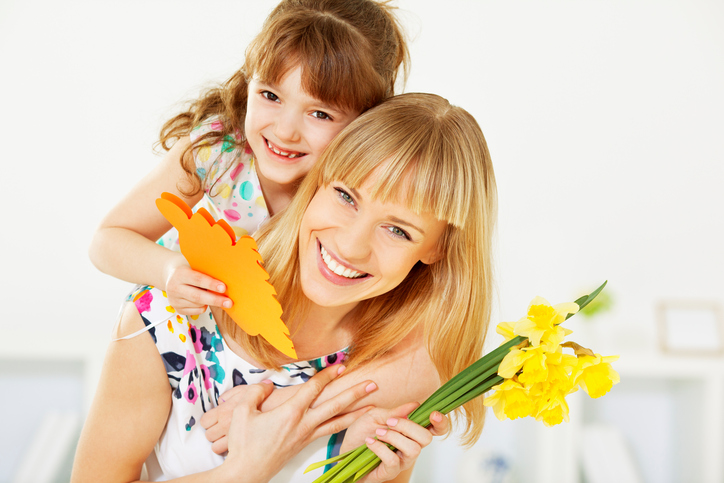 The simplest gift is a greeting card, but it can also be made unusual and original. The main thing is that the baby can easily cope with this task by himself, or with your insignificant help.
Postcard "Branch of Mimosa"
White paper
colored paper
scissors
glue
cotton wool
gouache
tassel
thin ribbon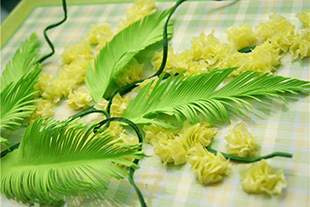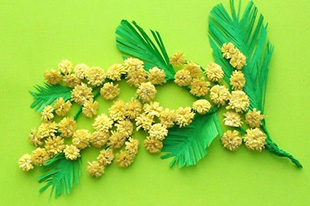 What do we have to do:
Cut out mimosa leaves from green paper. Slightly cut each of the leaves with scissors from the outer edge to the inner edge on both sides.
On a white sheet, draw a stalk of a flower and stick leaves on it. Roll small balls of wool (with a diameter of no more than 5 mm) and glue about 20-30 pieces for each twig. Paint balls with yellow gouache, tie a ribbon into a bow, "curl" the tails with scissors.
Let the artwork dry. Inside you can write a touching greeting.
If the kid still hesitantly displays the letters, make him a sample: write the text on a separate piece of paper in large block letters, he will only have to rewrite it carefully.
To create such crafts, you will have to put a little more effort, but the result will definitely please the lady of the little gentleman's heart. Especially if you choose the right inscription.
salt – 200 g
flour – 200 g
water – 125 g
small pebbles (beads, beads)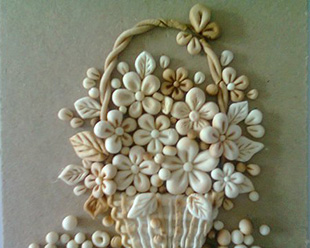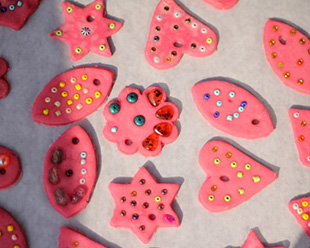 What do we have to do:
Using a mixer, mix water, salt and flour – you get salted dough for crafts. Form circles from the dough and flatten them like cookies. With small pebbles or beads, lay out a heart or a phrase prepared in advance, for example: "Mom, I love you!" Or "The best grandmother!".
If the baby can not yet put anything, as a gift to the grandmother make an imprint of his pen in the test. Then put the souvenir on baking paper and send it to the oven, preheated to 200 degrees for about half an hour.
It is better to slightly open the oven door, otherwise the edges of the product may crack. If you wish, you can make a magnet from crafts. In this case, before putting the "cookie" in the oven, press the round magnet into its back.
The size of the magnet, choose with the scale of the gift.
Such a home decor object as a vase is always useful, and especially – on March 8. Well, if it is also the original design of its own production – the grandmother will be just happy.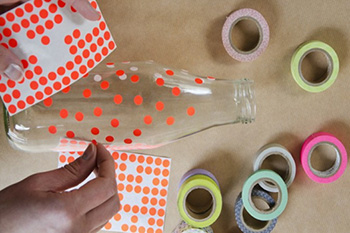 clear glass bottle
colored paper
colored scotch
stickers
scissors
What do we have to do:
An excellent opportunity for the baby to show their design abilities. Just give the child a bottle and let him decorate as he likes.
You can give immediately with flowers.
A gift made by yourself is the most valuable for mother! But sometimes quite laborious.
You can simplify the task by buying a white blank and decorating it yourself.
plain apron (preferably white)
acrylic paints
tassel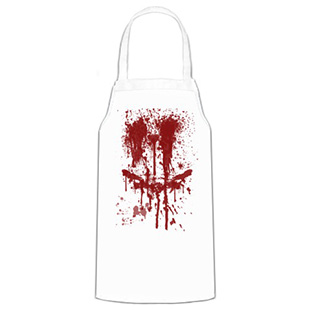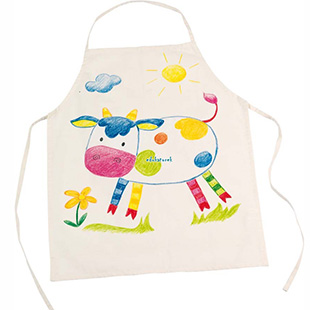 What do we have to do:
The scenario is similar to the previous one: hand out a brush, paints and an improvised canvas in the form of a kitchen apron to your child. Let the kid decide for himself what he wants to draw or write.
Do not forget to warn the young artist to be more careful, otherwise, instead of celebrating the whole family led by the mother, you will have to launder your workshop.
Very nice gift that will appeal to any girl, regardless of age. By the way, choose a color for a purse from the red spectrum – signs say that these shades especially love money.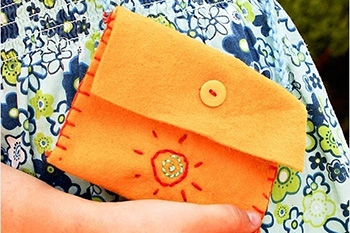 rectangular piece of felt
needle with a big eye
thick thread
big button
What do we have to do:
Fold the felt so that it is a simple purse, grab the edges with large stitches (threads can be chosen to match or contrast). The upper part of the wallet can be decorated with embroidery or a button of your choice.
Bath accessories are no longer the most original gift for a holiday, but if it is a handmade soap with a beautiful pattern, then why not! The easiest way to buy a ready-made set for soap making, but you can try to cook the soap yourself.
baby soap – 2 pieces
olive, almond or coconut oil – 4 tbsp. spoons
water – 100 ml
glycerin – 2 tbsp. spoons
cocoa – 1 tsp
baby molds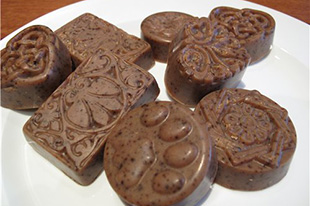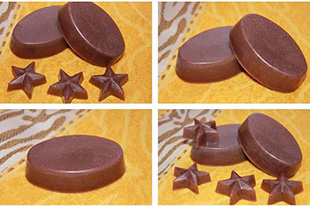 What should be done:
This lesson will be interesting for older children. However, the individual parts of the task can be charged to the kids. For example, chop the soap on a fine grater.
Heat oil and glycerin on the steam bath, gradually add soap shavings to the pan, stirring constantly. The mass should be homogeneous, similar to the dough. Stir in cocoa, grease the molds with olive oil and put a lot of them in them.
After cooling, put the soap on paper and leave in a dry, but not warm place for 2-3 days.
Landscape, still life or portrait? Your choice!
And the one and the other, and the third will be nice to receive as a gift, if this kid painted himself.
picture
wood frame
rhinestones, stickers or beads
glue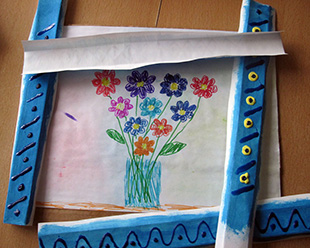 What do we have to do:
Drawing is better to draw in advance so that he has time to dry. Decorate a wooden frame with rhinestones and beads, it can also be painted with paints, glued hearts, stars, etc.
Insert a masterpiece in a frame and give it to your mother or grandmother, mind you only with the condition – immediately hang on the most visible place. Let the artist put the date and signature on the picture, who knows, suddenly your baby is the future Shishkin.
A very simple gift that will please any woman every day, because compliments are always a reason to smile.
transparent jar with lid
small pieces of paper
pens or markers
fantasy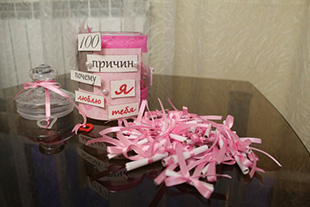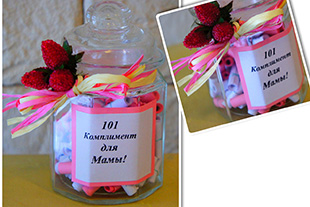 What do we have to do:
Put a piece of paper on the jar with the words "Reasons for a good mood", and on the rest of the pieces of paper (no matter how many – 10, 100 or even 365 – one for each day of the year) write nice words, compliments and confessions. Roll up all the pieces of paper (you can even tie them with a ribbon) and put them in the jar.
When mom is sad, she will take a piece of paper out of the can, read it and be sure to smile!
If there are not enough forces for creative exploits, make at least a culinary one. You probably know that your mother loves the most – surprise her by putting breakfast in bed. Do not forget the surroundings: flowers in a small vase, beautiful dishes, a bright tray and, most importantly, it should be a surprise!
After all, women love so much when they are surprised!