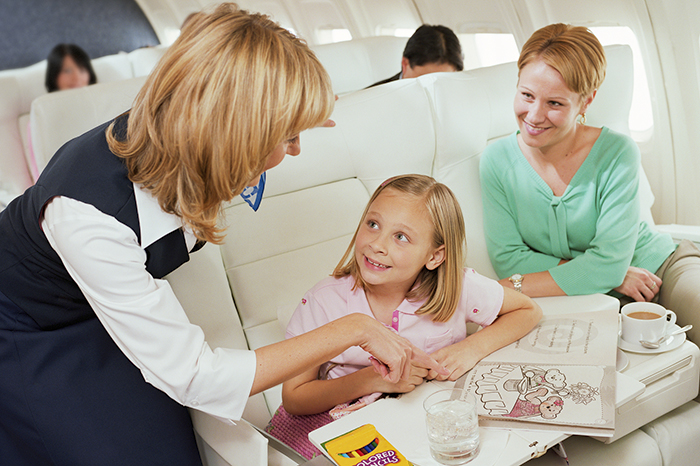 Before the advent of children, I adored long flights. I was looking forward to how I would not sleep at all and for 6 or even (oh, happiness!) I will have time to read a couple of magazines, a half book and watch a movie for 12 hours. I loved onboard food and gladly spread butter on a bun cut in half, although I don't like either on earth.
When my eldest daughter was a month and a half, I flew with her route St. Petersburg-Moscow. Since then, I have fallen out of love to fly and dream of quickly inventing teleportation. The children have already grown up, we again began to fly away, teleportation was not invented.
But I know how to properly prepare for the flight with the children, so that within a few hours in a confined space one does not go crazy.
1) If you have a long flight with meals on board, be sure to order a children's lunch. Children's lunch is not only convenient and suitable for kids food, but also a bright box.
If the child in the next row has this, and yours doesn't, the scandal cannot be avoided. Therefore, do not forget to order baby food in advance on the website or by calling the airline – at least one day before the trip.
2) Do not take tomato juice or hot drinks. If there are children nearby, the contents of your plastic cup will most likely be on your jeans.
Drink water. It is useful, does not leave stains and burns, dries quickly on clothes.
3) Take with you travel bracelets from motion sickness. Even children with a strong vestibular apparatus are sometimes sick in transport.
Bracelets are sold in any pharmacy and are placed in any, even very small handbag.
4) In your bag, for sure, there is always a liquid anti-bacterial agent for hands and a pack of wet wipes. Here's a tip: take one extra pack of napkins and hand it to the baby.
Ask your child to wipe the folding table and armrests on the plane. Usually this trick works!
While the child is busy, you can rest in peace or have lunch.
5) Make beads from small toys – tie 5-7 items on a silicone thread or cord. You do not have to crawl under the chair in search of a fallen toy, and the child will receive a whole field for creativity.
With such beads, you can play role-playing games, arrange a mini-theater, use it as decoration.
6) Take an album with stickers and simple envelopes into the plane (gluing stickers on plain paper is not very exciting). And with envelopes you can invent a whole story.
Suggest your child to decorate the envelopes in order to fill them with souvenirs for relatives and friends. Decorated envelopes can also be used to store treasures such as museum tickets.
7) A relaxing massage will help you fall asleep in an airplane restless. Ask your baby to turn his back on you. Put your arms around his head, place your palms on his forehead.
Hold your hands like this for 30 seconds. Then, with a stretching motion, iron the forehead, moving the palms towards the temples.
Repeat these movements several times.